Strategy Games #41
Search a Classic Game: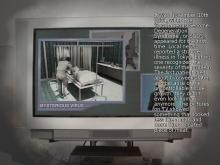 Soldiers of Anarchy 2002
Soldiers of Anarchy offers players a future where a genetically engineered virus has eliminated most of civilization. The aftermath, the anarchy, is a terrifying place where armed hoodlums rule the world, people are enslaved, and the creeps who designed the virus are roaming free. Gameplay involves controlling small groups of...
---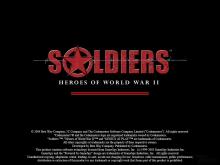 Soldiers: Heroes of World War II 2004
Soldiers: Heroes of World War II is a real-time strategy game with objective-based missions. Instead of simply needing to conquer the opposition, game levels often pose specific challenges to the player's squad of soldiers, such as rescuing prisoners, capturing enemies, destroying supply lines, and other guerrilla-style goals. Players can take...
---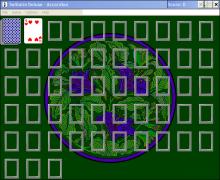 Solitaire Deluxe 1996
This version of Computer Card Solitaire contains 24 different games, including: Calculation, Forty Thieves, Four Corners, Golf, Klondike, La Nivernaise, Pyramid, Scorpion, Spider, Three Shuffles and a Draw, and Upside-Down Pyramid, plus others. In addition, it has 24 different decks and 24 different backgrounds. Rules can be changed...
---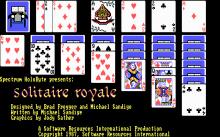 Solitaire Royale 1987
This was an early commercial instance of Card Solitaire. There are 8 different solitaire games, including Klondike, Calculation, and Three Shuffles and a Draw. You can also play "Aunt Anne's Tour" where you play all 8 in row, trying for the highest combined score, and 3 children's games. In addition,...
---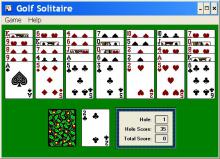 Solitaire Twin Pack 1995
Solitaire Twin Pack contains two card games, Pyramid Solitaire and Golf Solitaire. Pyramid Solitaire : In this game the cards are arranged in a pyramid and the object is to remove cards totalling 13 until all cards have been removed. In this game each card has a value starting with the...
---
Solitaire XXL 1997
Solitaire XXL features several solitaire rule sets of the popular card game. It also contains a unique card set drawn by German artist Uli Stein. The shareware version has several restrictions: it can only be played ten times, there is just one rule set and the special card set is...
---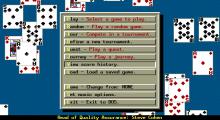 Solitaire's Journey 1992
For most of us with a PC, the notion of computer solitaire is a guilty pleasure. On the one hand, we don't want to admit to other people that we actually are too lazy to shuffle the cards ourselves. On the other hand, computer solitaire is addictive. It's very hard...
---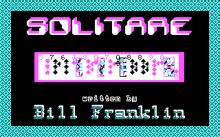 Solitare 1985
Solitare (sic) is a simulation of Klondike Solitaire with some variations in gameplay. Up to 5 players can play, and the computer can be one of those players. Since a "score" is kept, you can also pit each player against each other by forcing all players to start with the...
---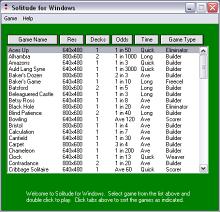 Solitude for Windows 1999
Solitude for Windows is a superb freeware collection of 91 solitaire card games for Windows. The games include many familiar favorites like Klondike, Yukon, and Poker Solitaire. But the highlights are modern or rare solitaire games that are rarely found in most solitaire programs, including the excellent version of Bowling...
---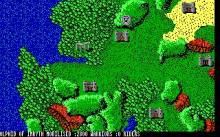 Sorcerer Lord 1988
Sorcerer Lord is a medieval fantasy game of tactical warfare. The evil Shadowlord's army is threatening to overrun the peaceful country of Galanor. The alliance of races in Galanor isn't very fond of suppression, slavery or extinction, so they are preparing for war -- it's your job to coordinate the Galanorian...
---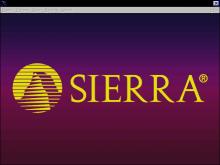 Space Bucks 1996
Five separate races vie for supremacy of the final frontier in the strategic empire-builder Space Bucks. The empire in this case is a galactic transport empire, complete with commodities, starships, cargo shipments, pirates, and aliens. Sabotage, war, economic trading, and technological advances enter into the mix as you try to...
---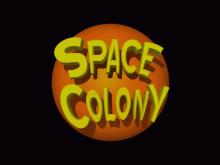 Space Colony 2003
Space Colony combines character management and city building in a light-hearted science-fiction setting. Players manage a rag-tag crew of space-farers who have set out to form a new colony. Each character has different strengths and abilities that could prove crucial to the colony's success, but they all must be kept...
---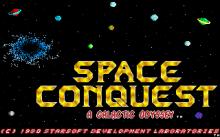 Space Conquest 1990
Space Conquest is a fun, albeit very obscure, 4X strategy game from Starsoft and ComputerEasy. The plot, according to description, is as follows: "...[it] is the year 2112. You are the captain of a colonization starship for the Association of Solar Systems in the Neublinn Galaxy, ordered on a routine...
---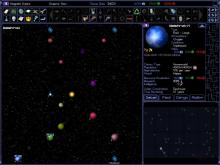 Space Empires 4: Gold 2000
In the honored tradition of Master of Orion and Pax Imperia comes Space Empires IV. An apt pupil of contemporary advances in empire-building turn-based strategy games, Space Empires IV features an intuitive interface and several options for extensive customization. Players will design ships for exploration, defense, and conquest, direct their...
---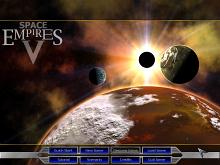 Space Empires V 2006
Adding improvements and a greater opportunity for customization, Space Empires V offers players the chance to explore the far reaches of space while observing such natural occurrences as black holes, binary stars, asteroid belts, and cosmic storms. Galactic gamers begin by customizing the game conditions including planet atmosphere and type,...
---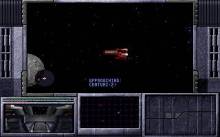 Space Federation (a.k.a. Star Reach) 1994
Star Reach is set in space in the 23rd century. After an unsuccessful peace attempt between the seven alien nations present in the galaxy, war spread out with each nation trying to take control over the others. Gameplay is real-time, simultaneous action/strategy and blends economic strategy with outer-space combat. The...
---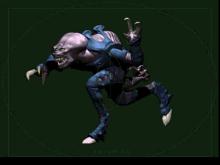 Space Hulk: Vengeance of the Blood Angels 1996
Space Hulk: Vengeance is based off of the Warhammer 40K tabletop games created by Games Workshop. I must admit that I am not familiar with them, so I'm approaching this review from a strictly video game standpoint. The game doesn't appear to be using any pen-and-paper or RPG rules anyway,...
---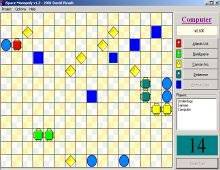 Space Monopoly 2001
Space Monopoly is a neat clone of Sid Sackson's classic Acquire board game with some new twists, although I could find no mention of Acquire at all in the game - which could be either a simple oversight, a sign that the designer doesn't want to credit Sackson, or simply...
---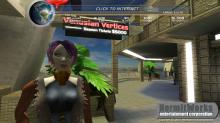 Space Trader 2007
Mixing the unique world of commodity management with classic first-person shooter gameplay, Space Trader Merchant Marine drops players in a future where every transaction is tracked, taxed, and wrapped in red tape, and only a special kind of marketer can reach the masses. Gamers take on the role of a...
---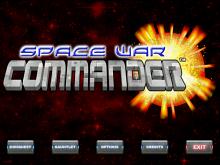 Space War Commander 2009

---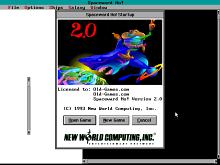 Spaceward Ho! 1992
Spaceward Ho! is a turn-based space strategic conquest game where your objective is to start from a single system, harvest metals to build ships, send ships out to claim more worlds, thus obtaining more metals to build more ships. Each system you get can also contribute to research, which will...
---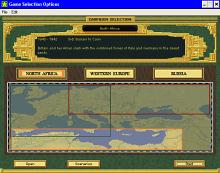 Spanish General 2005

---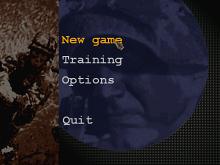 Spec Ops II: Green Berets 1999
The squad-based Spec Ops series initially hit store shelves in 1998 with Spec Ops: Rangers Lead the Way -- Pro Pack, followed quickly by Spec Ops: Ranger Team Bravo, which added an additional 25 missions. Spec Ops II: Green Berets continues the elite squad action with yet another 25 missions...
---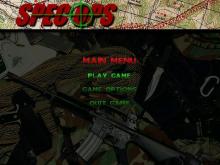 Spec Ops: Rangers Lead the Way 1998
Forcing you to adapt to your environments and develop stealth techniques, Spec Ops: Rangers Lead the Way puts you in control of two rangers who are assigned various mission in different parts of the world. Five multi-staged missions include blowing up SCUD bases in North Korea, rescuing hostages in Afghanistan,...
---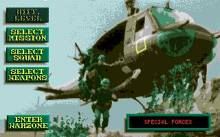 Special Forces 1992
Special Forces is a top-down arcade shooting game with a dash of strategy. It is the sequel to Airborne Ranger. When times are rough, the American people rely on their army. And when times are rough, the American army relies on their special forces. A small group of highly trained, superbly skilled,...
---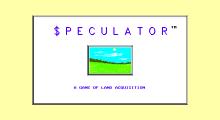 Speculator 1993
Speculator is a decent, tongue-in-cheek game of real estate acquisition. In this turn-based game, your goal is to end up with a higher asset value at the end of the game than your 3 competitors. You do this by purchasing plots of land in the city, and profit from their...
---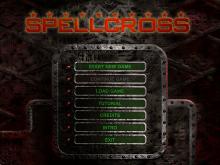 Spellcross 1997
The manual for SpellCross opens with a real 'fire and brimstone' quote that sounds as if it's straight from an agitated 17th century evangelist: "God's Wrath doth fall upon us like an evil shadow. The last judgment is soon to be with us, when the very heavens will fall upon...
---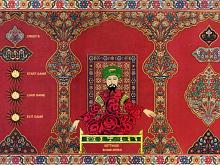 Spice Trade 2005
Spice Trade is a very interesting historical business game that is based on a unique perspective as far as computer games go: an Arab merchant living in the 14th century, when Europeans were starting their "great voyages of exploration" across the continents. Your character is named Abu Al-Qazzaz, a poor...
---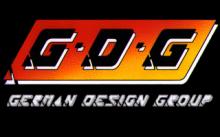 Spoils of War 1991
Like most of GDG's games, Spoils of War is a strategic/managerial wargame. You command your conquistadors in exploration, colonization and battle on land and sea. Although the setting strongly reminds of the Spanish occupation of America in 15th and 16th century, the game is settled on a fictive planet called...
---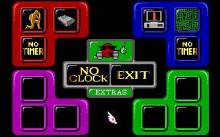 Spot 1990
A puzzle game loosely featuring licensing from the 7Up soft drink. The gameplay involves up to 4 players, which can be either human or computer, each taking on spots of a particular colour. Starting from opposite corners, they take it in turns to move, either by 'reproducing' one of their...
---