Strategy Games #30
Search a Classic Game: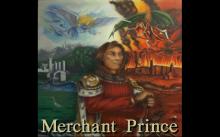 Merchant Prince 1993
Merchant Prince is an historical trading simulation set in the Renaissance and the golden age of Venice. Here, you play the role of one of the wealthy merchants in the period, wielding not only economic power but also political, religious and military. The main work in MP is managing your trade...
---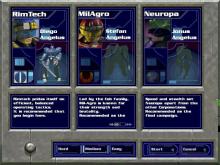 Metal Fatigue 2000
Metal Fatigue is perhaps the most aggravating RTS adventure this reviewer has played to date. One mission has the potential to last several hours and the enemy AI is relentless. It uses the same basic controls and operations as Command & Conquer or Earth 2150 with its own unique storyline. Many...
---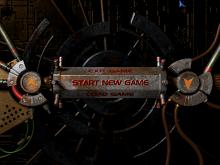 Metal Knight 1999
I've played lots of 3D, real-time strategy games and most have attracted me with their story or solid gameplay. Some set new watermarks in how their CGI sequences were interlaced and yet others had a phenomenal soundtrack. Metal Knight: Mission -- Terminate Resistance is definitely not one of those titles...
---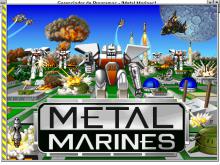 Metal Marines 1994
The Antimatter Cold War has left Earth ruined as the stockpiled AM weapons of various nations were triggered in a chain effect, vaporizing large portions of the Earth. The once great continents have been drastically changed into thousands of tiny islands and various cities have washed into the oceans. ...
---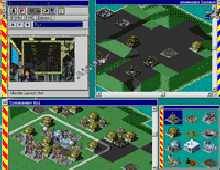 Metal Marines Master Edition 1995
Metal Marines Master Edition contains almost the same gameplay as the original Metal Marines. However gone is the storyline, as Master Edition puts the player into instant combat. Opponents can be chosen from a list of AI generals or connected to by using modem or LAN connections. Not only that,...
---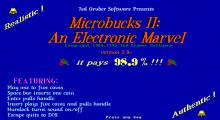 Micro Bucks II 1993
Micro Bucks II is an updated, standalone version of the Micro Bucks slot machine game that was part of The Las Vegas EGA Casino. The game is a simulation of a classic slot machine you'd find at any Las Vegas casino. You can insert up to five credits to play on...
---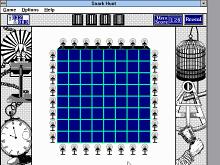 MicroProse Entertainment Pack Vol #1: Dr Floyd's Desktop Toys 1993
A collection of various "wacky" games for Windows. Apparently designed for use in an office environment (?). Decode cryptograms, play Whack-A-Mole type games, hunt snarks (shades of the 70's!). ...
---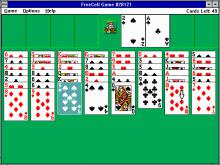 Microsoft Entertainment Pack 2 1991
The sequel to Microsoft's first Entertainment Pack, this package features the following games: Pipe Dream, FreeCell, Tut's Tomb, JigSawed, Rodent's Revenge, Stones, and Rattler Race. ...
---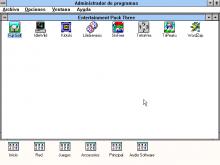 Microsoft Entertainment Pack 3 1991
The third Entertainment Pack from Microsoft, created for its new Windows 3.0, is a collection of the following games: Fuji Golf, Klotski, LifeGenesis, SkiFree, TetraVex, TriPeaks, and WordZap. ...
---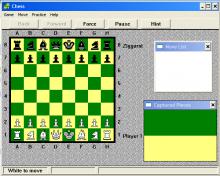 Microsoft Entertainment Pack 4 1992
Designed for Microsoft Windows environment as stress relief for that busy office. Titles include: Chess, Go Figure!, Tic-Tac-Drop, Maxwell's Maniac, Dr. Black Jack JezzBall, and the licensed Epyx game Chip's Challenge. ...
---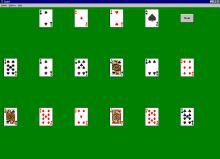 Microsoft Entertainment Pack for Windows 1990
This compilation contains: Cruel Solitaire, Golf, IdleWild (A screensaver utility), Minesweeper, Pegged Taipei, Tetris, TicTactics. ...
---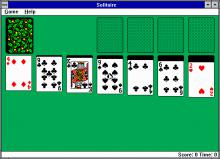 Microsoft Solitaire 1990
The bane of office managers everywhere, Microsoft Solitaire is the most prolific PC game of all time thanks to its distribution with every copy of Microsoft Windows since version 3.0. The point-and-click game follows the simple rules of basic solitaire with a few customizable options: Players can select different card...
---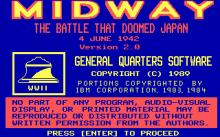 Midway: The Battle that Doomed Japan 1989
"Midway: The Battle that doomed Japan" is a 2D naval simulation. Scenario is the battle of Midway during World War II. You take the command of U.S. - or the Japanese strike fleet. The Japanese fleet is on the way to the Midway Islands ... U.S. Forces have to defeat them there....
---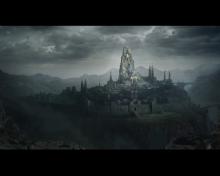 Might & Magic: Heroes VI 2011
A mainstay of strategy gaming for decades, Might & Magic returns to desktop computers with a 2011 release that moves the series' sophistication and graphic capabilities forward as it looks back into the ancient history of Heroes lore. On fundamental levels, the play of the game holds true to New...
---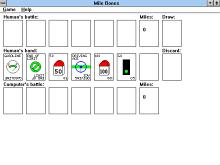 Mile Bones 1994
Mile Bones is a Windows card game which simulates a driving trip. The object of the game is to be the first to reach 700 miles (or 1000 miles under an extension). There are four types of cards that make up the 101 card deck: mileage cards, hazard...
---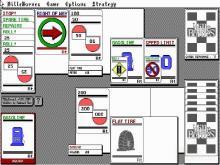 Mille Bornes 1989
Mille Bornes is a French card game, sold by Parker Brothers that simulates a car race of 700 kilometers. This is a computer adaption of that game. ...
---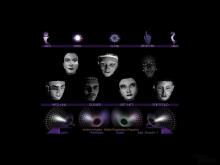 Millennium Auction 1994
Welcome to the best auction game around. Millennium Auction pits you against a group of bidders all trying to get the best deals without buying something that has no resale value. After picking your character, you proceed to your first auction. Take the time to examine what items will...
---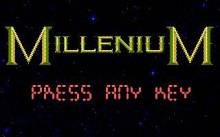 Millennium: Return to Earth 1989
Millennium: Return to Earth is the forerunner to Deuteros: The Next Millennium and has a premise similar to Sierra's Outpost. Set in the 22nd century, the Earth has been destroyed, and the player's mission is to re-establish human colonization of other worlds, beginning with just one outpost and a few...
---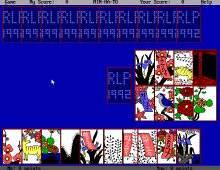 Min-Ha-To 1996
Min-Ha-To is a great PC version of a fun card game of the same name, which is essentially the Korean equivalent of the Japanese game of Hanafuda (or "flower cards" as it is known in the West). A special deck of cards, called Ha-To, is used to play the game....
---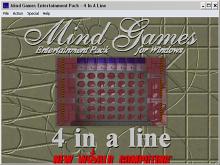 Mind Games Entertainment Pack for Windows 1997
With the somewhat misleading title of Mind Games Entertainment Pack for Windows, this collection of nine classic board games suffers from uninteresting graphics and maddeningly hard gameplay. While games like chess and Go and have stood the test of time in their real-world forms and been translated to computer screens...
---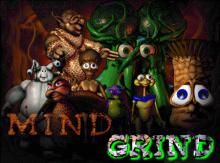 Mind Grind 1996
What if all the alien races were fighting over Earth? How would the winner be determined? Microforum attempts to answer this question with its new trivia game, Mind Grind. This bizarre new title pits alien against alien in a contest where the extra-terrestrial with the greatest understanding of frivolous earthling...
---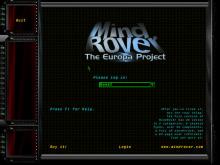 MindRover 1999
Every now and then, in my misadventures, I stumble across little known things, or people. Such was the case when I almost tripped over Cognitoy, a handful of people in Massachusetts, and their flagship title, Mindrover. I admit it, like most people I'm a little leery of small operations. Without...
---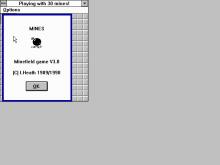 Mines 1990
Similar in gameplay to Minesweeper, Mines has you finding all the mines in a minefield. Your goal is to cross the minefield without stepping on any mines. Any space that you have seen will tell you how many mines are surrounding it. Use this to your advantage to determine...
---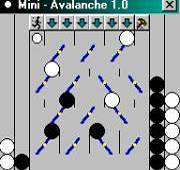 Mini-Avalanche 2001
Mini-Avalanche is a nice little PC version of Avalanche, a 1966 reflexes-oriented game from Parker Brothers. In this 2-player game, the players take turns dropping balls from the top of the board. On their way to the bottom, the balls will be stoped by several seesaws (called "gates" in the...
---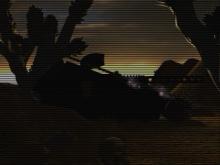 Mission: Humanity 2000
The story in Mission: Humanity begins as aliens attack Earth and destroy most of human civilization. During the hard fought war, the Humans are able to recover and reverse-engineer important pieces of spacecraft and other alien technology, eventually gaining the ability to construct spaceships of their own. With all of...
---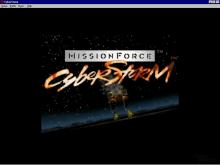 MissionForce: Cyberstorm 1996
MissionForce: CyberStorm is more than your traditional, run-of-the-mill turn based strategy game. Based on the Earthsiege universe, it throws you into the role of a Unitech soldier. Unitech is a major corporation that has built its foundation around mining throughout the planet. Everything was going well until the evil Cybrids,...
---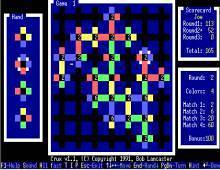 ML Crux 1991
Between 1987 and 1990, Bob Lancaster wrote 6 games that he released under the name of "MicroLink," a PC user group he belonged to. All the games boast simple, ASCII-character graphics, but the excellent gameplay and range of options make them stand the test of time. The excellent review at...
---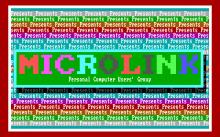 ML Push Your Luck 1990
Between 1987 and 1990, Bob Lancaster wrote 6 games that he released under the name of "MicroLink," a PC user group he belonged to. All the games boast simple, ASCII-character graphics, but the excellent gameplay and range of options make them stand the test of time. MobyGames' description says it all...
---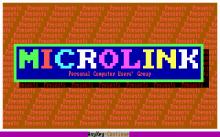 ML Shut the Box 1989
Shut the Box is a version of a classic dice game. Players roll a pair of dice. They then select digits from 1 to 9 that total the same number as the dice. Once a digit is selected, it cannot be used on subsequent rolls in the current round. When...
---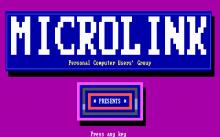 ML Yaht 1987
Yaht is a computerized version of the classic dice game that Milton Bradley has popularized as Yahtzee. Players roll five dice trying to get certain combinations for their scorecard. Players may reroll any of the five dice twice after the first roll. (They may also choose to stop rolling at...
---