Strategy Games #40
Search a Classic Game: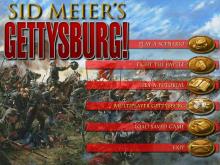 Sid Meier's Gettysburg! 1997
Sid Meier's Gettysburg! manages to do what many similar takes on the great conflict have failed to do -- take the events of the battle and present them with epic grandeur yet keep them simple to play without getting bogged down with too many rules. The actual gameplay is set in...
---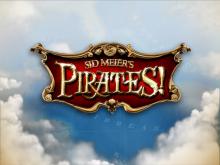 Sid Meier's Pirates! 2004
Led by renowned developer Sid Meier, Firaxis reprises one of the most universally acclaimed titles of the early days of computer gaming. This 2004 version of Sid Meier's Pirates! follows the multi-genre design of the 1987 original, while updating both presentation and gameplay with contemporarily cutting-edge technologies. Players take the...
---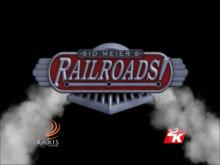 Sid Meier's Railroads! 2006
Make tracks and deliver the goods to become a powerful adversary and businessperson in a reincarnation of the classic game, Sid Meier's Railroads! Much like the original, this edition of Sid Meier's Railroads! features the challenge of creating a railroad empire by making something out of nothing during a time...
---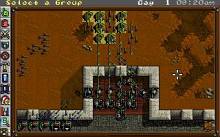 Siege 1992
Once upon a time in the land of Gurtex, the Forces of Darkness rose up in defiance of the Children of Light. This gruesome horde of evil-doers besieged four castles/fortresses in an attempt to throw the world into an era of darkness and chaos. By pillaging villages, destroying the countryside,...
---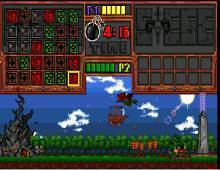 Siege (Freeware) 2001
Siege is an excellent and unique puzzle/strategy game from Fallen Angel Industries. The review at Total Klik says it all about this underrated gem: "Siege blends the strategy and puzzle game genres to create something exceptionally unique. Using 1 of 6 generals you war with each other with 20 unit types...
---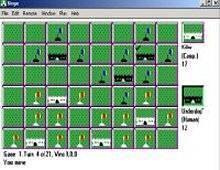 Siege! (a.k.a. Freedom Under Siege) 1992
Siege! is an interesting and unique board game that plays like a more 'real-world' version of Checkers. Your objective in the game is to control the most territory on the board after a given number of turns. The game revolves around placing four kinds of structures and use their 'spheres of...
---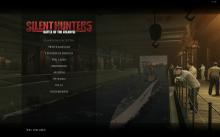 Silent Hunter 5: Battle of the Atlantic 2010
Ubisoft's long-running submarine simulator returns to the briny deep of the Atlantic Ocean and Mediterranean Sea, offering gamers a series-first opportunity to helm and explore their U-boats from a first-person perspective in Silent Hunter 5: Battle of the Atlantic. Historically based scenarios find players disrupting Allied supply lines, prowling enemy...
---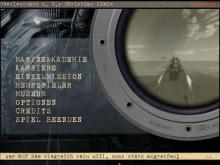 Silent Hunter III 2005
The SSI's classic submarine sim series returns to take players beneath the dangerous waters of World War II. Ubi Soft's Silent Hunter III runs on a new 3D game engine, designed for realistic water modeling and detailed cabin surroundings. This third game's interface is intended to be more intuitive and...
---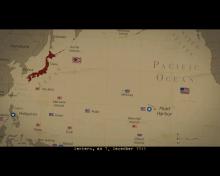 Silent Hunter: Wolves of the Pacific 2007
Players must take the role of a skipper on an American submarine in Silent Hunter: Wolves of the Pacific as they cruise unseen through the depths of the ocean. Single-players may work their way through a variety of missions on 15 maps or jump directly into a fight through patrols...
---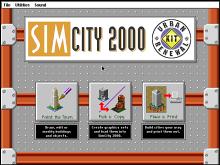 SimCity 2000: CD Collection 1994
Develop and build your own city! This collection includes SimCity 2000, SimCity 2000 Scenarios Volume 1: Great Disasters, SimCity 2000 Bonus Cities and Scenarios, and the Urban Renewal Kit which allows you to build your own cities free of charge and them import them into the game! ...
---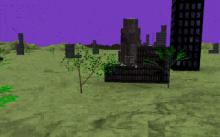 SimCity Enhanced CD-ROM 1993
The original Sim City game was a revelation to thousands of computer gamers. It was a game where you could really affect the outcome of the game by the way you built your city, and was the forerunner of simulation games to come. Since then, the franchise has been expanded with...
---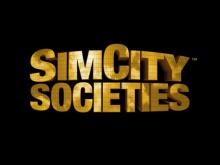 SimCity Societies 2007
Designed as a complete remake of the SimCity series, SimCity Societies adds a social dynamic to the traditional city management. Each new home, workplace, or park can affect a city's culture and environment. As mayor, players must carefully balance six competing needs when planning their city: creativity, authority, prosperity, spirituality,...
---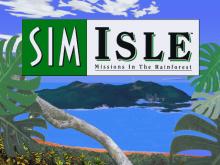 SimIsle: Missions in the Rainforest 1995
Unlike SimEarth, SimTower, or SimCity, SimIsle -- subtitled "Missions in the Rainforest" -- allows you to take over the development of any number of islands in a long chain. Many of them have missions. Five small islands comprise a tutorial that teaches the things you need to know to play...
---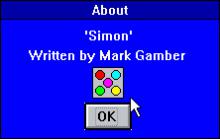 Simon 1991
Simon is a simple implementation of Ralph Baer's electronic game Simon (itself an adaptation of Atari's ill-fated Touch Me); iconic symbol of the '80s, the game rules are so primitive as to be practically instinctual -- each button is associated with a tone, and the player's goal is to reproduce...
---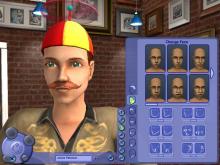 Sims 2, The 2004
The world's most successful "people simulator" gets a new lease on life in The Sims 2, the first full sequel to Maxis best-selling original. This 2004 release updates nearly every aspect of the Sims experience, from opening presentations to deep-down gameplay. The sequel features full 3D graphics, extensive new building...
---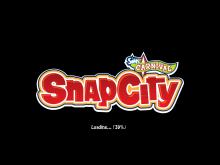 Sims, The: Carnival - SnapCity 2008
Sims Carnival: SnapCity puts a twist on the Sims universe by combining the city building of SimCity with the block dropping of a casual puzzle game. Players guide falling, color-coded blocks into place, but rather than disappear, the blocks turn into more than 200 unique buildings. Story Mode has gamers...
---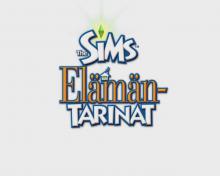 Sims, The: Life Stories 2007
Designed as a laptop friendly version of The Sims 2, Sims: Life Stories features a slimmed down "freeplay" version of the second edition plus two storylines following a couple of Sims named Riley and Vince as they grow up and experience life as a Sim. The game also includes an...
---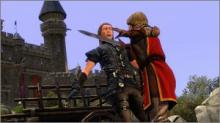 Sims, The: Medieval 2011
Moving its people-management play from familiar suburban settings to a fairy tale realm of knights and knaves, The Sims Medieval adds aspects of role-playing and city-building games to the series' life-simulation. Instead of focusing on the lives of individual characters, Medieval players guide the development of their own storybook kingdoms,...
---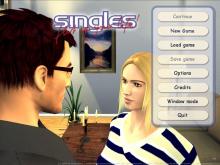 Singles: Flirt Up Your Life! 2004
Singles: Flirt Up Your Life is a personality simulation game that revolves around the development of a romantic relationship between two everyday characters, who begin as mere acquaintances sharing an apartment. As in Maxis' The Sims, players spend their time managing their character's day-to-day activities (such as going to work,...
---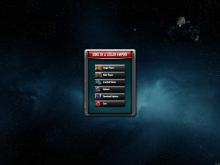 Sins of a Solar Empire 2008
In Sins of a Solar Empire, gamers must conquer planets and defeat their enemies to become the most menacing force in space. Both single- and multiplayer action takes place in real-time, and gamers may choose to play alone or challenge friends to a "domination fest." To survive the hostile world,...
---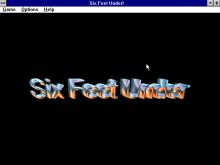 Six Feet Under 1994
Six Feet Under is a Boulder Dash variant for Windows 3.1. The game mechanics are fast explained: You are in labyrinthine underground caverns and have to collect a certain amount of crystals and get to the exit. You dig through the soil and watch after chain reactions, e.g. you dig...
---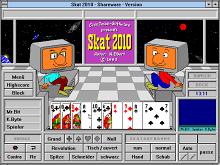 Skat 2010 1993
Skat 2010 is a simulation of the card game skat. There are many variants, but here is the principle: The game is usually played with three persons. Two of the players are playing against a single one but are not allowed to communicate. Each card has a value and one...
---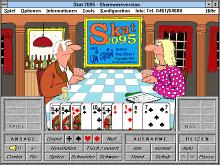 Skat 2095 1996
Skat 2095 is a simulation of the card game skat and the successor of Skat 2010. There are many variants, but here is the principle: The game is usually played with three persons. Two of the players are playing against a single one but are not allowed to communicate. Each...
---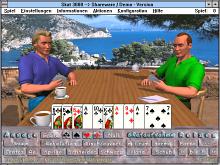 Skat 3000 1999
Skat 3000 is a simulation of the card game skat and the successor of Skat 2095. There are many variants, but here is the principle: the game is usually played with three persons. Two of the players are playing against a single one, but are not allowed to communicate. Each...
---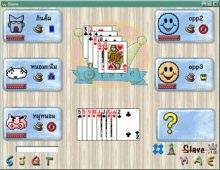 Slave 2001
Slave and JubMoo ("catch the pig" in English) are two most popular parlor card games in Thailand. The games are similar in that each player's moves depend on the previous player's move, and both good memory and planning skill is required to win. One reason both games are very popular...
---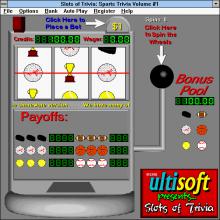 Slots of Trivia 1996
Slots of Trivia is a single-player, shareware, slot machine game. In this game the player bets virtual credits on a virtual slot machine but at various points during the game they are asked a sports question. If the question is answered correctly then they are awarded additional credits. The gamer has many...
---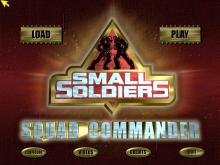 Small Soldiers: Squad Commander 1998
Red Alert Junior Addition? Not quite, but that is the general premise of Dreamworks Interactive's Small Soldiers game, Small Soldiers: Squad Commander. This games is basically a no frills real time strategy game, and Small Soldiers is geared towards the under 12 crowd. As per typical RTS games, you can choose...
---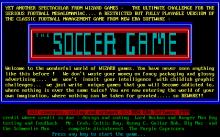 Soccer Game, The 1989
Take the role as team manager of a UK football (soccer) team in The Soccer Game. Choose from one hundred teams and utilize a database of 1270 players and hundreds of support staff from assistant managers to physiotherapists. Playing from charts and graphs manage the team well enough to move...
---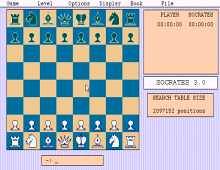 Socrates 1993
One of the most famous computer chess engines ever created, Socrates 3.0 is the engine behind EA's underrated Kasparov's Gambit and was, in mid '80s, THE engine commonly considered the best chess AI ever created. Although it has since been eclipsed by more modern programs such as Deep Blue, this...
---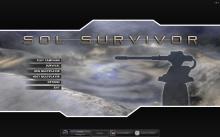 Sol Survivor 2010

---