Strategy Games #33
Search a Classic Game: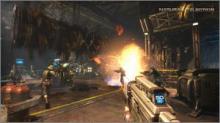 Natural Selection II 2012

---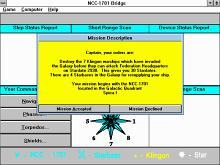 NCC-1701 1992
NCC1701 is a faithful adaptation of the mainframe classic StarTrek updated for Windows 3.1 with graphic animation, an extensive help file for the newcomer, and remarkable ease of use lending itself to play with either mouse or keyboard. This beauty will make you feel like you're in command on the...
---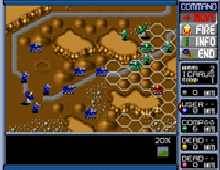 Nectaris 1995
In the year 2104, the Solar Union (the government of Earth and the solar system) faces trouble from three former colonies. Under the guise of negotiations, the colonies' forces attack and capture three mining worlds: Neptune's moon Triton, the Earth-like planet Romulous and the water world Pacifica. Earth's survival is...
---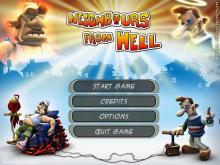 Neighbors from Hell (a.k.a. Neighbours from Hell) 2003
Neighbors From Hell is a comical game of practical jokes, presented as a spoof of "reality" television shows. Players view a cross-section of a residential building, where their character lives with a neighbor. Throughout the game's 14 episodes, the main goal is to sneak into different rooms and booby-trap everyday...
---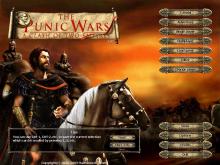 Nemesis of the Roman Empire 2003
This historical strategy game is a sequel to Haemimont's Celtic Kings: Rage of War. Beginning immediately after the ending of conflicts of the first game, Nemesis of the Roman Empire focuses on the struggle for ultimate world power between the Romans and the Carthaginians. The game offers two story-lined campaigns,...
---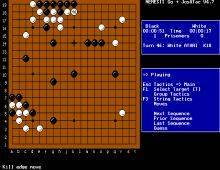 Nemesis: The Go Master 1991
This is a solid Go game that isn't as good as Ishi Press' Go Simulator, but has more teaching options. From a review at British Go Association: "[Nemesis: The Go Master] is primarily a Go-playing program, but has a number of features which add to its value for Go teaching. Installation...
---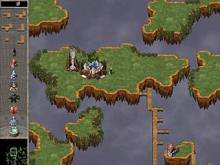 NetStorm: Islands at War 1997
NetStorm was the only game I ever had ever dreamed about and it will most likely stay that way. After nagging my parents for weeks, I received NetStorm at my cottage for my birthday. The next few weeks before I came back to the city was terrible. Thinking about strategies...
---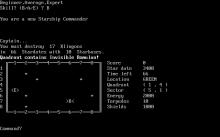 NewTrek 1982
This is another clone of "Star Trek" strategy, as many others, but maybe this is oldest of them. You have your trusted Enterprise, and you need to destroy all evil Klingons in this galaxy. Invisible Romulans are here too. Like in other such games, the galaxy is divided into 64 (8x8)...
---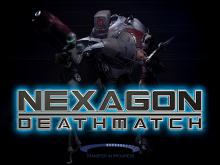 Nexagon Deathmatch 2003
Set in Earth's distant future, Nexagon: Deathmatch challenges players to lead a squad of convicted criminals through a grueling sereies of gladiator-style battles to win their freedom. The real-time action takes place in 3D arenas, suspended in the sky and built for battle. The squad must gain victory through a...
---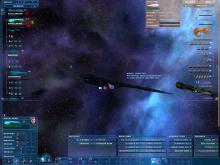 Nexus: The Jupiter Incident 2004
Players are cast into a three-dimensional galaxy they must explore, colonize, and defend in Mithas Games' Nexus. After drifting through space for 70 years, the player's character is discovered and awakened by a passing patrol. Following some training and a promotion to frigate officer, the real work begins, with an...
---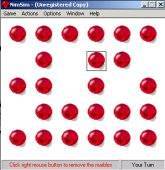 NimSim 2001
NimSim is a fun PC version of Nim, one of the oldest mathematics-based 2-player games. The game of Nim is thought to originate in China, and has been the subject of interest for mathematicians and computer scientists for years (the first Nim-playing 'computing machine' was created back in 1940). A...
---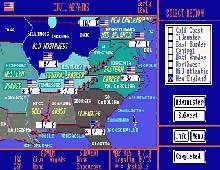 No Greater Glory 1991
No Greater Glory puts you in the shoes of Abraham Lincoln or Jefferson Davis during the American Civil War. You make the great strategic, political, and economic decisions that will determine the fate of the American people for centuries to come. You will lead the government, mobilize the armies, pick...
---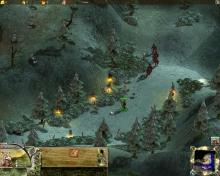 No Man's Land 2003
No Man's Land introduces the struggle for North America; players can choose from six civilizations -- British, Spanish, two tribes of Native Americans, patriots, and settlers -- and play through six stories across three campaigns. Users can choose from traditional tactics, such as open war, or more subversive strategies like...
---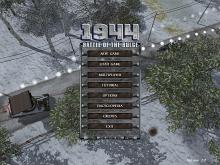 No Surrender: Battle of the Bulge 2005
Lead either the Axis or Allied forces to victory in this real-time simulation of World War II's Ardennes Offensive. More than 85 units are available to command, including artillery, tanks, rifleman, and air support. As the battles rage on, players can pause the game at any time to issue multiple...
---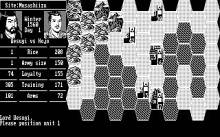 Nobunaga's Ambition 1 1988
In the 16th century, Japan's Sengoku ("Warring States") period divided the nation into numerous feudal states, each ruled by a daimyo. These daimyos would often go to war with each other. Many dreamt of conquering the land, becoming the Shogun and ruling the entire country. One of those daimyos was...
---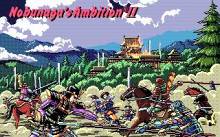 Nobunaga's Ambition 2 1989
Nobunaga's Ambition II is the sequel to Nobunaga's Ambition. The setting is 16th century feudal Japan, a period when ruthless daimyo (feudal lords) contended with each other for dominance. Ultimately, the winner in this struggle will become Shogun and hold actual power over the islands, while being nominally subject to...
---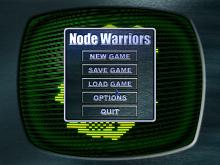 Node Warriors 2002
Node Warriors is an excellent fanmade version of Wizard of the Coast's addictive board game RoboRally. The official plot goes as follows: "it is the year X002. The internet as we know it is now known as the Intercyberweb (ICW). You are a protector of the ICW: a Nodewarrior. Your...
---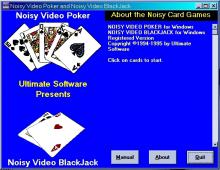 Noisy Video Poker and Blackjack 1995
Noisy Video Poker and Blackjack for Windows is similar to the video machines found in casinos. Originally, Noisy Video Poker and Noisy Video Blackjack could be purchased separately or together. If bought together (on one disk), both games are accessible within all of the games by clicking your mouse on...
---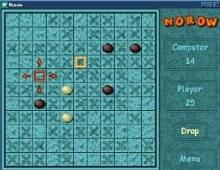 Norow 1997
Norow is a unique boardgame where you must occupy as much squares on the board as possible without having more then two squares in a row. The official rules: "...the game itself is very simple: you and the computer alternately drop chips on the board but you can't put more...
---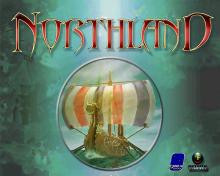 Northland 2002
Northland is the third game in the Cultures series, picking up where Cultures 2 ended. Having been banned by Odin, Loki -- a Nordic god known for lies and plotting against his colleagues -- is searching for a way back into Asgard. His latest plan involves making use of four...
---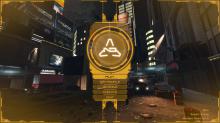 Nuclear Dawn 2011
Up to 32 players can take on a mix of intense first-person shooting and tactical real-time strategy as they join two warring factions battling for control of a post-apocalyptic 2049 in Nuclear Dawn. One player on each squad assumes the role of Commander, using an overhead viewpoint to deploy troops,...
---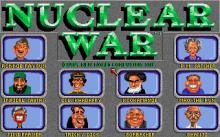 Nuclear War 1989
In Nuclear War you have to blow the opposition to smithereens - you have four opposing factions. You can either drop the bomb on them using a bomber, fire a missile, or try to lure their population using propaganda. Ocassionally a random event occurs, for example aliens would land on one...
---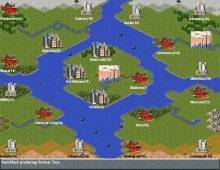 Nuclear War 3: Ground Zero 2001
Nuclear War 3: Ground Zero is an excellent fanmade remake of New World Computing's Nuclear War. The game is the third installment in RC Software's line of Nuclear War remakes that dates from 1997. Game rules closely mirror NWC's classic with some tweaks: Nuclear War is a turn-based "world domination"...
---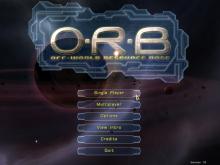 O.R.B.: Off-World Resource Base 2002
In this real-time strategy space-based war between the Malus and Alyssian factions, players fight for resources in the mineral-rich fields of an asteroid belt by researching and developing technologies in the areas of energy, materials, construction, explosives, electronics, and academics. Strategic elements of O.R.B.: Off-World Resource Base include scanning asteroids...
---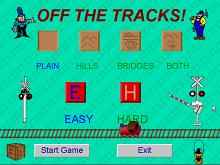 Off the Tracks 1998
This kid's game teaches your children about mapping, using one of their favorite subjects - trains! You have to build a set of tracks to get the train to its shed, while avoiding mountains and crossing bridges. The game is easily mouse-driven for pre-readers. There are four different sets of...
---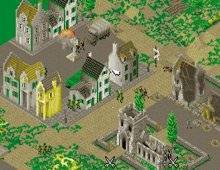 Offensive 1996
Offensive is an RTS/Wargame, that put you at the battlefields of World War 2. As an axis or allies commander, play through 20 various scenarios, from Normandy invasion to the capture of Berlin. Control 15 different types of units, including armor, tanks, trucks, guns and infantry. Game uses isometric graphic engine...
---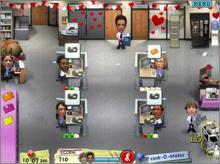 Office, The 2007
The cubicle crew at Dunder Mifflin are subjects of their first video game, courtesy of casual games publisher MumboJumbo. Based on the NBC version of the show, The Office on PC has players interacting with Michael Scott, Dwight Schrute, Pam Beesly, and the rest of the gang in a lighthearted...
---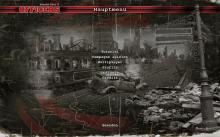 Officers 2008
Players can get a feel for the tactical side of WWII in Officers, a 3D real-time strategy game that puts gamers in charge of the Allied Forces as they advance on occupied Europe. There are more than 50 era-authentic infantry, armor, artillery, and aircraft units at players' disposal, and the...
---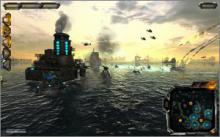 Oil Rush 2012

---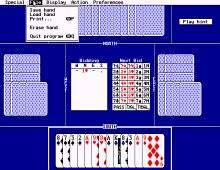 Omar Sharif on Bridge 1992
This Bridge game has built-in tutorial mode which makes it easy for novice players to start enjoying the game right away. Omar Sharif himself will guide you through the rules, and the sample hands show you the best bid or play to make in a variety of situations. For the more...
---