Strategy Games #4
Search a Classic Game: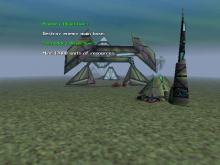 Armor Command 1998
Armchair generals will enjoy the full-scale battles in this real-time game of interplanetary warfare. Graphically intensive and intended for high-end machines with 3D accelerator cards, Armor Command shows players the world of science fiction warfare from a previously unexplored perspective. The 3D environment lets you pan the battlefield and view...
---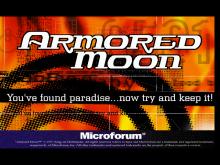 Armored Moon 1998
Armored Moon is real time strategy providing about forty hours of real-time strategy gaming fun. The year is 2069 and Earth's colonies thrive on the Moon. Unfortunately, there is a major disagreement over who should control the thriving. The bad guys, called G7, want the Moon for themselves. The good...
---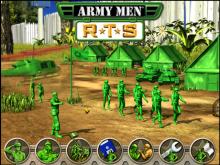 Army Men: RTS 2002
Army Men RTS lets you relive the wars waged in your yard or on the kitchen floor using little plastic green men. It's a solid real-time strategy game and, while hardcore fans may find it a bit simplistic, most will enjoy it, as will newcomers to the genre. Two factions,...
---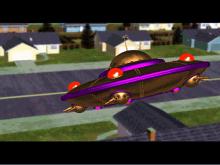 Army Men: Toys in Space 1999
"Bring in the fly boys," Sarge orders as reconnaissance clears a path for the Space Troopers. The Tan Army won't get away with it this time as long as you help Sarge and the Green Army prevent earthly invasion when the aliens make a joint agreement with Commander Plastro to...
---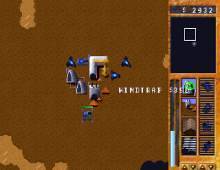 Arrakis 1999
Arrakis is a laudable effort by fans of Westwood's revotionary Dune 2 to create another real-time strategy game in the Dune mythos, based largely on game concepts from Westwood's classic. Dune 2 veterans will be right at home with this fanmade "sequel." From the graphics and sounds (a lot of...
---
---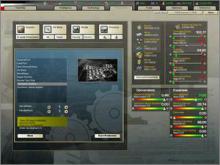 Arsenal of Democracy 2010
Created by fans of Paradox Interactive's real-time strategy series Hearts of Iron (and essentially a souped-up version of Hearts of Iron II), Arsenal of Democracy aims to build on its predecessors by offering an experience tailored specifically to hardcore wargamers. Players can once again take control of more than 175...
---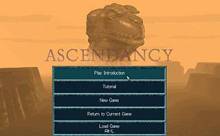 Ascendancy 1995
Ascendancy is a space-based, turn-based empire builder that reaches out and grabs you right from the start. Unlike other games in the genre requiring hours of play before the good stuff kicks in, this one gets you off to a running start that never slows down. You'll be up to...
---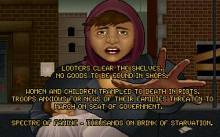 Ashes of Empire 1993
Bold in scope, but limited in absorbing game play, Ashes of Empire is a logisticians battleground. The enormous depth of the game notwithstanding, Ashes of Empire provides a multitude of options to juggle in order to restore balance to this fictitious world -- and therein lies the problem. Although ambitious...
---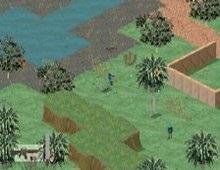 Assault Trooper 1997
There aren't many action games in which using your brain is more important than squeezing that trigger finger. However, as a lone commando performing stealth operations deep in enemy territory, moving around without being detected becomes essential for survival. Assault Trooper is an isometric stealth shooter that sends you to...
---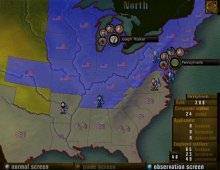 Ata: Extracts from the American Civil War 2000
Ata: Extracts from the American Civil War is an excellent freeware remake of Infogrames' classic North & South humorous wargame. Like North & South, Ata is a two-player turn-based strategy game set in the U.S. Civil War, with significant action elements. As the commander of either the Union or Confederate...
---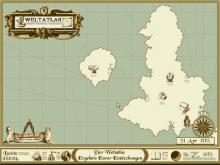 Atlas 1995
Atlas is a historical business/discovery game by Japanese developer ArtDink, famous for A-Train railroad simulation series. The German version was published by Sunflowers. The game is set in the 15th century: you are a ship captain who just signed a contract with the King of Portugal. In compensation for 10,000...
---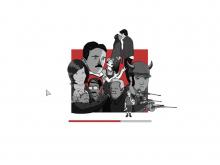 Atom Zombie Smasher 2011

---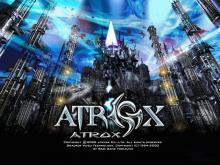 Atrox 2001

---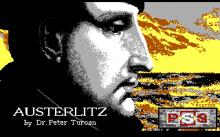 Austerlitz 1989
Third entry in a row of historic wargames focussing on the Napoleonic era (the first two were Waterloo and Borodino). This time the player can re-fight the decisive battle of Austerlitz, which took place on Dec 2, 1805. You may either play as Emperor Napoleon or Czar Alexander. It is...
---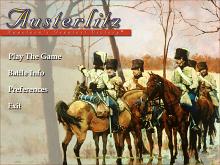 Austerlitz: Napoleon's Greatest Victory 2002
Following BreakAway Games' Waterloo comes Austerlitz, which applies its sophisticated real-time treatment to the influential title battle waged earlier in the career of the famous military genius. Take the role of Napoleon Bonaparte to lead your forces to victory, or win the day with the Russian or Austrian armies and...
---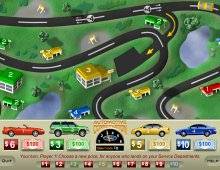 Automotive Conservation 2001
This is a very simple freeware promotional game. What does it promote? Is it just to promote car maintainance or is it to promote the car company that ordered the production of this game? I think it's the second. It's a board game, a very simplistic board game. You set a...
---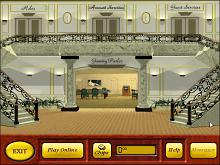 Avalon Casinos 1996
Avalon Casinos is a freeware game that contains the most popular games found in a casino. The games on offer are: American Roulette, French Roulette, Blackjack, Video Poker, Mini-Baccarat, and Pai Gow Poker. The game has two modes of play, an on-line mode in which players register their credit...
---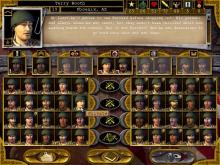 Avalon Hill's Squad Leader 2000
Avalon Hill's Squad Leader has you leading of a band of soldiers through the Battle of the Bulge, the Normandy Invasion, and Arnhem safely. To become a great leader, you can begin by completing the tutorials that teach you the basics of the game. After your training is completed, there...
---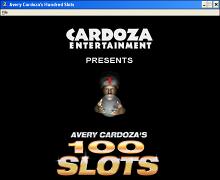 Avery Cardoza's 100 Slots 1997

---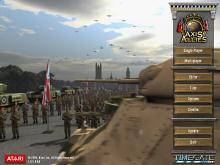 Axis & Allies 2004
While the classic Avalon Hill board game "Axis & Allies" has enjoyed a number of computer game conversions throughout the years, this 2004 version from Kohan developer TimeGate Studios is the first to translate the World War II turn-based strategy for real-time play. The game features two dozen single-player scenarios...
---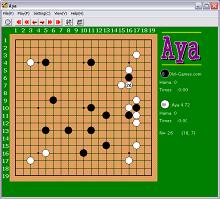 Aya 2001
Aya is an excellent freeware Go program coded by Hiroshi Yamashita. The game's AI ranks approximately around 12 Kyu in Japanese system, which means it should prove very challenging to a casual Go player. Aside from featuring a tough AI, the game sports pleasant graphics and a good nuimber of options,...
---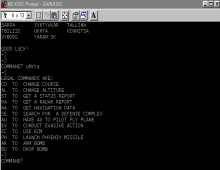 B-1 Nuclear Bomber 1983
In B-1, you have to "fly" a B-1 bomber to it's destination, and destroy the target of the mission. You input text commands to control your bomber's altitude, course, radar, weapons, and so on. And, of course, the USSR will try to stop you from bombing their targets, with an...
---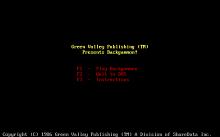 Backgammon (ShareData) 1987
Backgammon is one of those classical board games that are easy to learn but difficult to master. Playing against the computer might not be the best way, but it sure as hell beats playing against yourself. For all who might not know how to play backgammon, there's the rulebook included,...
---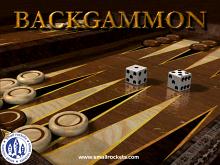 Backgammon (Small Rockets) 2001
Backgammon has been part of the gaming world in one form or another since early in the 16th century. Global Star Software's virtual presentation of the time-honored board game features novice, intermediate, and expert skill levels, online support, and four unique boards, including marble, metal and wood, as well as...
---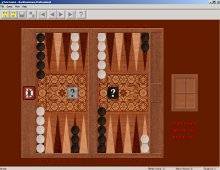 Backgammon Professional 1998
Backgammon Professional is a superb backgammon program by Oxford Softworks, a company famous for excellent computer algorithms in PC conversions of popular board games. All the features that backgammon players could hope for are here: polished graphics, intuitive interface, Internet and network play options, a variety of match play options...
---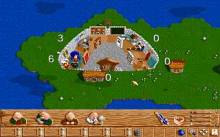 Baldies 1996
An action-oriented strategy game in which you take control of sadistic (yet cute) little characters, Baldies invites you to wipe out the enemy Hairies and achieve total domination of the game world. Gameplay is centered mainly on resource management. Players must assign their Baldies the roles of Scientist, Soldier, Worker,...
---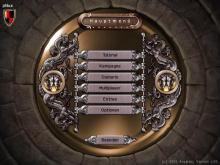 Ballerburg 2001
Defend a castle against attacks while laying siege to the enemy with well-placed projectiles in this German-developed PC game. A mix of traditional real-time strategy and action puzzle-solving, the basic concept of Castle Siege: Ballerburg may remind some older gamers of the early-'90s classic Rampart. The game's story, told tongue-in-cheek,...
---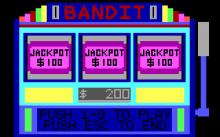 Bandit 1986
Bandit is a slot machine game. You start with $200 and you can play for $1 to $9 each time, by pressing the appropriate number key. After pulling the lever, three reels start to spin and when they stop you can see whether or not you have won money. You...
---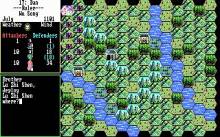 Bandit Kings of Ancient China 1989
In the 12th century, the Emperor Hui Zhong is faced with an internal rebellion led by Imperial Minister Gao Qiu. The Song Dynasty comes to an end, and Gao Qiu became the new ruler. You take the role of an exiled ruler, and you must build your stats up to...
---