Strategy Games #9
Search a Classic Game: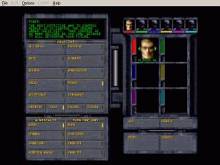 Chaos Overlords 1996
The cyberpunk genre has been done, redone and overdone for years but, every now and then, someone gets it right. Chaos Overlords is a case in point here as it manages to pull a lot of things together to make a really fun, complex game without ever becoming tedious. It...
---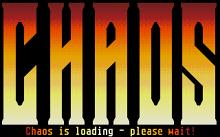 Chaos: Remake 1993
A remake of my favourite game of all time and one that does the unthinkable - it improves on perfection. I'm not gonna talk in any great detail about Chaos, if you have no idea what the game is then I suggest that you read the review on this site...
---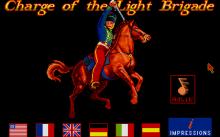 Charge of The Light Brigade 1991
'The Charge of the Light Brigade' recreates the battle of Balaclava in 1854 during the Crimean War, when 25,000 Russian troops attempted to take control of this strategically important area from the outnumbered allied British, French and Turkish forces. This is a real-time strategy game and the player can change...
---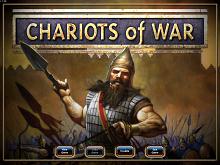 Chariots of War 2003
Chariots of War presents the fierce battles of ancient Mesopotamia. Players take control of one of 58 nations -- Egyptians, Babylonians, Nubians, Assyrians, and others -- and mastermind economic development projects, sell marketable commodities, collect resources, and take direct control of their armies during battles. The citizens of every empire...
---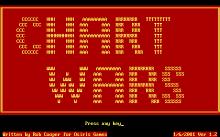 Chart Wars 2001

---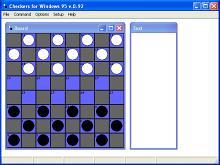 Checkers for Windows 95 1996
I do not think that further explanation is necessary for this game. It is just the game checkers with a few options. ...
---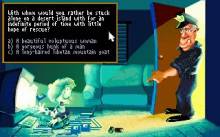 Chess Maniac 5 Billion and One 1993
National Lampoon's Chess Maniac 5 Billion and 1 is a parody of the award winning Chessmaster series. Although a parody, the game honors the traditional form of chess in terms of movement and strategy while the humor comes from background sources. Examples include advice received when you ask the computer...
---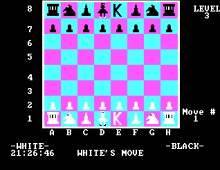 Chess Partner 1983
One of the earliest CGA freeware chess programs, Chess Partner by Scott Murray is an excellent chess game that surprisingly stands the test of time rather well - even 20 years after the initial release. Although it naturally lacks the pizzazz of modern chess games, Chess Partner still offers plenty...
---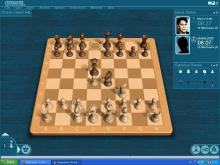 Chessmaster 10th Edition 2004
Following the many earlier popular releases in the Chessmaster series, this tenth edition boasts an even greater emphasis on helping gamers to become better chess players. The game's new version of the "King" chess engine is designed to be accommodating enough to teach an absolute beginner and yet powerful enough...
---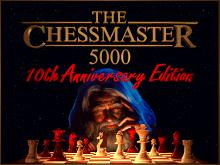 Chessmaster 5000 1996
What do you get if you combine over twenty attractive chess sets, a simple easy-to-use interface, and one hell of a chess engine? Chessmaster 5000. Mindscape's fantastic new adaptation of the classic can teach you how to play, how to improve your game, and how to gracefully get your butt...
---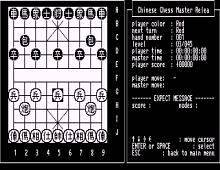 Chinese Chess Master 1987
Chinese Chess Master is an excellent straightforward chinese chess program that has all the features one could hope for in this type of game, from options to rewind or fast forward moves, save game in progress, and varying difficulty levels. The game's AI is quite tough even at middle (4...
---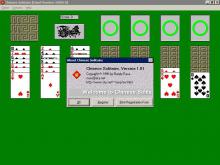 Chinese Solitaire 1993
Chinese Solitaire is a single player card game. Superficially the game resembles Klondike solitaire in that some of the cards are face up and they are built into sequences of descending rank and alternating colour. Forty-nine cards are dealt into seven stacks of seven cards. The first four stacks are dealt...
---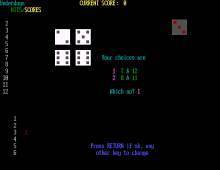 Choice 2000
Choice is a great freeware PC version of an excellent dice game designed by Sid Sackson, of Acquire fame, first included in his A Gamut of Games book and later released as a board game by Hexagames. This PC version is the multiplayer version of Choice (also sold as Solitaire Dice...
---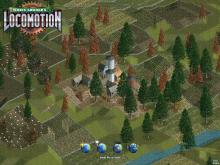 Chris Sawyer's Locomotion 2004
The celebrated designer of the popular RollerCoaster Tycoon games returns to his Transport Tycoon roots with this business empire simulation. Chris Sawyer's Locomotion places players in competition with other railway shipping magnates and robber barons, to lead the transportation market and rack up the biggest profits. The game takes place...
---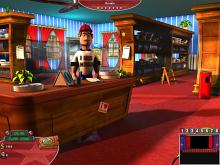 Cinema Empire 2007

---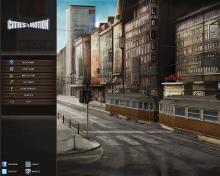 Cities in Motion 2011
Players attempt to create the most efficient and profitable public transportation systems possible as they take control of all forms of transit in Amsterdam, Berlin, Helsinki, and Vienna in Cities in Motion. A full campaign, 12 different scenarios covering the 100-year span between 1920 and 2020, and a sandbox mode...
---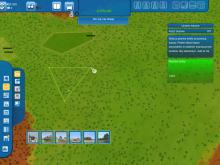 Cities XL 2011 2010

---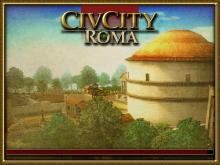 CivCity: Rome 2006
The product of a collaboration between Firefly Studios and Firaxis, CivCity: Rome is designed to combine the management strategy of the Stronghold games with the deep historical context of Sid Meier's Civilization series. As in many other city building games, players begin in a mostly undeveloped space with limited resources,...
---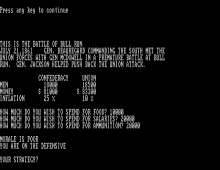 Civil War 1983
Civil War is a below-average BASICA game distributed only among IPCO members. Due to limitations of the BASIC language and early 1980 hardware, the game amounts to little more than a quirky piece of PC nostalgia. From the MobyGames description: "Civil War is a war strategy simulation. You play as...
---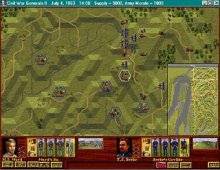 Civil War Generals 2 1997
In Civil War Generals 2: Grant - Lee - Sherman, the sequel to Robert E. Lee: Civil War General, the designers have taken the best from the original title and implemented many more features to make playing a truly memorable experience. In this turn-based Civil War extravaganza, hex squares are...
---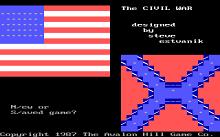 Civil War, The 1985
"Based on the Victory Games boardgame of the same title, this product covered the American Civil War (1861-1865). It showed how one can take a highly playable boardgame and turn it into an unplayable computer "product". Marred by incomplete rules, incomplete graphics and incomplete programming, Civil War stands out clearly...
---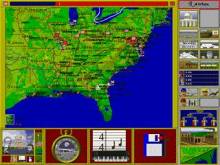 Civil War, The (Empire) 1995
Empire Interactive tried to produce the complete, definitive Civil War game in 1995 with The Civil War. Unfortunately, although wide in scope and ambition, the actual result was as disastrous as General George Custer's last stand. For starters, the artificial intelligence can be described more accurately as artificial ignorance. In...
---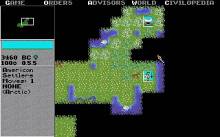 Civilization 1991
Sid Meier's Civilization breadth of scope is simply awe inspiring, as it purports to capture all of human history within just one game. The game's graphics and sounds are functional but unremarkable. Cities are squares colored to denote their owner with a number corresponding to population size. Undefended cities have light...
---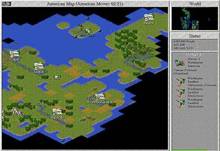 Civilization 2 1996
While the original Civilization was created by Sid Meier, Brian Reynolds takes Meier's original design and improves upon it to create Sid Meier's Civilization II. Reynolds can do no wrong with this great sequel, a game by which all others of this genre will be judged. It is an incredible...
---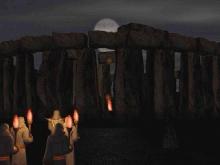 Civilization II: Test of Time 1999
Sid Meier's Civilization quickly became another one of Sid Meier's great accomplishments. Sid Meier's Civilization II featured the needed improvements to make it an instant classic. Civilization II: Multiplayer Gold Edition added online play and came packaged with a lot of scenarios. Civilization II: Test of Time turns out to...
---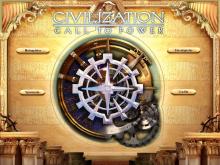 Civilization: Call to Power 1999
Civilization: Call to Power is a follow-on title to its highly successful predecessors, Civilization and Civilization II. The game approaches history on a very large scale, covering 7,000 years from approximately 4,000 BC to 3,000 AD. In this turn-based strategy world-builder, the player leads his or her civilization to power...
---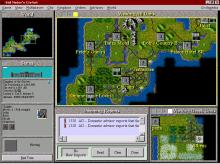 CivNet 1995
Take your civilization building skills online against friends and strangers with Sid Meier's CivNet. Practice your computer opponent civilization conquering in Solo Play, then take turns in a game of Hotseat, or prove you're a world domination wunderkind in a multiplayer map of mayhem with up to seven opponents hooked...
---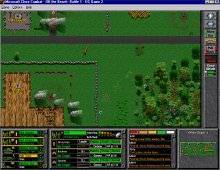 Close Combat 1996
Microsoft's Close Combat is quite the innovative real-time strategy game. It is a historically based war game in that it takes place on the shores of Normandy in 1944. Spanning a six-week timeframe, you control either the German or American forces and try to win the war. What makes this game...
---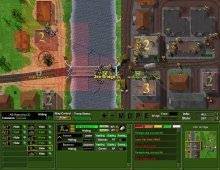 Close Combat 2: A Bridge Too Far 1997
Close Combat: A Bridge Too Far allows units the free will to decide whether or not to follow an order. Unlike games such as Command and Conquer where wave upon wave of your brave little soldiers will rush headlong into a mammoth tank (taking one for the team, so to...
---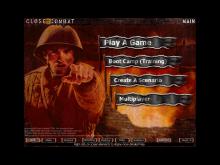 Close Combat 3: The Russian Front 1998
Fans of the original Close Combat and its sequel Close Combat II: A Bridge Too Far, will know that Atomic Games has put a great deal of thought into producing a combat strategy game that isn't just a set of statistics with the odd action sequence. Close Combat III: The Russian...
---