Strategy Games #3
Search a Classic Game: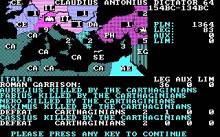 Annals of Rome 1988
Annals of Rome begins in 273BC and sets you as a Roman senator, with the ultimate aim of colonizing as much of the known world as possible, and retaining that power against Carthaginians, Vandals, Parthians, Persians and all the other world forces. You have a strong army at your disposal,...
---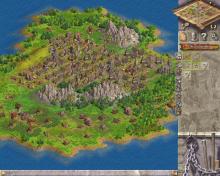 Anno 1503: The New World 2003
Build a New World empire in real time -- in 1503 A.D. As the title indicates, this sequel is set 99 years before Sunflowers Interactive's original 1602 A.D., at a time when travel and trade across the open ocean promised both unknown danger and great profit. Explore islands of opportunity...
---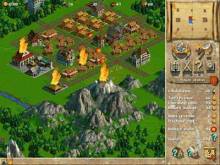 ANNO 1602: Creation of a new world 2000
Announcing itself as the "Creation of a New World," Anno 1602 is a real-time strategy game in the SimCity 2000 or Settlers II style. The action happens continually around you and every move or command you make takes place immediately, not further down the timeline. As the title suggests, this...
---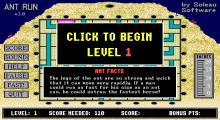 Ant Run 1993
Ant Run is an adaption of the popular pipe-laying games ... in this case, the task is to keep an ant running through tunnels as long as possible. The player can rotate the tunnel pieces to try to keep him going. ...
---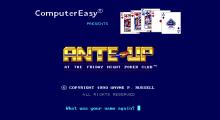 Ante-Up at the Friday Night Poker Club 1990
Ante-Up at the Friday Night Poker Club is a your chance to play against four computer players in four different Poker games. You can choose whether you play a variety of games or stick to just the game(s) you want to play. The game modes available are: 5 Card Stud,...
---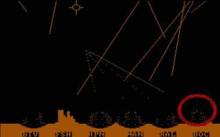 Anti Ballistic Missile 1982
Anti-Ballistic-Missile is a Missile Command variant. The object of the game is to protect six cities along the IBM east coast. The enemy has 12 missiles it will fire which need to be destroyed before they reach the cities. The player controls a cursor indicating where to fire anti-ballistic missiles....
---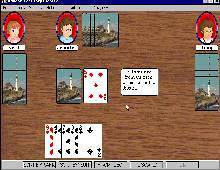 Anyone for Cards? 1994
While in Arizona, USA you enter the house of 65 years old Reynold and Viola and meet 18 characters who also came here for some reason. The reason is to play a one of 12 card games - Cribbage, Gin, Hearts, Spades, 31, 99, Whist, Pinochle, George, Oh Hell, Euchre,...
---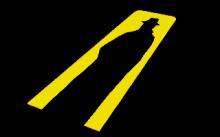 Arcade Fruit Machine 1992
Simulation of slot machine. Player throws several coins in the slot and begins his career. During the improvement of his skill player completes CASH'n'GRAB feature, where he must collect numbers chosen during gambling to complete all letters. Completing this feature, player is allowed to choose one from three bonuses (Pick...
---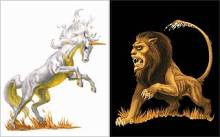 Archon Ultra 1994
Archon Ultra, an upgrade to the original 1984 title, is essentially chess for action gamers. Action takes place on a chessboard-like playing field with players controlling either light or dark pieces against a human or computer-controlled opponent. Players take turns and claim victory by capturing all five "power point" squares...
---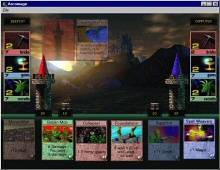 Arcomage 1999
If you've played Might and Magic 7 or 8, you probably remember Arcomage, the amazingly addictive fantasy card game found in those games' taverns. In fact, it's so addictive that many players, myself included, have kept M&M 7 or 8 installed long after they were through with them just so...
---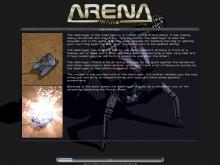 Arena Wars 2004
This game from Germany's ASCARON Entertainment uses the action of an online shooter to emphasize the sporting side of real-time strategy gaming. Instead of the pastoral territories of a medieval fantasy realm, or the unclaimed wilderness of a distant planet, opponents battle in large arenas where their efforts entertain an...
---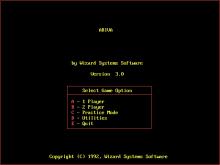 Ariva 1992
The player controls a snake at the bottom of the screen, attempting to reach a goal at the top of the screen within a time limit. This snake can travel in one direction at a time, and must continue uninterrupted until it encounters an obstacle, at which point it has...
---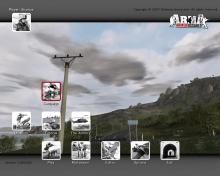 ArmA: Combat Operations 2006
ArmA: Combat Operations invites gamers to enter a single-player campaign to complete missions or connect to an online world of combat with room for more than 50 players. Gamers enter 150 square mile battlefields with their choice of weaponry and must complete the objectives discussed in the briefing before the...
---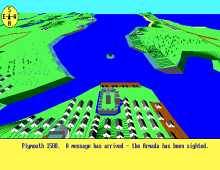 Armada 1989
The game is another entry in a row of historic wargames by Dr. Peter Turcan. This time it is focusing on the battle of English fleet against Spanish Armada invaders, which took place near Plymouth on July 31st, 1588. You may either play as Lord Howard or Medina-Sidonia. It is...
---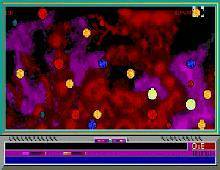 Armada 2525 1991
An early 4X space strategy game that foreshadowed the more recent Master of Orion I and II. The game can be played with 2-6 players, any combination of which can be either human or AI controlled. There is no real sound in Armada 2525, save for the occasional system beep....
---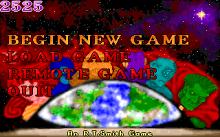 Armada 2525: Deluxe Edition 1992
In this updated version of his solid space strategy game, released after Interstel's demise, R.T. Smith adds a lot of gameplay options (including multiplayer mode) and vastly improved graphics that makes a good game even better. This edition is definitely what Armada 2525 should have been, but not. Highly recommended...
---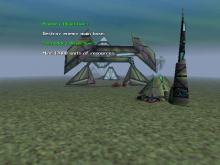 Armor Command 1998
Armchair generals will enjoy the full-scale battles in this real-time game of interplanetary warfare. Graphically intensive and intended for high-end machines with 3D accelerator cards, Armor Command shows players the world of science fiction warfare from a previously unexplored perspective. The 3D environment lets you pan the battlefield and view...
---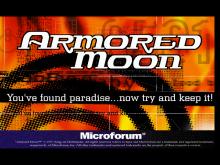 Armored Moon 1998
Armored Moon is real time strategy providing about forty hours of real-time strategy gaming fun. The year is 2069 and Earth's colonies thrive on the Moon. Unfortunately, there is a major disagreement over who should control the thriving. The bad guys, called G7, want the Moon for themselves. The good...
---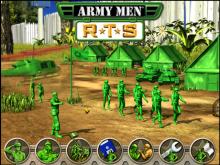 Army Men: RTS 2002
Army Men RTS lets you relive the wars waged in your yard or on the kitchen floor using little plastic green men. It's a solid real-time strategy game and, while hardcore fans may find it a bit simplistic, most will enjoy it, as will newcomers to the genre. Two factions,...
---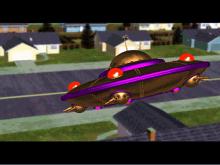 Army Men: Toys in Space 1999
"Bring in the fly boys," Sarge orders as reconnaissance clears a path for the Space Troopers. The Tan Army won't get away with it this time as long as you help Sarge and the Green Army prevent earthly invasion when the aliens make a joint agreement with Commander Plastro to...
---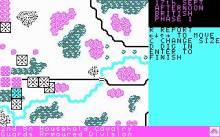 Arnhem 1988
Arnhem is a first entry in R. T. Smith's World War II trilogy, including Desert Rats and Vulcan. It simulates the assault operation initiated by Allied forces in September 1944 to take over the bridge of Arnhem, the Netherlands. There are British, Irish, Welsh, Polish, and American units of Allied...
---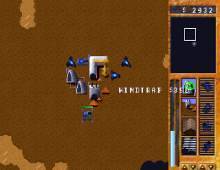 Arrakis 1999
Arrakis is a laudable effort by fans of Westwood's revotionary Dune 2 to create another real-time strategy game in the Dune mythos, based largely on game concepts from Westwood's classic. Dune 2 veterans will be right at home with this fanmade "sequel." From the graphics and sounds (a lot of...
---
---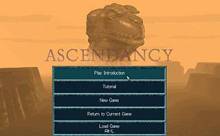 Ascendancy 1995
Ascendancy is a space-based, turn-based empire builder that reaches out and grabs you right from the start. Unlike other games in the genre requiring hours of play before the good stuff kicks in, this one gets you off to a running start that never slows down. You'll be up to...
---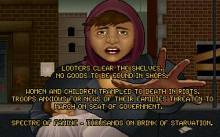 Ashes of Empire 1993
Bold in scope, but limited in absorbing game play, Ashes of Empire is a logisticians battleground. The enormous depth of the game notwithstanding, Ashes of Empire provides a multitude of options to juggle in order to restore balance to this fictitious world -- and therein lies the problem. Although ambitious...
---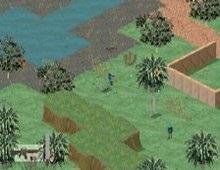 Assault Trooper 1997
There aren't many action games in which using your brain is more important than squeezing that trigger finger. However, as a lone commando performing stealth operations deep in enemy territory, moving around without being detected becomes essential for survival. Assault Trooper is an isometric stealth shooter that sends you to...
---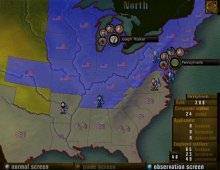 Ata: Extracts from the American Civil War 2000
Ata: Extracts from the American Civil War is an excellent freeware remake of Infogrames' classic North & South humorous wargame. Like North & South, Ata is a two-player turn-based strategy game set in the U.S. Civil War, with significant action elements. As the commander of either the Union or Confederate...
---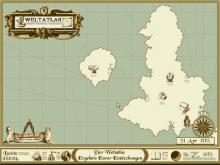 Atlas 1995
Atlas is a historical business/discovery game by Japanese developer ArtDink, famous for A-Train railroad simulation series. The German version was published by Sunflowers. The game is set in the 15th century: you are a ship captain who just signed a contract with the King of Portugal. In compensation for 10,000...
---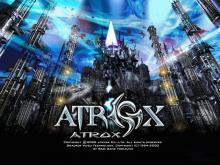 Atrox 2001

---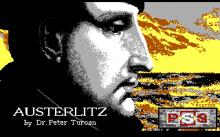 Austerlitz 1989
Third entry in a row of historic wargames focussing on the Napoleonic era (the first two were Waterloo and Borodino). This time the player can re-fight the decisive battle of Austerlitz, which took place on Dec 2, 1805. You may either play as Emperor Napoleon or Czar Alexander. It is...
---