Arcade action Games #57
Search a Classic Game: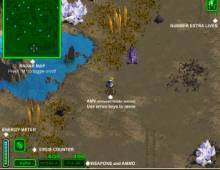 Outbound 1999
The second and one of the last releases from Freeform Interactive, a promising freeware developing arm of Ingava.com, one of the best freeware sites that folded in mid-2001. Rocket Download has the skinny on this fun Command & Conquer-style shooter: "Outbound is a fabulous freeware game that features full mechanized combat....
---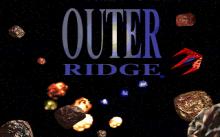 Outer Ridge 1995
Outer Ridge combines Asteroids with 3D space viewed from the cockpit, similar to Wing Commander. On each level, there is a certain quota of asteroids to destroy before moving on to the next sector. Controls are similar to asteroids, the player can rotate in 720 degrees of direction, and can...
---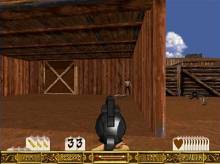 Outlaws 1997
If games like Doom, Quake, and Duke Nukem are too noisy and dark for your tastes, then Outlaws might offer just the first-person experience you're really looking for. This shoot-'em-up not only gives you time to react to your enemies, but also lets you have a clear view of what...
---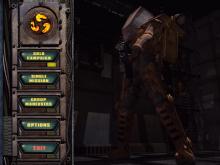 Outwars 1998
Outwars is a fun, innovative 3D shooter/strategy hybrid from SingleTrac that feels like Looking Glass' Terra Nova: Strike Force Centauri, except with a more stereotypical plot (think Starship Troopers) and "canned" NPCs but adding plenty of fun multiplayer options. You play an elite futuristic Marine protecting the universe from vicious...
---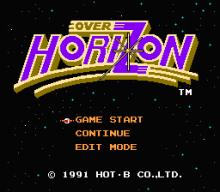 Over Horizon 1991
Over Horizon from developer HOT-B is one of the most underrated shoot 'em ups on the NES console. Reminiscent of R-Type in many ways, Over Horizon introduces many neat features to the crowded genre, such as speed-up of your ship, the ability to fire from the front AND back, and...
---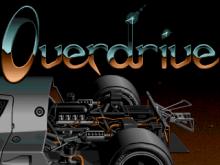 Overdrive 1995
This is a topdown racing game similar to Micro Machines in which the player gets to control 4x4s, buggies, super sports cars and GP cars etc. Race around 20 gruelling courses across five different terrains. Featuring super smooth, fast scrolling, excellent colour graphics with 2 player support. ...
---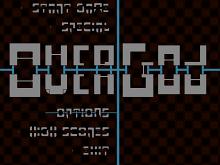 Overgod 2005
Overgod is a fun freeform shooter from Captain Pork, maker of Lacewing and Captain Pork's Revenge, two solid action games reviewed earlier on this site. The (somewhat superfluous) plot: "For too long has humanity been ruled by cruel and disputatious gods! Fly through the various layers of the Celestial Oversphere...
---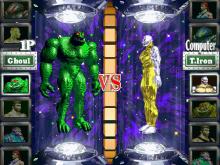 Overkill 1996
Overkill is a Mortal Kombat-esque fighting game featuring human, alien, and robot characters in a futuristic/space setting. The characters and backgrounds (which are animated) are 3D-rendered in high resolution SVGA. In addition to the standard single and two-player modes there is also a practice mode. ...
---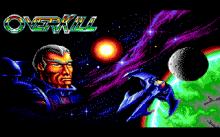 OverKill (1992) 1992
You arrive at your home planet after a long space flight, only to find it has been destroyed by a demonic warlike alien race that kills for sheer pleasure. You are out for revenge. Your single-minded goal is to destroy the Battle Star. But before you reach him, you will...
---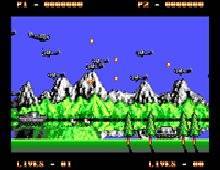 P-47 1989
P-47 is a good PC conversion of Jaleco's arcade game of the same name. A decent side-scrolling shoot'em up set in World War II. Two players can fight their way through at the same time. Nice graphics, many different extras, but overall I found the difficulty level way too high,...
---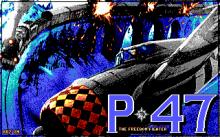 P47 Thunderbolt 1990
The P-47 was one of the toughest planes in use in World War 2, and this side-scrolling shoot 'em up puts you in control of one as you take on hordes of Nazis. 16-bit versions have a simultaneous 2-player mode, as well as the ability to wrap-around the game with...
---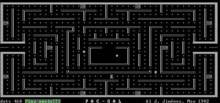 Pac Gal 1982
An 80's clone of Namco's Pac-Man. The player is a square block, traveling around a maze containing 468 pellets to eat. Players also have to try to avoid the Ghosts, who in this game are shaped like a heart, a clover, a diamond, and a petal. The game has a...
---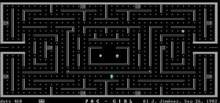 Pac Girl 1982
Pacman clone. ...
---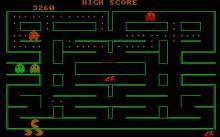 Pac Man 1983
One of the most popular and influential games of the 1980's, Pac-Man stars a little, yellow dot-muncher who works his way around to clear a maze of the various dots and fruit which inhabit the board. Pac-Man's goal is continually challenged by four ghosts: The shy blue ghost Bashful (Inky), the...
---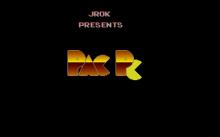 Pac PC II 1995
The sequel to the Ms Pac PC is freeware remake of true classic game Pac-Man. The main gameplay is the same. You, as sector-shaped head, should eat all the dot-like seeds in labyrinth full of four ghosts. Eating the magic seed, you are allowed for some time to eat these...
---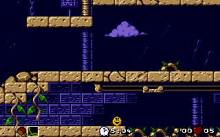 Pac-in-Time 1994
Everybody knows what/who Pac-Man is from his heyday in the '80s, but this time, we're getting a whole new adventure of our little eater. Guess his stomach is full, 'cause there's nothing much to eat here, only collecting points. This is much like some Indiana Jones adventure, only your little...
---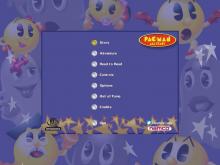 Pac-Man All-Stars 2002
In the right hands, the concept of multiplayer Pac-Man could make a great game. Unfortunately, Pac-Man All-Stars isn't it. The worst of the various Pac-Man remakes up to this point, the game falters by straying too far from the original formula, and also lacks the necessary innovation to make up...
---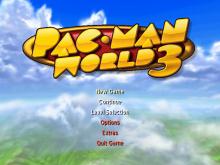 Pac-Man World 3 2005
Pac-Man returns to the platforming challenges of Pac World in this third 3D adventure, which allies the dot-munching master with a couple of his oldest rivals. A misguided mastermind named Erwin believes he's found a way to enter the Spectral Realm at will, but his machine is tearing at the...
---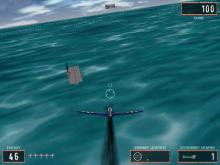 Pacific Warriors: Air Combat Action 2000
It's world-war again, and again we're supposed to be bomb Japanese... how original, at least you will not use an atomic bomb, you'll have actually to fight with less resources than the Japanese. The introduction screens are really basic with standard sound/graphics options, I was not able to set the...
---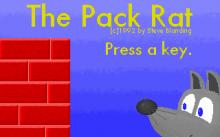 Pack Rat, The 1992
Packrat is a sidescrolling game in which you collect the coins or buttons and get points. There is a multiplayer mode and a level editor. The game has no save mode. ...
---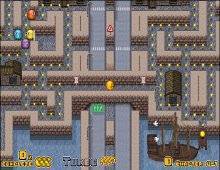 PacManWorlds 2003
Definitely the best fanmade Pac-Man game I have ever seen, PacManWorlds is a fun game that brings the fun of Pac-Man into the 21st century with excellent graphics, nicely designed themed worlds, and the same simple-yet-addictive gameplay from the arcade classic. Pac-Man still has to eat all the pellets on...
---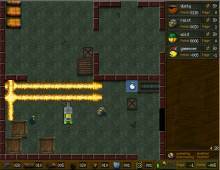 PacWars2 2002
PacWars 2 is a fun multiplayer action game inspired by PacWars, a classic network action game released by Iain Syme in 1991. PacWars2 improves upon the original in many ways by adding better graphics, dozens more weapons and power-ups, excellent play-via-Internet support (TCP/IP), and a versatile map editor for creating...
---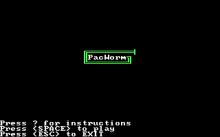 PacWorm 1982
PacWorm is an early Snake-like game for DOS.You're playing a worm. At the beginning, you enter the game through the bottom border. Your objective is to eat 10 "foods" that appear randomly on the field. Each time you gobble a food, your worm gets longer; if you hit anything except...
---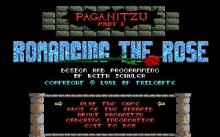 Paganitzu 1991
Paganitzu is a puzzle game with action elements. Help the hero go through rooms of puzzles and traps to find treasure and a way out. ...
---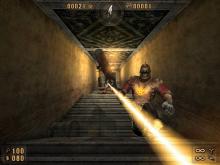 Painkiller 2004
Painkiller is a first-person shooter set in the sinister world of gothic horror. As the mercenary known as Painkiller, players are charged with the task of eliminating the undead in whatever lair, tomb, or residence they may be lurking in. Dressed in a black overcoat and wearing sunglasses to protect...
---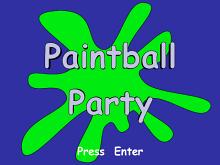 Paintball Party 2002
Paintball Party is a fun multiplayer action game without blood and gore. The goal: annihilate up to 3 other players in a game of paintball, conducted in a furious 4-way split-screen action on the same computer. There are options, game modes, and even the ability to watch replays of previous...
---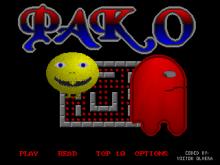 Pako 1994
Pako is a single player Pac-Man clone.Pako is a friendly looking yellow blob. His job is not to kill space pests but to eat their eggs. If he succeeds in passing 100 tests he will be cloned and allowed out into the world, if he fails he will be terminated.This...
---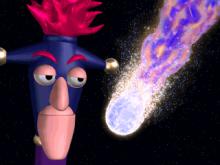 Pandemonium 2 1997
An older but not necessarily wiser Nikki and Fargus return for another magic-infused adventure in Pandemonium 2. The spunky sorceress and jovial jester must prevent an evil queen from harnessing the power of a mysterious comet. As in the original game, the duo will traverse 3D levels viewed from a...
---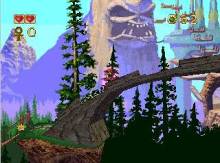 Pandemonium! 1997
Once in a while, you come across a game that has this feeling all over it from a summer sunday afternoon, when you're eight years old, just watched some cartoons on tv, then go and play a game without anything to worry 'bout in the world. Today is your lucky...
---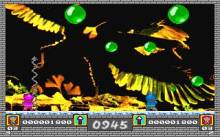 Pang 1992
Pang is a truly legendary game. Its probably one of the most famous arcade games ever to be published. There are many ports of this game ranging from amiga to atari to PC. One of the greatest aspects is its fun / simplicity ratio :) The object is always...
---