Arcade action Games #67
Search a Classic Game: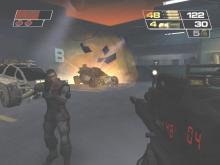 Red Faction 2 2003
Return to the first-person combat adventure of violent revolt in Red Faction 2. As in the original game, the player completes missions using 14 different weapons and a variety of commandeered vehicles. An enhanced application of the game's proprietary Geo-Mod engine allows players to drastically alter the game's environment, barreling...
---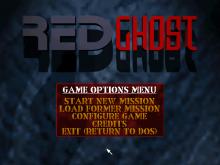 Red Ghost 1995
A new enemy has risen from secret bases throughout the world. Armed with the latest in military technology, Red Ghost is aiming at world domination. You will command eighteen of the world's most elite group of fighting men to stop this threat. Red Ghost blends the elements of a traditional isometric/top-down...
---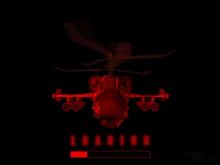 Red Shark 2002
Oxygen Interactive and G5 Software are about to release Red Shark, a game that retells history while keeping an arcade-like, third-person, helicopter combat title. The premise of the game revolves around the Russians having a secret weapon in World War II to overcome the Nazi regime. It's you, as a Russian...
---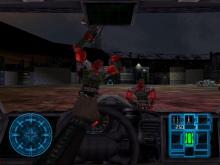 Redline 1999
Redline was three years in the making. It shows. This superb combination of high-speed racing, armed vehicle fighting, and first person shooting could be hailed as Quake meets Carmageddon. The plot is simple: In a not-too-distant, post-apocalyptic future, gang warfare is turning peaceful cities into blood-soaked arenas of death. You...
---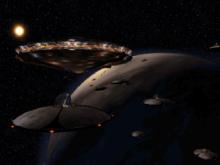 Redneck Rampage 1997
Yeeee-hawww! Pop the clutch and pass the ammo, we got some alien varmints ta shoot. If you want politically correct, do yourself a favor and go somewhere else, because Redneck Rampage is not for you. Honestly, sometimes you city folk just don't understand good ol' fashioned fun. The game's marketing slogan...
---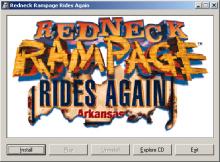 Redneck Rampage Rides Again 1998
The 12 all-new levels in this sequel to Redneck Rampage take players back to the alien-besieged town of Hickston for a second dose of backwoods mayhem. Local favorites Groovy Old Coot (no longer Skinny Old Coot since his trip to Vegas), Sheriff Hobbes, and Billy Ray Jeter are joined by...
---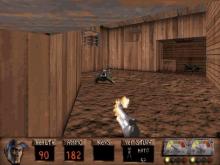 Redneck Rampage: Suckin' Grits on Route 66 1998
Bubba and Leonard, recovering rednecks from Redneck Rampage and Redneck Rampage Rides Again, hit the road for some R&R in this add-on mission pack. Twelve new levels include exotic sites like Jake's Gator Farm and Carnival of Terror, Big Bertha's Truck Haven and Shooting Range, Big Billy's World Famous Gut...
---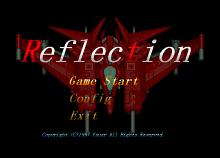 Reflection 1997
Yet another fun freeware shooter from Japan - apparently a very prolific and lively community for action game developers. Reflection has no plot to speak of, or even twists to the age-old shoot-everything-in-sight concept. What it does offer, however, is a lot of knuckle-blistering gameplay that arcade fans are familiar...
---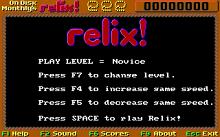 Relix 1993
Objective: Score points by boxing in objects that pop-up on the screen without hitting them. How to play: Use the cursor keys or a mouse to move your line around the play area. Box objects in by forming a closed rectangle with the line. Extra points can be scored by boxing in...
---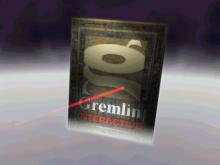 Reloaded 1997
This is the sequel to 1995's Loaded, with an improved graphics engine, and just as much violence and blood. Re-Loaded puts you in the shoes of a number of characters, such as Sister Magpie or Butch. Each character is weird, deformed, and generally strange. It is a mission based game,...
---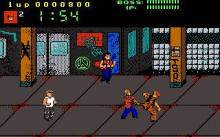 Renegade 1988
This is the conversion of Taito's scrolling beat 'em up, which later produced unofficial sequels Target: Renegade and Renegade III: The Final Chapter. The game is set on the mean streets of Brooklyn, which you must venture through to meet your girlfriend, and then rescue her from her kidnappers....
---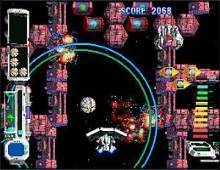 Renga Funsai Yuugi 2001
Renga Funsai Yuugi is a novel combination of vertical shooter and Breakout: your spaceship is equipped with flippers, which you use to bounce the ball back to destroy the blocks on the top of the screen. The graphics are excellent, and the gameplay very smooth. There is plenty of power-ups...
---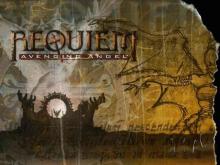 Requiem: Avenging Angel 1999
At its heart, Requiem: Avenging Angel is a no holds barred action game, but the levels are strung together by a surprisingly strong and compelling narrative. Though certain aspects of it are flawed, this angelic adventure still manages to sustain a high level gameplay satisfaction. The storyline surrounds the eternal...
---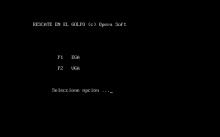 Rescate En El Golfo 1990
The game is classic a beat-'em-up.A Jumbo jet full of passengers is hijacked by Iraqi terrorists and they are threatening to blow the plane up. One of the passengers happens to be the girl friend of Ricky. Can you as Ricky fight off all of the terrorists and rescue the...
---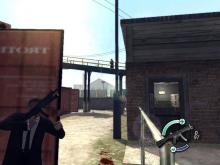 Reservoir Dogs 2006
Wiry director Quentin Tarantino's debut film about a group of colorfully named criminals and a diamond heist gone awry is the jumping point for this video game adaptation. Instead of focusing entirely on the heist's aftermath, the game lets players experience the events leading up to the warehouse rendezvous. The...
---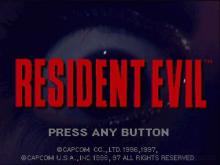 Resident Evil 1997
When Resident Evil came out for the Sony PlayStation, it rocked the console gaming community. It was a 3rd person action adventure game with preset camera angles and rendered backgrounds, much like Alone in the Dark. And it was mind-numbingly gory and filled to the brim with terror and horror...
---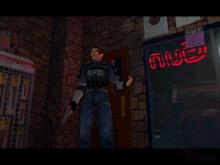 Resident Evil 2 1999
Leon Kennedy's first day on the job with the Raccoon Police Department turns out to be his worst nightmare when he discovers a dead body in the middle of a street. The city looks abandoned and the night sky never seems to change. A sudden sound, a moan, prompts Leon...
---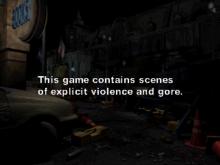 Resident Evil 3: Nemesis 2000
Jill Valentine is back and she's still running for her life from the nasty, evil, flesh-munching zombies of Raccoon City. This episode finds Jill just after she has resigned from S.T.A.R.S. Now she must try to escape from the small town, but she finds more mutants and zombies threatening at...
---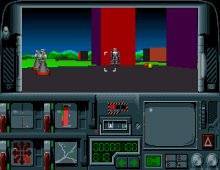 Resolution 101 1990
Hoverforce takes place in the year 2050 where enemies known as 'alterants' have taken control of the city by distributing mind controlling drugs. You play with a 3-D view from a hovercraft in an attempt to destroy all alterants and stop the drug runs they make. ...
---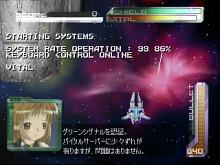 Restraint of Zero (a.k.a. R.O.Z.) 2004
Restraint of Zero (R.O.Z. for short) is another excellent, very polished shooter from Japan's rapidly growing freeware scene. Similar to huge 3D shooters like Idinaloq and Die Slave (which you can also download from this site), R.O.Z. features detailed 3D graphics, cool weapon and explosion effects, large levels, and story-based...
---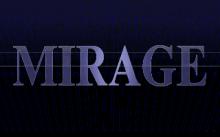 Resurrection: Rise 2 (a.k.a. Rise of the Robots 2) 1996
In the sequel new troubles in ElectroCorp have begun. As we remember, this corporation made robots for civilian jobs, but one Supervisor decided to make robot-killers. Human brains were implanted on some of them. But this time, one hacker has infected the ElectroCorp's network with a virus, so Supervisor lost...
---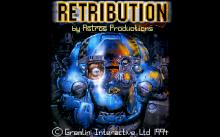 Retribution 1994
Early into the 24th century man was on the verge of extinction. Before stellar colonization, war loomed close on Earth as its people cried out in their millions for food. Then, we were visited. The Krellans came to our aid like avatars from the far reaches of space to teach us...
---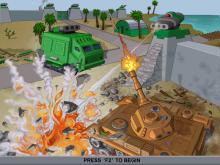 Return Fire 1996
Return Fire was basically the 3DO's best game, and one of the most fun multiplayer action games ever. You and either a computer player or one of your friends are given control of a bunker equipped with military vehicles and perhaps a base. The goal of the game is very...
---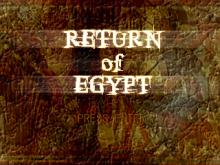 Return of Egypt 2003
Return of Egypt is a very good Castlevania clone from Driven Phantom Soft, sporting fluid 2D sidescrolling action, plenty of well-drawn enemies, and excellent level design. You star Moses as he returns to Egypt to battle various undeads and even Egyptian gods. Similar to the hero in Castlevania, Moses wields...
---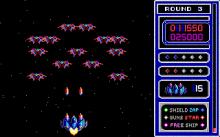 Return of the Mutant Space Bats of Doom 1995
In this sequel, the mutant space bats of doom return yet again to invade earth. Only you stand in their way of achieving their nefarious goals. As usual collect the different colored gems that can increase your ship's firepower, slow down the enemies, or add to the number of lives....
---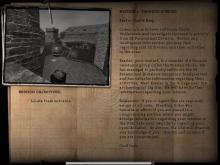 Return to Castle Wolfenstein 2001
The evolution of the Castle Wolfenstein franchise would make Charles Darwin proud. Gameplay has advanced from sneaking past guards in the original to the innovative first-person perspective of Wolfenstein 3D. Even the very walls of the infamous castle have changed from 2D to 3D, from sprites to polygons. The inherent...
---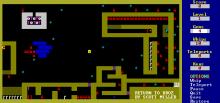 Return to Kroz 1990
This is the first game of the Super Kroz trilogy. Despite the name, it's very much more of the same - more puzzles, more monsters to kill or avoid, and even more levels. ...
---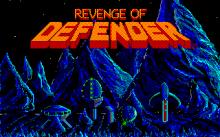 Revenge of Defender (a.k.a. Starray) 1989
In the early 1980s, did you spend way too many hours (and quarters) in the Arcades getting your tail kicked by Defender? Now you can get revenge with Revenge of Defender for the PC. In the original game, your job was to save a helpless race of people from an...
---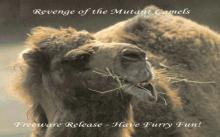 Revenge of the Mutant Camels 1994
This typically zany Jeff Minter title sets you as a mutated camel, with an optional support one mimicking your moves elsewhere. The hordes of enemies to be taken on include falling umbrellas and drinks machines. Shot enemies release tokens ranging from points bonuses and energy recharges to control-reversers and...
---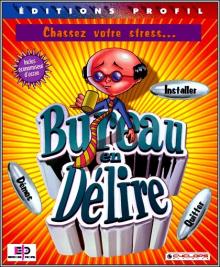 Revenge of The Toys 1998
Best considered as the sequel to zany Dilbert's Desktop Games developed by the same company, Revenge of The Toys is a great collection of fun mini-arcade games you can play from your desktop. The games are all mindless fun (Nail 'Em is my favorite), and many are gory, but they...
---