Arcade action Games #4
Search a Classic Game:
---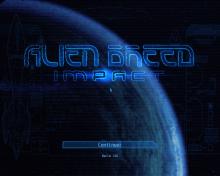 Alien Breed: Evolution - Episode 1 2010

---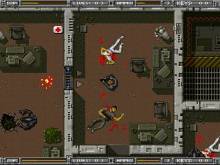 Alien Breed: Tower Assault 1994
A scientific outpost on a far off planet has been attacked. Nothing is known about the attackers, since all communications have been destroyed. A team of marines is dispatched to investigate and destroy the unknown invaders. As their dropships enter the atmosphere and approach the base, the defence lasers, damaged...
---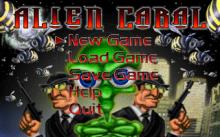 Alien Cabal 1997
In this 3D shooter, the player has to stop alien invasion. It all began with the near doubling of UFO sightings over the city. But the local media dismissed them as hoaxes, military tests, or overzealous UFO fanatics. They were wrong. The UFO's were real. Aliens had been visiting for...
---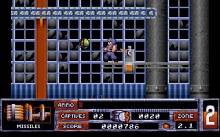 Alien Carnage (a.k.a. Halloween Harry) 1993
In true Duke Nukem style, Subzero Software's Alien Carnage has at its core a fierce fighting, world-saving, superhero: Halloween Harry. He is the only man on Earth with the skills, desire, and firepower to defeat the alien invaders and save the human race from being subjugated as zombie slaves. The action...
---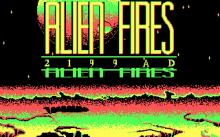 Alien Fires 2199 A.D. 1987
Assume the role of a Time Lord, an immortal race of beings responsible for protecting the temporal balance of the universe from chaos and destruction, and travel to the Galaxy's End, to prevent Dr. Samuel Kurtz from travelling to the dawn of time and witnessing the Creation of all that...
---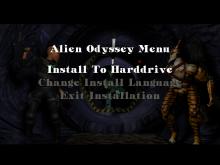 Alien Odyssey 1995
The player takes the role of a humanoid stranded on an alien planet, who quickly becomes involved in a war between the planet's natives and the Dak, who want to invade the whole place. The only chance to escape the planet is to help these guys thwart the invasion. Alien Odyssey...
---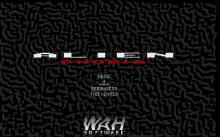 Alien Phobia 1997
Looking for a frantic action game that is all over in around 30 seconds? If so, this is your game. Aliens come onto the screen, and you blast them. Features VGA graphics and SB sound. ...
---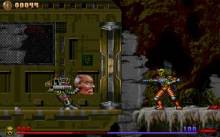 Alien Rampage 1996
Alien Rampagne is a 2D side-scroller with large animated sprites and multiple layers of parallaxing backgrounds. You are a lone angry alien dude with a bad attitude. You crash landed on an inhospitable planet, and thus you set out to get back to a ship so you can leave this horrible...
---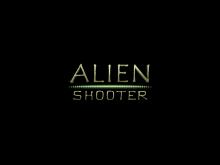 Alien Shooter 2003
It's clear that Alien Shooter, by Sigma-Team, has been influenced by many games; but that's fine, because it was influenced by *great* games like: Gauntlet, Alien Breed, Diablo, Doom, Serious Sam etc. It's a manic isometric shoot 'em up for PCs set in an alien infested military base and it's...
---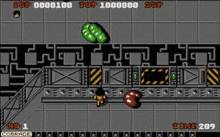 Alien Syndrome 1989
Alien Syndrome is a scrolling shooter arcade conversion. Your job is to run around and rescue all the captives and make it to the escape hatch before the time bomb explodes. Then face the mother alien at the end of the level. You can play as a single player or two people,...
---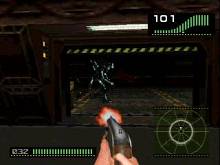 Alien Trilogy 1996
One of the long line of console-to-PC ports Acclaim produced in 1996, Alien Trilogy is a first-person shooter akin to Doom. Players assume the role of a space marine trapped on a spaceship filled with deadly aliens. In order to escape, the player must blast through the vicious creatures. Multiple...
---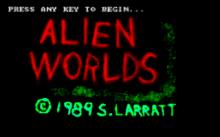 Alien Worlds 1989
You must kill off endless waves of aliens. You do this by flying around a screen (using your rocket pack) and then shooting them with your machine gun. ...
---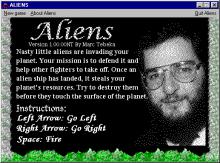 Aliens 1993
Aliens is a single player shareware game based on Taito's Space Invaders. As with the classic Space Invaders game the player has a canon which they can move to the right and left along the base of the game window. The canon fires upwards at the descending alien ships....
---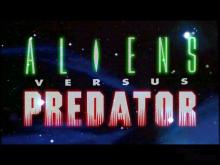 Aliens versus Predator 1999
Walking down the hallway, you suppress a chill as you nervously adjust the grip on your weapon. A small bead of sweat trickles down the side of your face. Taking small cautious footsteps, you continue down the corridor, lit only by the flickering red hue of the emergency backup lights....
---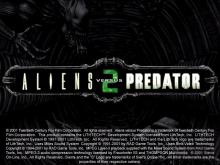 Aliens versus Predator 2 2000
In Aliens Versus Predator 2, you play three overlapping scenarios as a Colonial Marine, the Predator, and the ultimate horrific killing monstrosity from Alien. Although the scenarios are separate, you visit the same locations and see much of the same environments in each, seeing the other characters from unique perspectives....
---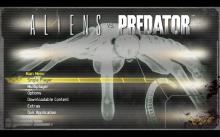 Aliens vs Predator 2010
Set in the science fiction realms of the film franchise crossover, Aliens vs. Predator is a high-definition action-adventure composed of tense, violent, kill-or-be-killed scenarios. Following the design concept of earlier AvP shooters, the game pits three different factions against one another. Players take the roles of deadly xenomorph aliens, stealthy...
---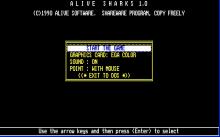 Alive Sharks 1990
Alive Sharks is a shareware underwater action arcade game where you play a marine biologist who dives for rare ocean creatures. Your diver swims on his own and you have to lead him in the direction of the creatures. He picks them up and you have to bring them back to...
---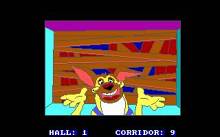 All Dogs Go To Heaven 1989
This game consists of ten arcade mini-games based on the Don Bluth animated movie with the main characters voiced by Burt Reynolds and Dom DeLouise. Charlie the dog, a good guy but a bit of a scoundrel, is bumped off by an evil 'crime lord' of a dog and ends...
---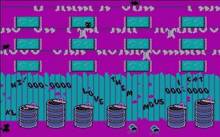 Alley Cat 1984
Help a scruffy alley cat reach his apartment-dwelling feline friend in this action title from Synapse Software. Obstacles in the way of true love include garbage cans, clotheslines, hungry dogs, and pesky brooms. Starting in an alley, you'll need to climb on objects to reach an open apartment window, where...
---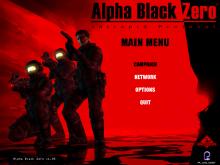 Alpha Black Zero: Intrepid Protocol 2004
Alpha Black Zero is a third-person shooter is set in the year 2366, featuring a story of conspiracy and corruption. Players take command of a small squad of soldiers and battle through 19 levels of dangerous missions. Missions are set both inside and outdoors, on a number of different aliens...
---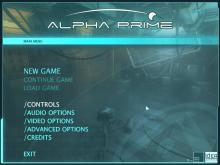 Alpha Prime 2006
As a mining inspector the player is tasked with exploring an illegal asteroid mining base to investigate the disappearance of its inhabitants. However, more pressing is why the mining robots and other autonomous systems are trying to put an end to his inspecting, permanently. The story leads the player through several...
---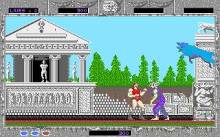 Altered Beast 1990
In this coin-op conversion, you are a hero raised from the dead by the god Zeus to rescue his daughter Athena. With a scenery inspired by Ancient Greece, you have to fight hordes of undead and demons, with a boss at the end of each level until you meet the...
---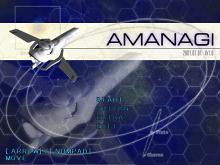 Amanagi 2002
Amanagi is an excellent horizontal shooter from Japan that boasts excellent 3D graphics and gameplay. Formerly shareware, the game has been released into the public domain by the author. The animations are very smooth, the ship designs are excellent, and the gameplay is superb, albeit probably too easy for die-hard action...
---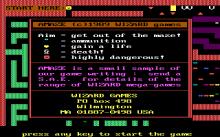 Amaze 1989
What is the game called? Amaze! What's in it? A maze! Now that we've got that taken care of... Due to unexplained factors, our protagonist, a roguelike yellow happy face, has found him or herself stranded in the middle of large, multi-segmented textmode labyrinth (each segment coincidentally about the size of...
---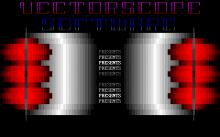 Amazing Adventures of ANSI Dude, The 1995
ANSI Dude is an action game whose title obviously refers to its text-only ANSI graphics. The animated intro explains the background story: you play ANSI Dude, who, for unknown reasons, lands his spacecraft on some strange planet and enters a 24-level dungeon. Each dungeon level takes up one screen and...
---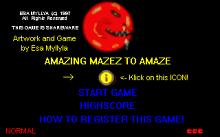 Amazing Mazez to Amaze 1997
Amazing Mazez To Amaze is a Pac-Man variant. As in the original the player controls a spherical creature through mazes that has to eat all fruit it can find without being caught by the monsters that chase it. Special fruits give the power to kill all enemies within a short...
---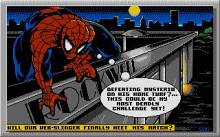 Amazing Spider-Man, The 1990
In The Amazing Spider-Man, Spider Man has to rescue his girlfriend Mary Jane who was kidnapped by the super villain Mysterio. The whole game takes place on a film set studio. This game is primarily a platforming game in which Spider-Man fights against various enemies. Those can be stunned with Spider-Man's...
---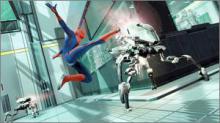 Amazing Spider-Man, The 2012
Spider-Man finds himself entangled in more web-slinging action on Xbox 360, with a storyline that takes place after the events chronicled in 2012's feature film. Unlike the two previous games on the platform, The Amazing Spider-Man returns the superhero to a free-roaming New York City. Players will swing across the...
---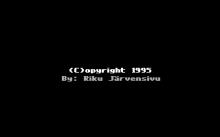 Amazon Snake 1995
Amazon Snake is a public domain game of the Snake genre. The player starts with a small snake that is constantly moving. Using the arrow keys the player must feed the snake to score points, however feeding the snake makes it grow longer. The challenge is to keep the ever...
---