Arcade action Games #63
Search a Classic Game: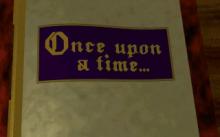 Necromantics 1996
Necromantics takes place in a mysterious castle. The main character, controlled by the player, is an invisible magician wearing a high hat, white gloves and shoes. The magician can only walk and jump; he has no means to attack. Yet, he must escape from many rooms full of spiders, swords, etc....
---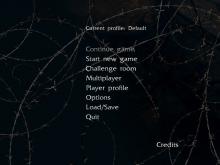 NecroVisioN 2009
Gamers head to the hellish battlefields of WWI, and then literally into Hell itself, in this supernatural shooter from Polish developer The Farm 51. NecroVision puts players in the role of U.S. soldier Simon Bukner as he joins the Allied troops in a battle against the entrenched German army, but...
---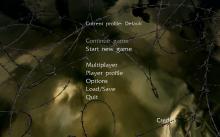 NecroVisioN: Lost Company 2009

---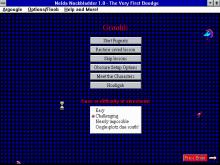 Nelda Nockbladder's Anatomy Lesson 1997
Nelda Nockbladder's is a shareware platform puzzler, created with the Click & Create multimedia authoring system. It combines varied "find out what to do" levels requiring timing and deduction from the player with some massive exuberant nonsensical humour extruding from each and every pore of the game -- beginning with...
---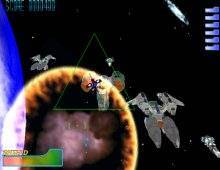 NemesisCrisis: Operation Gallant Thunder 2003
NemesisCrisis: Operation Gallant Thunder is another excellent freeware shooter from Japan. The game is similar to Rebel Assault, except with detailed polygonal 3D instead of photo-realistic digitized graphics. Gameplay is the same as other rail shooters: you view the action from a first-person perspective, and have no control of your...
---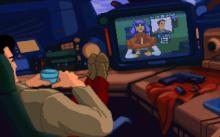 Neo Hunter 1996
After a meteor crash causes the separation of California from the rest of the continent, major corporations of the future decide to invest in the decadent state. It's not long before the newly restored California calls for independence. And so is Calia created. You play as Rick Cage, a good-guy hunter...
---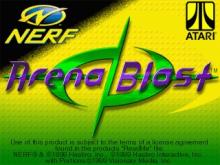 Nerf Arena Blast 1999
Nerf Arena Blast is an interesting take on first-person shooters. In an attempt to remove the violence from the genre, the designers at Atari Corporation replace bullets with reasonably harmless Nerf foam pellets. Instead of characters being killed, they're merely rendered unconscious and moved to another part of the arena....
---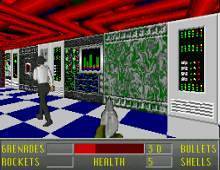 Nerves of Steel 1995
Nerves of Steel is settled in the near future of South East Asia. From a secret underground complex called the "Iron Triangle the evil regime of Kim Dung Moon is on a sinister campaign to "purify" the world. You are the "Tunnel Rat", an elite Special Forces ultra modern digital...
---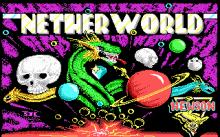 Netherworld 1990
In this game you are trapped in Netherworld. With your space ship you have to make your way through different levels with a hostile environment. Under a time limit you have to collect diamonds to get to the next level. The game is filled with dragons, moving mines, acid spitting...
---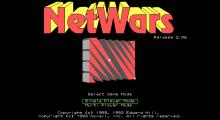 NetWars 1993
This first-person 3D space shooter that Novell, Inc. released to show NetWare's IPX capabilities has single-player and multi-player modes. During gameplay with mouse or keyboard you steer your ship, accelerate/decelerate engines, shoot enemy ships, and collect satellites to restore the shields or customize your ship. The radar helps you to navigate...
---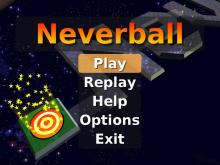 Neverball 2004
I'm quite a big fan of any game that involves, balls, mazes and pinball action, and Neverball ticked all the right boxes for me. Neverball sees you guide a ball through a series of complex grids and courses with the aim of either collecting as much cash as you can, beating...
---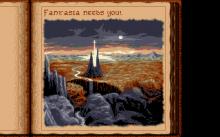 Neverending Story II, The 1991
The Neverending Story II is a very poor action game based on the not much better (and quite bizarre) movie of the same name. The concept is simple: you're Bastian, and are called forth once again by the Childlike Emperess to save Fantasia, the Land of Dreams. Poor graphics and...
---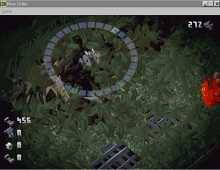 New Order 1998
Decent ripoff of Epic Megagames/Electronic Arts' underrated shooter Fire Fight, done by a "warez" group. Fire Fight players will immediately recognize the ships, explosions, and even tiny graphical detail. Gameplay is also identical: pilot a futuristic ship in a smooth 360-degree gameworld, shooting everything in sight, both in the air...
---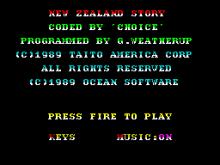 New Zealand Story, The 1989
New Zealand is a peaceful place to live - if you're a kiwi, particularly in the Auckland zoo - Tiki is as happy as can be. Trouble turns up in the guise of psychotic walrus who has an enormous appetite for fresh Kiwi and kidnaps Tiki and his relatives to stock...
---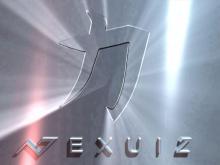 Nexuiz 2005
After some popular games come of age, the developers decide to release the nuts and bolts of the game to the community so people can modify things to their heart's content. This is also true of Quake, where id software has released the source code. Not surprisingly, there have been...
---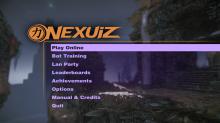 Nexuiz 2012

---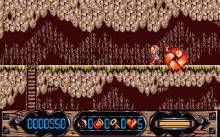 Nicky Boom 1992
The sorceress Zoldrane kidnapped and casted an evil spell upon your grandfather. She wants to force him to reveal the secrets of the forest people, of whom he is the custodian. As Nicky, you must find a way to defeat Zoldrane, and get an elixir from her chest that will...
---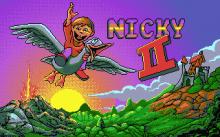 Nicky Boom 2 1993
The sequel to Nicky Boom; this time Nicky must find out who has been removing ladders and blocking off caves in his homeland. The gameplay is essentially platform, with multi-directional maze-like levels. Beating the obstructions requires occasional brainwork - hidden ladders are easy enough to uncover, and there are lots...
---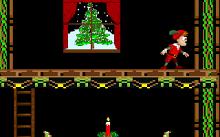 Night Before Christmas 1999
Light hearted Christmas scrolling platform game with lots of clipart, stock graphics, and Christmas music. ...
---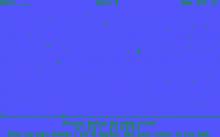 Night Bomber 1988
Your mission is to destroy the enemy cities. All you have to do is enter the angles over which the missiles will be fired. Occasionally UFO's will fly over. They try to destroy either the city or your base. You cannot shoot them. The game ends when you have fired...
---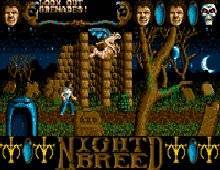 Night Breed: The Action Game 1990
This is the first of a planned trilogy of games based on Clive Barker's movie Nightbreed (the second game was Nightbreed: The Interactive Movie, and the third game was never released). This is a side-scrolling action game where Boone must fight his way through Midian, fighting the Sons of...
---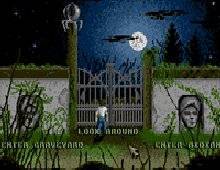 Night Breed: The Interactive Movie 1990
This is a mixture of action and adventure in a game based off of Clive Barker's movie "Nightbreed" (which is based of Barker's novella Cabal). You play Aaron Boone, the main character from both the book and the movie. Boone is attempting to get to a planet of bliss called...
---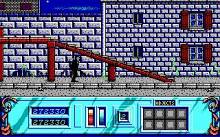 Night Hunter 1988
NightHunter is an action game in which you actually get to play as Count Dracula. Dracula will have the ability to transform into a bat and a werewolf. Your goal is to locate holy medallions in order to create total chaos on Earth. Of course, Van Helsing and...
---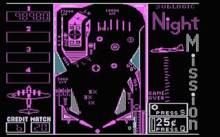 Night Mission Pinball 1982
One of the very few games from subLOGIC that are not flight simulators, Night Mission Pinball is a surprisingly playable, realistic, and highly customizable pinball game. Set with the backdrop of an airport at night, the best thing about Night Mission Pinball is the amazing range of parameters the game...
---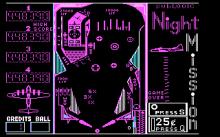 Night Mission Pinball (v3.0) 1988
Updated version of the original classic computer pinball game. Night Mission Pinball is a pinball game simulation. You can change many physical parameters of the machine to suit your playing style or your whim such as the number of balls, the incline of the machine, the kick off the bumpers, etc....
---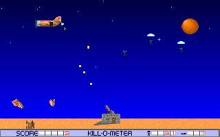 Night Raid 1992
A remake of the classic Paratrooper. Kill all of the paratroopers before they reach the ground--and your turret. ...
---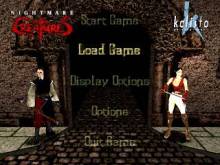 Nightmare Creatures 1997
London, 1834. Monster sightings have been reported, along with news of people mutating into ungodly creatures, and the dead are waking from their graves and walking amongst the living. The entire city is in a panic and vulnerable to the ghastly schemes of Adam Crowley, a mad scientist who unleashed...
---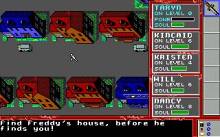 Nightmare on Elmstreet 1989
A Nightmare of Elm Street is an action game based on the movie of the same name, where the player attempts to free friends from the grasp of the evil Freddy Krueger. Find a way into Freddy's house on Elm Street, enter the Nightmare World, and fight him with unique...
---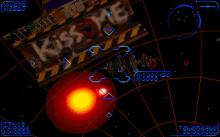 Nihilist 1996
Nihilist (a person who believes traditional values and beliefs are unfounded and that existence is senseless and useless) truly lives up to its name. As a galactic wanderer your only concern is the location of the next cosmic rumble. In Nihilist, battles take place in the Kraal (an enclosure for animals),...
---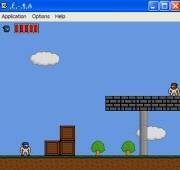 Nikujin 2004
Nikujin is a fun ninja-style freeware platformer from Ikiki, the lone Japanese designer who brought us Teppoman, among other cool 2D side-scrolling games. Nikujin retains the same minimalistic approach as Ikiki's previous games: bare-bones graphics, smooth but simplistic "anime" style, and sparse levels. However, it is a much more complex,...
---