Arcade action Games #51
Search a Classic Game: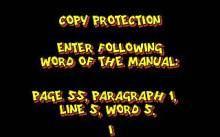 Jungle Jack 1995
Based on the 1993 Danish animated film, "Jungledyret". The plot is about a rare jungle animal named Jack (aka, Hugo) who lives a happy life in the jungle of India with his monkey pals. However, a rich movie owner's ex-wife plans to get her hands on the poor creature. He...
---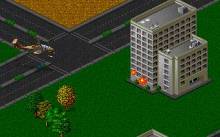 Jungle Strike 1995
Some time after Operation Desert Strike, Ibn Kilbaba, son of Kilbaba S.R, threatens to annihilate America. After his father was killed, the people who were under his control, sent his son running off, along with his father's money and nuclear weapons program. Kilbaba, more ruthless than his father, longs for...
---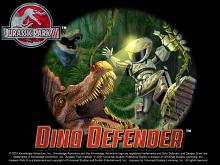 Jurassic Park III: Dino Defender 2001
When a powerful storm tears down the electric fences that hold the dangerous prehistoric creatures of Jurassic Park, its time to call in the emergency task force known as the Dino Defenders to bring the situation under control in this positively-themed action adventure for home computers. The player takes the...
---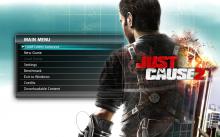 Just Cause 2 2010
Agent extraordinaire Rico Rodriguez returns for more death-defying missions against ruthless cartels and corrupt governments in this sequel to 2006's open world, third-person shooter. Instead of the Cuba-inspired island of San Esperito, Rodriguez will battle heavily armed foes in well guarded compounds scattered throughout the South East Asian islands of...
---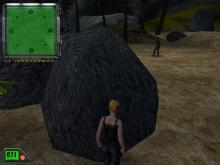 K. Hawk: Survival Instinct 2002
Game players take on the role of Kitty Hawk, U.S. Navy S.E.A.L. and helicopter pilot. Someone has shot down the helicopter she was piloting, killing her boyfriend Major Jeffreys and leaving her stranded on an island in the Pacific. After Kitty contacts headquarters she is told that reinforcements cannot be...
---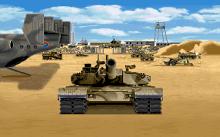 K1 Tank 1994
K1 Tank is an oldie but goodie first-person action game from South Korea. The game puts you behind the wheels of K1 tank, mainstay of South Korean army developed by Hyundai based on the design of the US Army's M1 tank. Although it looks like a simulation, K1 Tank is...
---
---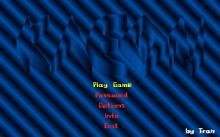 Kaeon 1992
In this arcade side-scrolling shooter, you are a pilot of space jet sent to infiltrate some planet, Kaeon. Your way to the core of this planet will be perilous, because its environment is full of different enemies. You have to pass six stages (Orbiting Defence Station, Atmosphere, Alien Forest, Capital...
---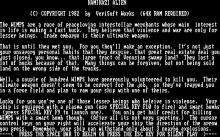 Kamikazi Alien 1982
A very simple and primitive spaceshooter. Shoot aliens before they reach your spaceship. The ship is equipped with two weapons: plasma guns and smart bombs. You get more points, if you shoot the aliens immediately after they appear. ...
---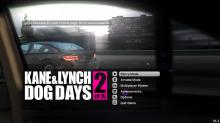 Kane & Lynch 2: Dog Days 2010
Mercenary outlaws Kane and Lynch blaze a path of violence and bloodshed through the Shanghai criminal underground in Dog Days, a sequel from IO Interactive, creator of the original game. Missions involve exploration and light platform-puzzle navigation through various large urban environments, with a focus on gunfights with firearms of...
---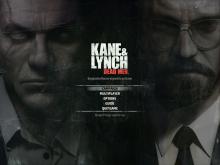 Kane & Lynch: Dead Men 2007
Kane & Lynch: Dead Men is the story of two death-row inmates who end up in a partnership together after they are kidnapped by The Seven. The Seven is a highly organized terrorist group that recruit Kane and Lynch for a variety of missions around the globe. Not much is...
---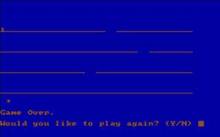 Kangaroo 1983

---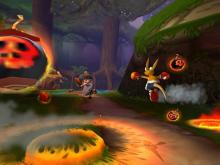 Kao the Kangaroo Round 2 2004
Titus Interactive's boxing kangaroo hops onto home computers in a 3D platform game that has players rescuing animals captured by a ruthless hunter and his bumbling henchmen. Kao will trek across five regions and more than 20 levels filled with punching and hopping action, including locales based on Antarctica, Australia,...
---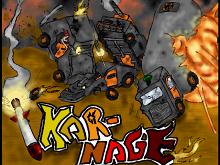 Kar-Nage 2001
Kar-nage is a fun isometric car combat game from Fallen Angel Industries, indie developers of several excellent freeware titles using the Klik & Play application. The game is the first car combat game released in the Klik community, and is well worth a look by action fans. Kar-Nage is essentially a...
---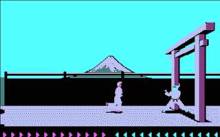 Karateka 1986
Karateka's fighting system encompasses all the cool moves you see in the The Karate Kid movie, released two years ago in 1984. America is going through a karate craze and Karateka takes full advantage of the fad. The fighting system is very simple. You have high, middle and low punches...
---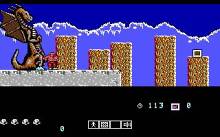 Karnov 1987
Karnov, the fire-breathing Russian, is seeking the Lost Treasure of Babylon. He runs, swims, jumps, climbs, and flies through nine levels of gameplay. ...
---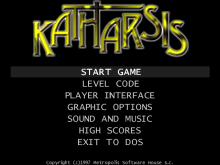 Katharsis 1997
Katharsis is a game with classic side-scrolling shooter gameplay. It has 3D backgrounds, colorful graphics and an integrated storyline. The game starts in 2616, when the ship leaves Earth with 1,000 settlers on board. Eighteen months later Earth loses contact with the ship. The action moves to 4720. One of...
---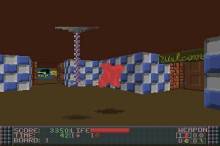 Ken's Labyrinth 1993
Ken's Labyrinth is a first-person 3D shooter. The protagonist has to escape from an underground labyrinth populated by monsters while trying to rescue his dog Sparky. The game plays similarly to Wolfenstein 3D and involves the protagonist traversing colorful maze-like areas, shooting monsters on the way with exotic weapons such...
---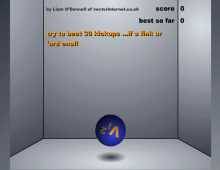 Kick-Ups 2001
Kick-Ups is a maddeningly addictive Flash game that is deceptively simple: your goal is to keep the ball in the air for as long as possible by clicking the mouse on it. The game records your high scores, and ball physics are reasonably realistic (e.g. the ball bounces off four...
---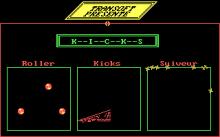 Kicks 1989
Kicks is a French Qix clone. As in Qix the player must "catch" a percentage of the game screen (70% in this case) to pass to the next level. Of course, the player must avoid, or capture, all the enemies that go through the game zone. There are three enemy...
---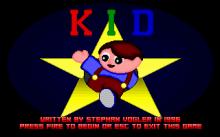 Kid 1996
Collect the fruit, avoid the snakes and creatures and try not to fall in any pitfalls in Kid. Stephan Vogler's straightforward platform game let's you play as the titular "Kid" and advance through a handful of levels while trying to survive the usual foes. Plan your path well because those...
---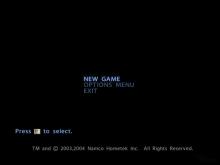 kill.switch 2004
kill.switch is a third-person shooter that takes place amidst war-torn Middle Eastern cities, underground submarine bases, and other places. Cast in the role of an elite commando, players must carefully take out enemy snipers and guards while seeking cover behind walls, barriers, or other objects found within the environment. While...
---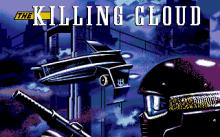 Killing Cloud 1991
Killing Cloud is set in a San Francisco ravaged by an opaque orange death smog layer known as the Killing Cloud. This hovers around the middle of the skyscrapers, creating a claustrophobic low level experience (and a different feel to the many other flight simulations set in the city, such...
---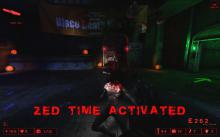 Killing Floor 2009
A first-person shooter optimized for co-op multiplayer battles, Killing Floor drops gamers in the midst of an English landscape left devastated after a series of military cloning experiments goes awry. There are nine different kinds of monsters to kill, ranging from unarmed flesh-eaters to military-force mutants packing chain-guns and rocket-launchers,...
---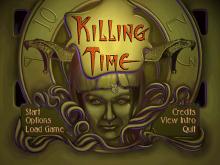 Killing Time 1996
Killing Time starts out with a lot of promise. It's got a great mystery storyline set up like The 7th Guest lots of zany, crazy and just plain freaky enemies to blast and some pretty darn good visuals. But as you start to progress in the game, it all just...
---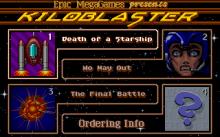 Kiloblaster 1992
New-age Galaxian. Move along in space in your fighter and shoot anything that moves, while collecting power-ups, such as fruits (fruits in space?) and thing, which looks like red circle with yellow "T" inside. Like other games from Epic, it's shareware and only the first episode is free. You have...
---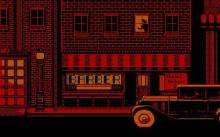 King of Chicago 1987
Step into the shoes of a gangster in 1930s Chicago. Capone is dead and now you must defeat his forces in order to take over the city. As a mobster you'll take part in drive-by shootings, bombings, gambling, and bribery of government officials. The King of Chicago can be controlled...
---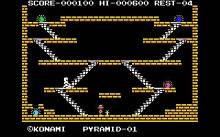 King's Valley 1985
King's Valley is a fun platform/maze game from Konami, released for the MSX computer and many other 8-bit console systems - except the PC - in 1985. The game plays like a more updated version of Montezuma's Revenge, except it takes place in pyramids instead of Mayan ruins. As intrepid...
---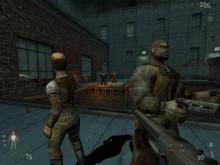 Kingpin: Life of Crime 1999
Kingpin: Life of Crime documents the life of a thug down on his luck. In the beginning, he gets beaten up by goons working for a notorious crime boss, Nicki. He, your character, picks himself up, vows revenge and sets off on a journey that will take him through some...
---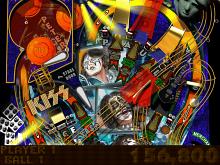 Kiss Pinball 2001
"You wanted the best, you got the best!" states the box cover of KISS Pinball, quoting a KISS trademark. But calling something the best doesn't make it so -- a budget game without accurate physics, KISS Pinball is at most an average game, one only a diehard KISS fan might...
---