Arcade action Games #61
Search a Classic Game: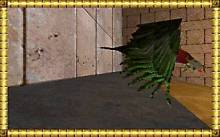 Montezuma's Return 1997
Released back in the Atari days (early 1980s), the world was introduced to Montezuma's Revenge, a side scrolling action-adventure/puzzle game. In it, you controlled Montezuma. He was a treasure hunter of sorts and he had to collect all kinds of different jewels and treasures while avoiding the enemies that were...
---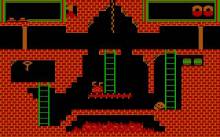 Montezuma's Revenge 1984
You play as a treasure hunter named Panama Joe, whose goal is to find an ancient treasure hidden by Aztec warrior deep inside catacombs. But beware, the catacombs are a large maze inhabited by monsters. Bouncing and rolling skulls, dancing spiders, disappearing and re-appearing chains and tons of fire await...
---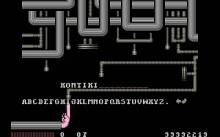 Monty Python's Flying Circus 1991
This side-scrolling platform title is full of artwork, animations, and inside jokes from the popular British television series Monty Python's Flying Circus, which originally aired on the BBC in the early 1970s and enjoys continued popularity in syndication around the world. The player guides D.P Gumby through four "completely different"...
---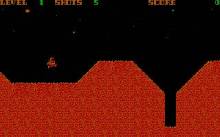 Monuments of Mars, The 1991
Monuments of Mars is a low-rez, early PC platform game sharing an engine with Apogee's Arctic Adventure and Pharaoh's Tomb. The game was split into four episodes, the first one shareware. Each contained twenty puzzle-filled levels, each of which were one screen large. ...
---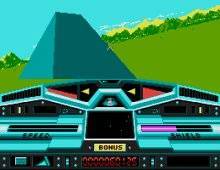 Moon Blaster 1990
In Moon Blaster you are a pilot of a ground-skimming space jet landed on the surface of moons to eliminate the enemies blasting them off. There are three kinds of moon - sand, green and ice, and you may visit all or only one of them. Sitting in the cockpit,...
---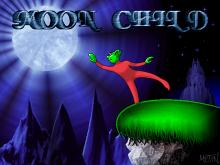 Moon Child 1997
Moon Child is a fun but little-known 2D platform game that was sold in limited distribution by Dutch multimedia giant Valkieser in 1997. Billed as "oldskool gaming as it's meant to be," this 13-level game features a psychedelic finale level that is well worth the admission price. The plot, from...
---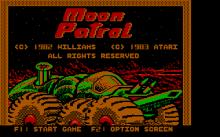 Moon Patrol 1983
The moon is under attack from a horde of aliens, and you must stop them in your armed buggy. Drive along the surface shooting the aliens and avoiding their bullets. The surface is not flat, there are craters and rocks to avoid contact with, and landmines on the surface. Flying...
---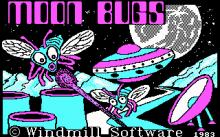 Moonbugs 1983
Defend Earth against insect invaders! The gameplay is a mix between Galaxian and Defender. The alien bugs will attack you and swoop down and steal the uranium drums at the bottom of the screen. As they fly away with the drum, you have to shoot them before they reach the top...
---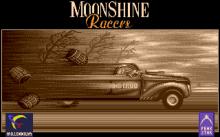 Moonshine Racers 1991
Ike and Billy Joe are running illegal booze around the US, and you must take control of their vehicle and make sure they complete each part of their journey. The action is viewed from above and behind the car, in a similar manner to the OutRun and Lotus games. Gameplay...
---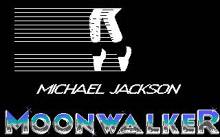 Moonwalker 1989
Moonwalker is broken up into 4 levels. The first level has you walking around avoiding fans trying to find parts of a rabbit costume needed to disguise yourself from your fans. You then need to find the waiting motorbike to escape to level 2 - Michaelsville. Here you need...
---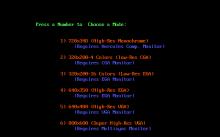 Moraff's Blast I 1991
At heart, this is a collection of three different Breakout variants (Brick Wall, Falling Walls, and The Blast Adventure), dished up in the trademark Moraffware style of eye-popping, fauvist colour in more supported video resolution modes than you might previously have believed existed. In all modes gameplay is primarily...
---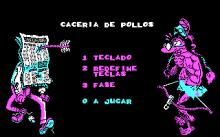 Mortadelo y Filemon II 1989
The famous crazy-scientist Dr. Bacterio was experimenting with hens to let them grow to the size of a horse, thus trying definitively to end the hunger in the world. But, as was habitual in his experiments, he had failed in his objective and now a gang of uncontrolled hens...
---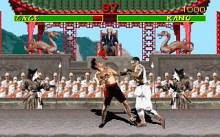 Mortal Kombat 1993
Five Hundred years ago, an ancient and well respected Shaolin fighting tournament, held every 50 years, was corrupted by an evil and elderly sorcerer by the name of Shang Tsung. Shang was accompanied by Prince Goro, a warrior of the Shokan race (a four armed half-human/half-dragon). Knowing that if...
---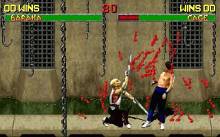 Mortal Kombat 2 1994
The Mortal Kombat fighters, plus several new ones, return for a tournament held by the evil Shang Tsung of the Outworld. The action is one-on-one as before, and famed for its high level of violence and blood (other than the sanitised Nintendo version). There are 5 difficulty levels and optional...
---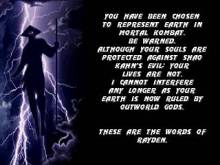 Mortal Kombat 3 1995
Shao Kahn has won. The Earthrealm is no more. In order to revive his Queen Sindel, the emperor Shao Kahn used the Outworld Tournament from Mortal Kombat 2 as a diversion while his Shadow Priests revive his fallen Queen on Earth. Once enacted, the dimensional bridge between the two realms...
---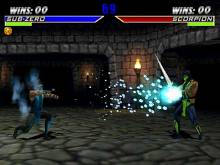 Mortal Kombat 4 1998
The venerable series of Mortal Kombat games continues with Mortal Kombat 4 by Midway Games. The basic story remains intact, a story that began with the defeat of the Elder God Shinnok thousands of years in the past. He was exiled to the Netherealm at the hands of the fierce...
---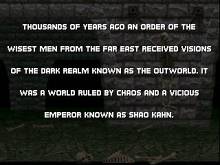 Mortal Kombat Trilogy 1997
Mortal Kombat Trilogy combines characters, stages, and moves from earlier installments in the violent fighting series. Choose from a total of 36 playable characters, including alternate versions of Kano, Jax, Raiden, Sub-Zero, and Kung Lao. As in previous games, you must fight and defeat each opponent in succession in your...
---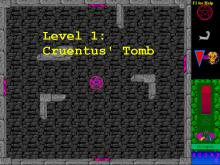 Mortuum 1995
Mortuum is an arcade game in which you play Cruentus, an undead witch-king. You must fight your way through many levels using your sword and magic. Your sword is controlled using directional keys, and swinging your sword at an enemy will damage it more than stabbing it. Each level is...
---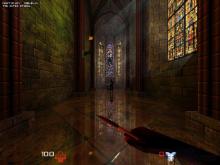 Mortyr (2093 - 1944) 1999
At first glance, Mortyr seemed interesting. The vast majority of new first-person shooters are sci-fi based. In that sense, Interplay and Mirage deserve some credit for originality. To my knowledge, World War II has only been used as a stage once: in Wolfenstein 3D. So in a sense, it is...
---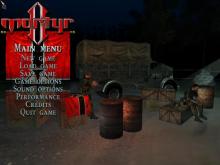 Mortyr II 2004
Set during World War II, this sequel to 2000's Mortyr: 2093-1944 is a first-person shooter in which players take the title role of British intelligence operative Sven Mortyr. When the hero learns that his father (who played an important role in the first game) has been taken prisoner at a...
---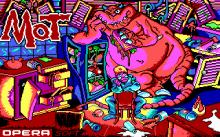 MOT 1989
Who is MOT ? MOT is nothing less than a 3 meter tall inter-dimensional monster (complete with a tail and horns), which can travel through the planes of time and space as easily as you go from your bedroom to the kitchen. Moreover, MOT has the bad habits of hiding...
---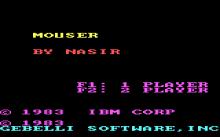 Mouser 1983
Mouser is a maze game with an overhead view similar to Pac-Man. The object of the game is to help the farmer rid his farm of mice. To do this the player must move the walls of the maze around to corner the mice, allowing their cat to take care...
---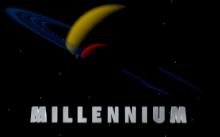 Mr. Blobby 1994
Basically a remake of the SNES game Super Troll Islands, but superficially incorporating TV character Mr Blobby, who was famous for crushing people and shouting "Blobbitty Blobbitty Blobby" or words to that effect, neither of which he does in the game. It's essentially a platform game, but the 60 levels are...
---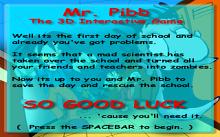 Mr. Pibb 1998
Mr. Pibb is an FPS game that was distributed by Coca-Cola, and exclusively available at McDonald's. The games starts on your first day of school. An already stressful day has been made even worse by a mad scientist. He's turned all your school mates into zombies to do his bidding. It's...
---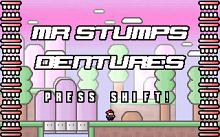 Mr. Stump's Dentures 2004
Mr. Stump's Dentures is a fun, lengthy, but very difficult platformer from Circy, longtime participant of the "Klik" community. The wacky plot goes as follows according to the official blurb: "... Dentures have been swallowed... a plot to awaken the Tooth God is underway... the results of which could be...
---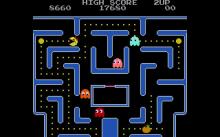 Ms Pac PC 1995
Ms Pac PC is an unofficial DOS conversion of Ms. Pac-Man. It follows the basic Pac-Man formula: the player moves around in maze with the goal to eat all drops which are lying in the hallways, However, there are also ghosts of different colour walking around the maze, and their...
---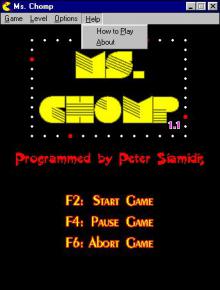 Ms. Chomp 1992
Ms. Chomp is a single-player, shareware, Ms. Pac-Man clone for Windows. As in the original game the gameplay is entirely keyboard controlled. Ms. Chomp races around a maze eating dots for points and dodging ghosts. In the corners of the maze are power pills that turn the tables. After eating...
---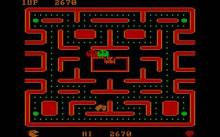 Ms. Pac-Man 1983
In 1982, a sequel to Pac-Man was introduced in the form of his girlfriend, Ms. Pac-Man. This sequel continued on the "eat the dots/avoid the ghosts" gameplay of the original game, but added new features to keep the title fresh. Like her boyfriend, Ms. Pac-Man attempts to clear four various and...
---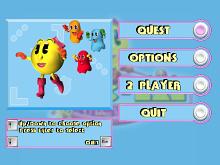 Ms. Pac-Man: Quest for the Golden Maze 2001
Unlike previous attempts to update the Pac-Man franchise, such as Ms. Pac-Man: Maze Madness or Pac-Man: Adventures in Time, Ms. Pac-Man: Quest for the Golden Maze is made up entirely of single-screen mazes and doesn't stray very far from the original's run-and-chomp gameplay. There are a few notable additions to...
---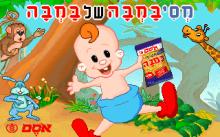 MsiBamba Shel Bamba 1996
MesiBamba Shel Bamba was released as part of a marketing campaign for the Israeli snack Bamba. The player is cast as the snack's baby mascot. His objective is to collect the Bamba snacks scattered around the Jungle and deliver them to the animals, while avoiding various obstacles such as...
---