Arcade action Games #7
Search a Classic Game: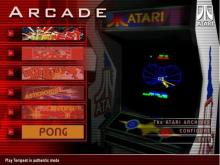 Atari Arcade Hits 1999
Games are the future. They are our salvation, our church of geekiness, and the best thing ever. Many critics have tried to write off the importance of video games since their inception, but I truly believe that they changed the landscape of the 80s as surely as the Internet changed...
---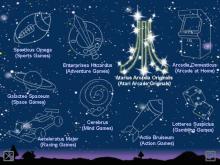 Atari: 80 Classic Games in One! 2003
This single-CD collection features emulations of 80 rare and popular games from the 1980s heyday of corner arcades and Atari VCS consoles. Billed as "the largest collection of classic Atari games ever assembled on one disk," Atari: 80 Classic Games in One features PC ports of over a dozen arcade...
---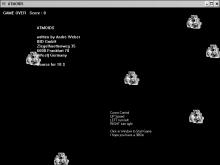 Atmoids 1990
Atmoids is an Asteroids clone. As in Asteroids, your only goal is to destroy all the asteroids that are flying around the screen without being hit. As you hit the asteroids, they break into smaller pieces, making it much more difficult to shoot and dodge. ...
---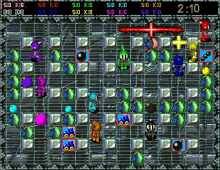 Atomic Bomberman 1997
How hard can it be to make a good Bomberman game? You put the player in the role of a mad bomber who is trying to blow up his enemies in a top-down, bird's-eye view world. You hook them up with hidden items that can make them lay down multiple...
---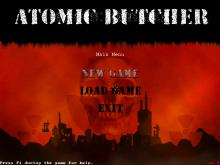 Atomic Butcher 2004
Atomic Butcher is a fun 2D platformer in the same vein as Abuse, except much more violent, long, and potentially offensive (your main weapon is a stream of piss (!), for instance, giving new meaning to the term "piss on your enemies"). Your goal, as a hungry mutant, is to...
---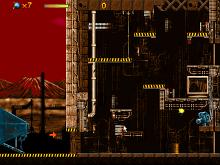 Atomic Chill 1996
After the great war, in lieu of global thermonuclear warfare, you stand alone to fight the last invaders: the aliens. You must defend your space recycling facility from the alien mobsters who want it from you, and don't plan to purchase it. ...
---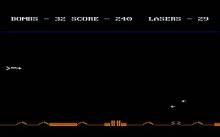 Attack 1982
In a show of corporate pettiness, your target in this game is Apple Computers' manufacturing base. Steve Jobs was prepared for this seemingly-unlikely occurrence, and has a fleet of fighters out to shoot you down. Be careful to stay within the earth's atmosphere, and use your 35 bombs and 60...
---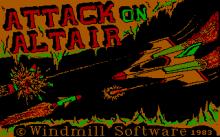 Attack on Altair 1983
In Attack On Altair, the galaxy is in trouble and it's up to you to save it! The game is an action side scrolling shooter which uses ASCII characters to create 16 color "graphics". ...
---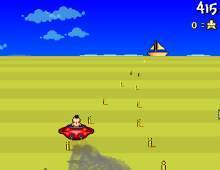 AuroraDibularos 2001
AuroraDibularos is a cute little driving action game from Virtually Real, makers of Destruction Carnival and other fun freeware games. Simple concept: stay on course for as long as you can, collecting power-ups and bonus items as you go. Anime graphics and smooth animation that characterize other Virtually Real games...
---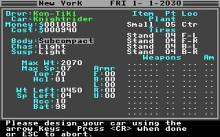 Auto Duel 1988
A unique RPG based on Steve Jackson Games board game "Car Wars." You are an average joe starting off in New York, and the object is to maximize money and maximize prestige, while doing story-based missions. Side quests are also available for pay, as well as being able to compete...
---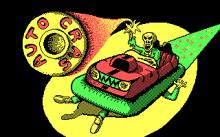 Autocrash 1991
In Autocrash the player competes in a death tournament between "bumper cars". The goal is to dismount the opponent (or opponents) from his car, and hit him before he leaves the game zone. Along the stages, the enemy's A.I. difficulty level and his number will increase. Additionally, in some stages the...
---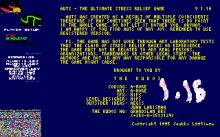 AUTS - The Ultimate Stress Relief Game 1995
While Turboraketti was The Game that gave birth to the "cave flier" genre that grew incredibly popular especially in Finland in the 90's, AUTS was a simple, yet elegant clone of Turboraketti for PC's that launched a whole horde of further cave flier clones and cave flier inspired games, a...
---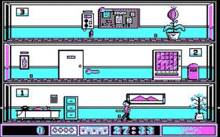 Avoid the Noid 1989
Avoid the Noid is an advertisement ploy for Domino's Pizza. You are a pizza delivery boy who must deliver a pizza to Doom Industries while the creature Noid is set to prevent him from acheiving this goal. You must deliver the pizza to the top floor in 30 minutes or...
---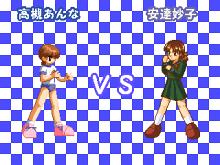 AVS (a.k.a. Kakutuku) 2001
Ojamajo and AVS (formerly called Kakutuku) are two excellent 2D fighting games coded by ASCII's Fighter Maker application. The games feature a good number of characters and moves, very fluid animations, and a well-balanced gameplay that is neither too easy, nor too difficult as to frustrate most people. Since both...
---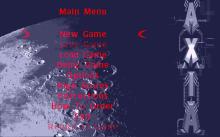 Axia 1988
Move around in space in 360 degrees of freedom. Take on missions as a bounty hunter, blow up ships, asteriods, etc... and get cash all while revealing an evil plot. ...
---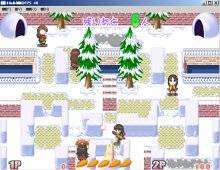 Azutama 2001
Azutama is a fun anime-style snowball fighting game, similar to Black Eye Software's SnowBrawl. The game features characters from the manga (Japanese comic book) series of the same name. The gameplay is straightforward: "kill" the required number of opponents in each stage by throwing snowballs at them to get to...
---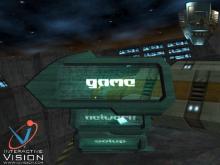 B-Hunter 1999
One of the most obscure and underrated cyberpunk shooters ever made, B-Hunter is a low-profile release developed by Danish-based Interactive Vision and published by UK-based Midas Interactive Entertainment. Similar to Psygnosis' much better known G-Police, you are a futuristic bounty hunters who flies around in a hovercraft in a huge...
---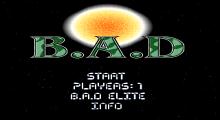 B.A.D. 1997
A lackluster side-scrolling shooter from Webfoot -- one of the worst from this prolific shareware publisher. Not much good to speak of for this clunky shooter designed by Pseudos: boring ship designs, boring levels, and a quite repetitive gameplay. Far inferior to Interpose and other shooters from Webfoot. SVGA graphics...
---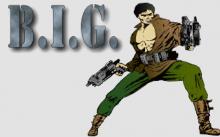 B.I.G. 1997
B.I.G. is a action-adventure platformer with gameplay similar to Flashback. A group of fanatics called Apocalypse attacked a convoy carrying nuclear warheads. Their objective is to cause a global nuclear conflict. To prevent the extermination of the human race, the president sends the best agent to the enemy base located...
---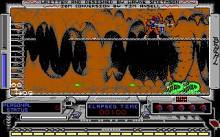 Baal 1989
Baal is a monster who has stolen a war machine. You, as leader of the "Time Warriors" must destroy his minions, collect the war machine pieces (they flash yellow), and destroy Baal. You can use joystick or keyboard. ...
---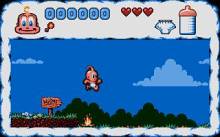 Baby Jo in Going Home 1991
As the eponymous Baby Jo you're trying to make it back home. Can a simple baby get past the four levels while avoiding the bad-tempered animals and machines on the way? Baby Jo in: "Going Home" is a side-scrolling platform game. Jo can pick up rattles which can be tossed...
---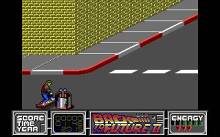 Back to The Future II 1990
Back to the Future II is a collection of five arcade and puzzle games. Based on the second installment of the popular Hollywood series Back to the Future, this movie conversion has Marty McFly and Doc Brown travel through time to stop their arch-rival Biff from changing the future. The game...
---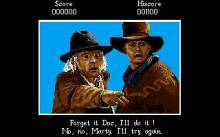 Back to The Future III 1991
Back to the Future III is a collection of four arcade games. Marty McFly and Doc Brown have traveled back through time to the year 1885 - and they're soon deep in trouble when they face "Mad Dog" Tannen's gang and have to find a way to return to the...
---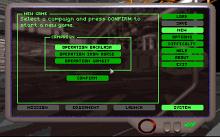 Backlash: A Turret Gunner Simulation 1995
Backlash: A Turret Gunner Simulation is a straightforward clone of Wing Commander without the intriguing plot dynamics and personalities that made it a classic space combat game. Your job: climb into the ball turret of a starship and defend it against an onslaught of drones, enemy ships, asteroids, and mine...
---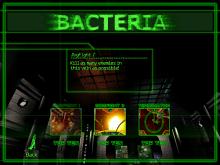 Bacteria 2001

---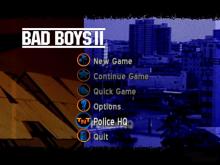 Bad Boys: Miami Takedown 2004
Millions of devoted fans of the Bad Boys movie franchise have been waiting and praying that someone out there would wise up and make a video game version of the terrible twosome's police adventures. Oh, that was hard to type with a straight face. While no one has ever really...
---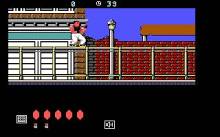 Bad Dudes 1988
This six-level action game was converted from a Data East coin-op. The gameplay involving beating a succession of guys to complete the level, then an end-of-level bad guy. The action takes place on two different levels of the screen, which can be jumped across or navigated using ladders. Moves such...
---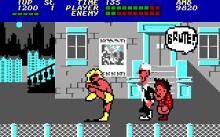 Bad Street Brawler 1987
In Bad Street Brawler, players take the role of the former punk rocker and current martial artist Duke Dunnegan, or aternatively the wrestler Gorgeous George (Bop N' Wrestle) or as a high school teacher pushed to far (Street Hassle) who finds he is the only one in the position to...
---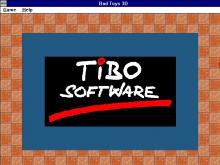 Bad Toys 1995
In Bad Toys, you are a factory man sent to destroy "toys" who have gone berserk and are getting smarter by the second. Venturing through this factory, you will find toys of clowns, pac-mans, and smiley faces. You will also find weapons of all sorts including pistols and...
---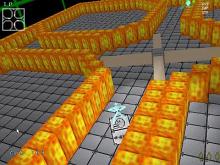 Baku Funshigi 2002
Baku Funshigi is an interesting and quite unique 3D action game from Japan. The game plays like those cavefliers from Finland (or UrthWurm for that matter) - your only goal is to maneuver a tank to the exit without hitting walls and other obstacles. The game is played from a...
---