Arcade action Games #16
Search a Classic Game: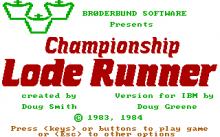 Championship Lode Runner 1984
A follow-up to the original Lode Runner, with identical gameplay. This package contained 50 of the most challenging levels ever designed, and was intended for expert players only. It did not include the level editor, you had to play through the levels in order, but a save-game option was provided...
---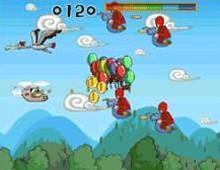 Changoo 4 (a.k.a. Crayon Shin-Chan 4) 2000
Changoo 4 is the fourth and best entry in the Changoo series, fanmade games based on Crayon Shin-Chan, an excellent humorous manga (and now anime) series that is wildly popular in Asia but is rarely known outside the continent. If you're not familiar with Shin-Chan, just picture the naughtiest but...
---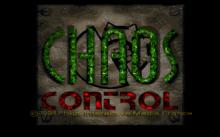 Chaos Control 1995
Those whose guilty pleasures lean toward shoot-'em-up games will appreciate Chaos Control, a straightforward arcade game with an obligatory save-the-world plot that's unencumbered by inane weapons options or cyberpunk chaos-theory philosophizing. This destroy-all-aliens title boasts stylized, jumpy Japanimation, along with some imaginative 3-D-style graphic interludes; the fighter-pilot sequences focus more...
---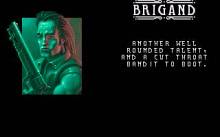 Chaos Engine (a.k.a. Soldier of Fortune) 1994
A time traveler from the future was stranded in Victorian England, and his knowledge of yet unknown technological inventions was passed to the Royal Society, headed by Baron Fortesque. With the help of this knowledge, Fortesque managed to construct an immensely complex artificial intelligence known as the Chaos Engine....
---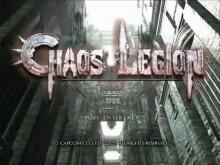 Chaos Legion 2003
Three immensely powerful glyphs can open the Gateway of Chaos, but the glyphs must be found and recovered. Two men -- a young knight, Seig Warheit, and a fallen lord -- who were once friends, must fight over the future of their world and their people. Players control Seig and...
---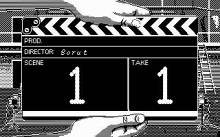 Charlie Chaplin 1988
Charlie Chaplin is a unique game, in which player takes part of the world-wide famous comic. As Charlie Chaplin player has to star in films, which are much in the line of famous black-and-white masterpieces. After scene is filmed player is given opportunity to edit it. Once every scene for...
---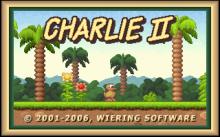 Charlie II 2001
Charlie II is the successor of Charlie the Duck. Once again, you playing the duck Charlie across many different levels in this platformer.The game contains 18 levels, with different worlds. Some levels are hidden, and can only be accessed through a secret exit. After the end of 6 levels, you...
---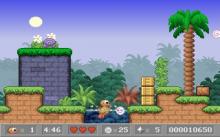 Charlie the Duck 1996
With no music, primitive sounds, and low-res (though colorful) graphics, the Charlie the Duck comes off as an inferior copycat of Super Mario Bros. As the aforementioned duck, you run around the sideways-scrolling landscape, collecting gems and avoiding hostile creatures--or jumping on their heads. The gameplay is passable, but the...
---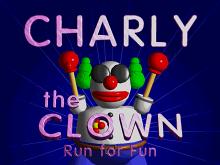 Charly the Clown 1996

---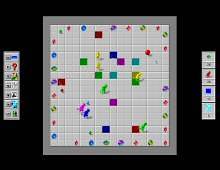 Charm Rocks 1994
ImpArea and Charm Rocks are two interesting action games from DOKA that resemble a combination of board games and whack-a-mole. The objectives of both games are similar: catch as many 'imps' as you can. In ImpArea, you catch the imps by trapping them inside a drinking glass, while in Charm...
---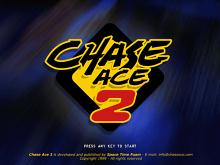 Chase Ace 2 1999
Chase Ace 2 is the type of concept game that can bring a genre to a new level. That being said, I found it to be odd and at times interesting but, mostly, just weird. The premise of the game revolves around you being a pilot for a spacecraft going...
---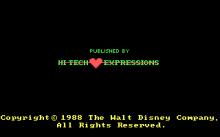 Chase on Tom Sawyer's Island, The 1988
This Pac-Man inspired maze game is based upon the Tom Sawyer's Island attraction at Disneyland. Players maneuver Tom Sawyer along the island's paths in his quest to gather berries. However, Aunt Polly, Injun Joe, and after the third level, a bear, chase after Tom. He can avoid...
---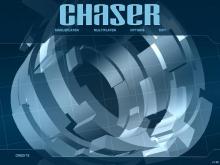 Chaser 2003
After awakening with amnesia in a space station's medical laboratory, John Chaser is soon running for his life from mysterious soldiers while dealing with the possible destruction of the space station. Though playing as a protagonist who can't remember a thing while being hunted on a space station about to...
---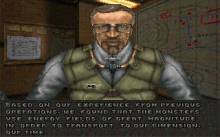 Chasm: The Rift 1997
Chasm: The Rift is a run-'n-gun shooter. As a Marine, the player has been sent inside a power plant to investigate the loss of power at the plant. They later discover that a group of monsters known as the Timestrikers are using the power to create ruptures in time that...
---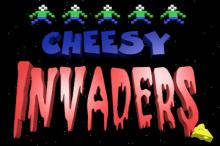 Cheesy Invaders 1994
Cheesy Invaders is a clone combo of Space Invaders and Galaxian. Strange aliens are trying to attack earth and you have to stop them. You aim with your mouse and just shoot the aliens by clicking with your mouse. You fight against races known as The Planets, Mac and Cheese...
---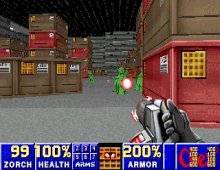 Chex Quest 1996
Chex Quest uses the same engine used in the game Doom by id Software, Inc.. Very similar to Doom in game play, Chex Quest can be called the Doom for kids. While this is a first-person shooter, the violence is extremely minimal. The main character shoots laser blasts or uses...
---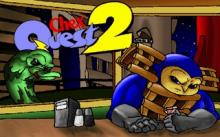 Chex Quest 2 1996
In the sequel to Chex Quest, you again play the square cereal man. This time you Flemoids have taken over your cities, and its up to you to stop them. Using your arsonal of weapons from your first adventures, you travel to through the city all the way...
---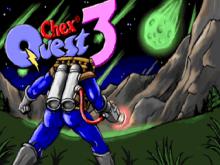 Chex Quest 3 1998
The original Chex Quest came to realization when Ralston Foods offered the now defunct developer Digital Cafe to create a simple game to be bundled with their Chex cereal. Essentially a Doom total conversion of five levels (which was continued with another five in the download-only sequel), it nevertheless found...
---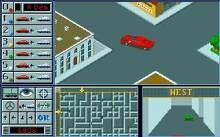 Chicago 90 1989
An action game where you can be a gangster or policeman. As a gangster, try to avoid the police. As a cop, try to catch the gangster. 3 difficulty levels. ...
---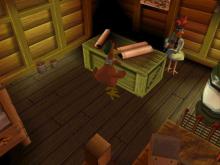 Chicken Run 2000
In Chicken Run, players must help the chickens escape from Tweedy's Farm before they are all turned into pies. Throughout the game, players will take the roles of several main characters, including both Ginger and Rocky. It will require good planning, puzzle solving, and stealth to explore the whole farmyard...
---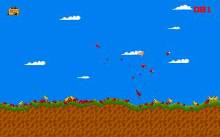 Chickens 1996
If you ever complained over meaningless violence on the TV, now is the time start again. The violence in chickens is truly meaningless. The poor innocent chickens run on to the screen and can't escape. All you have to do is throw (an unlimited amount) of bombs at them and...
---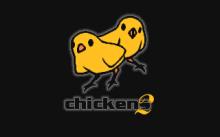 Chickens 2 1998
Click near chickens and get power ups for more time, if any chickens escape you lose the game. Shooting costs time, don't shoot recklessly. None can escape! Addictive and fun. This game contains lots of blood. If you dislike blood or like chickens, this game will offend you. This game...
---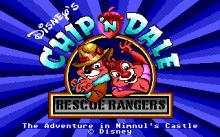 Chip & Dale in: Rescue Rangers 1990
Based on the famous animation series by Disney.In the game the player controls Chip helped by Dale (automatically controlled by computer), who break through the obstacles made by one of their archvillains, Professor Norton Nimnul. The Rescue Rangers go through 9 levels to save the Monterey Jack caught by mouse-trap...
---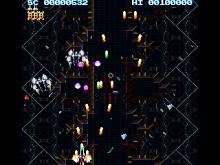 Cho Ren Sha 68K 1998
Cho Ren Sha 68K is another excellent shooter from Japan's incredibly prolific freeware game development community. This vertical shooter boasts excellent 2D graphics, soundtrack, and a lot of neat ship designs, especially the bosses. One thing I like about the game is that you can keep up to 3 power-up...
---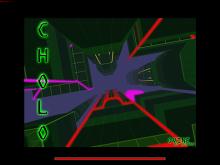 Cholo 2005
Cholo is an excellent remake of Commodore 64 game of the same name, originally released by Firebird.The plot: "[you] are Jared, a maintenance engineer who helps to look after the bunker where everyone has lived for several hundreds of years. You are also the champion of RAT, a game played...
---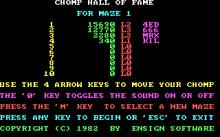 Chomps 1983
Chomps is a clone of the game Pac-Man. In the game the player controls a smiley face with the goal of collecting all of the dots in one of four mazes. To make this task more difficult there are a number of monsters that roam around the maze; Like Pac-Man's...
---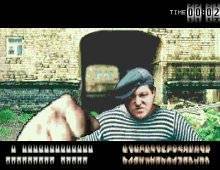 Choose An Enemy 1991
Choose an Enemy is a fighting game . Your aim is to defend your girlfriend against a guy who attacks her, shown from a first-person perspective. Before the fun begins, you have to choose your opponent. There are three men available with different speed and the ability to knock out...
---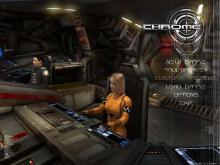 Chrome 2003
In this first-person shooter, "Chrome" is a valued resource that many corporations wish to control. The Valkyria System, where Chrome is located, is a recently discovered solar system of five planets that is now being colonized. Players take the role of Logan; a former elite soldier turned bounty hunter. Having...
---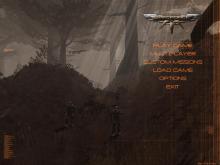 Chrome SpecForce 2005
SpecForce is the follow-up to Techland's Chrome (also published by DreamCatcher as Advanced Battlegrounds: The Future of Combat). The game is a first-person shooter set in a future where spacefaring humans discover a rare and valuable resource, called Chrome, while colonizing a distant solar system. ...
---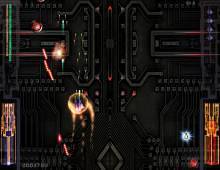 Chromium B.S.U. 2001
You are captain of the cargo ship Chromium B.S.U., responsible for delivering supplies to our troops on the front line. Your ship has a small fleet of robotic fighters which you control from the relative safety of the Chromium vessel. Do not let ANY enemy ships get past your fighters! Each...
---