Arcade action Games #76
Search a Classic Game: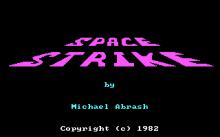 Space Strike 1982
Space Strike is a great commercial Space Invaders clone. Although it's not that different from Atari's classic (and indeed, you might mistake the game for Space Invaders if you hadn't look at the title screen), the game is of historical importance as the very first PC game written by graphics...
---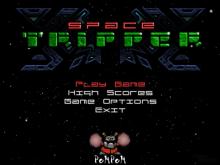 Space Tripper 2001
Back in the day, most video games were scrolling shooters, where your only objective was to kill as many bad guys as possible. With the recent generations of games, we've seen more elaborate gameplay, story lines, and a multitude of different genres. Space Tripper tries to resurrect that old arcade...
---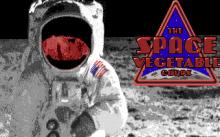 Space Vegetables Corp, The 1992
In this 2D action game player assumes the role of a maintenance engineer, who was deployed by mistake on the desolate planet on the outer rim of the universe. It is the year 2040 A.D. and humanity is turning the planets and moons into a series of huge hydroponic greenhouses....
---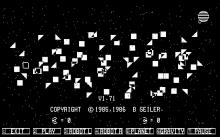 Space War 1985
Spacewar is a shareware Spacewar! clone. Two spaceships, controlled either by human or by robot, battle it out in a fight to the death. The spaceships' weapons of attack are phasers for short range and photon torpedos for long range, both of which use up the energy bar; if this bar...
---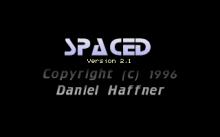 Spaced 1996
Take a journey with Biff and Spiff to take back their crystal from an evil alien race. This crystal was their people's only power source which had given them their incredible intelligence. But since it was stolen, you have to listen Biff and Spiff's "incredibly" stupid conversations (you always...
---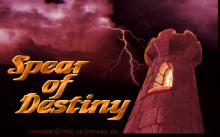 Spear of Destiny 1992
Spear of Destiny was the commercial sequel to the shareware classic Wolfenstein-3D. In this game you reprise your role of a lone soldier fighting the Nazi's behind enemy lines during World War II. The game is played from a first person perspective. You have a single mission, to recover the...
---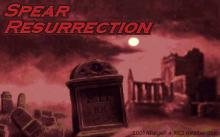 Spear: Resurrection 2001
This freeware, fan-made sequel to Spear of Destiny comes with all-new sprites, weapons, and exploding barrels. Want to find out what really happened to Adolf Hitler after the war? Why his body was never recovered? What did the Nazis do after escaping persecution? Who got hold of the so-called powerful...
---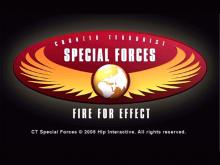 Special Forces: Nemesis Strike 2005
Special Forces: Nemesis Strike is a value-minded third-person shooter that puts players in control of a two-man team of commandos and sends them on missions around the globe to stamp out terrorism. In addition to a fine selection of modern firearms, players can cause explosions and "requisition" vehicles to help...
---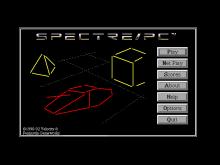 Spectre 1992
Spectre is a 3D shooter where the player drives a little red car/tank and blasts away enemies. The gameplay is similar to Battlezone, and obviously inspired by it. There is a selection of three tanks, each with three values (speed; armor; and firepower) balanced out to match its name: Tough Guy...
---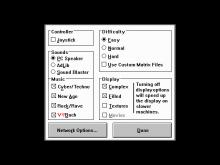 Spectre VR 1993
In single-player mode, your goal is to collect the flags in each level while exchanging fire with the bad guys. Every hit from them weakens your shields a little, but luckily, you can charge them up by running over special dumps on the field which also replenish your weapons. You...
---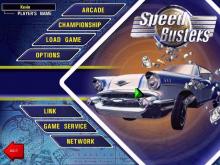 Speed Busters: American Highways (a.k.a. Speed Devils) 1998
You've seen racing games before, in arcades or on your favorite console, but you've never seen anything like Speedbusters from UbiSoft, a racing game with a difference that's easy to feel but difficult to define. Like other games, from OutRun upwards, Speedbusters very easy to pick up. You just choose your...
---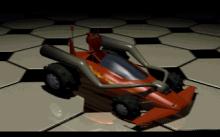 Speed Demons 1997
This game is arcade of "evil" vehicles, in the style of Death Rally that throughout 8 circuits we will have to demonstrate that we are the fastest. Up to 6 vehicles can participate simultaneously controlled by human players (network IPX) or by the computer. The competitions are totally customizeable: you can...
---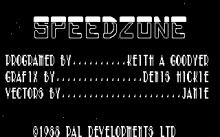 Speed Zone 1988
Speed Zone is a vertically scrolling shoot'em up with a classic style. The player, who flies a latest-generation spacecraft, must destroy all the alien hordes who want to destroy the space federation. The spaceship has a shield with a limited amount of energy. This energy protects the ship from the...
---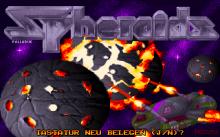 Spheroids 1993
Spheroids is a non-scrolling, top-down shooter with following background story: Robots attack Earth. The robot ships attack in waves and the direction they will enter the screen is shown with an arrow shortly beforehand. The player, of course, also has a space ship which is equipped with a turret which...
---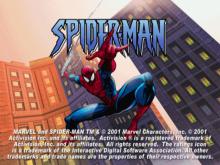 Spider-Man 2001
Who wouldn't want to be a superhero for a day, zooming through the skies, protecting the innocent city below from criminals and evildoers? It's a dream of every kid, big and small. Activision's Spider-Man, a Windows port of the PlayStation and Nintendo 64 title, gives computer users the chance to...
---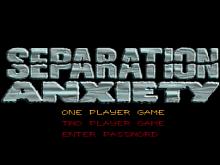 Spider-Man & Venom: Separation Anxiety 1995
Spider-Man & Venom: Separation Anxiety is the sequel of Maximum Carnage, one of the best superhero action games ever made. Unfortunately Maximum Carnage was never released on PC, so PC gamers will have to take comfort in the fact that while Separation Anxiety is inferior to its predecessor in every...
---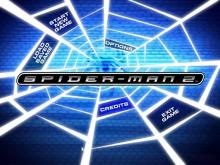 Spider-Man 2: The Game 2004
Spider-Man returns to home computers in a game based on the July 2004 feature film starring Tobey Maguire and Kirsten Dunst. Unlike the console versions of the title, being developed by Spider-Man veterans at Treyarch, this Fizz Factor-designed PC adventure is aimed at a slightly younger audience (and has been...
---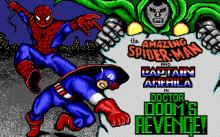 Spider-Man and Captain America in: Dr. Doom's Revenge 1989
Latverian president Dr. Doom is a terrible enemy, so when he hatches a plan to blow up New York City with a stolen Atomic bomb, one Marvel superhero is not enough to stop him. As the lavishly-drawn comic bundled with the game explains, Spider-Man and Captain America must join forces...
---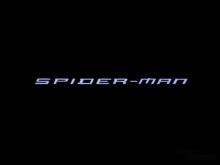 Spider-Man: The Movie 2002
Based on the 2002 movie starring Tobey Maguire as the comic book superhero, this video game version of Spider-Man: The Movie has players swinging through the streets of New York City on the lookout for arch-nemesis Green Goblin. Though built on the 3D engine used in previous Spider-Man titles, this...
---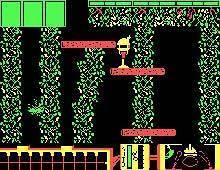 Spiderbot (a.k.a. Arac) 1988
You're a robotic insect, leading a normally happy life in your robotic jungle, when some of your robotic cousins deside to chew through the nearby citadel. Unfortunately for you, they're threatening to chew right through the reactor core! Capture renegade insects to stop their damage, and use them later to...
---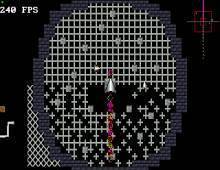 SpiffyPilot (a.k.a. Spilot) 1996
SpiffyPilot is a fun futuristic action game created as a senior project in high school. As the official description puts it, "...you control a ship that can jump, shoot, turn, and accelerate. So far, you can collect PowerUps, shoot bad guys, and stuff like that. It is sort of based...
---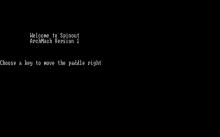 Spinout 1982
Spinout is a clone of the game Breakout and features similar gameplay. At the top of the screen are four rows of bricks; the goal is to remove all of the bricks by hitting them with a bouncing ball. The player controls a paddle at the bottom of the screen...
---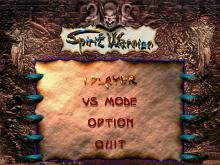 Spirit Warrior 1997
Spirit Warrior is a marginally above-average 3D fighting game from Taiwanese company CG. The game is very little known because it was never marketed outside Asia, and it never sold well inside the continent either. The best way to describe the game is Virtua Fighter PC, but with more choppy...
---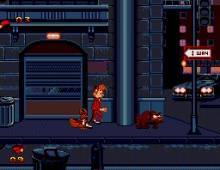 Spirou 1996
Spirou is a platform side-scroller based on popular Franco-Belgian comic strip Spirou et Fantasio. The story begins in New York where famous inventor Count of Champignac is about to present his latest inventions. Journalists Spirou and Fantasio, Count's most faithful friends are also there. Suddenly an evil robot woman Cyanida...
---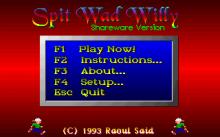 Spit Wad Willy 1993
Despite the opportunities presented to make fun of its name ... this game really is enjoyable. You play Willy, and you must shoot spitwads at bouncing balls. Each time you hit a large one, it splits into two smaller ones. And so on. Whenever you split one, it drops a...
---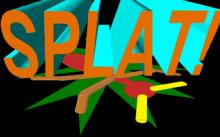 Splat! 1999
Local ants are keen to take your sugar cubes. Fortunately you are armed with a fly swatter, which can be used to squash them. Move it around the screen and hit each ant before it can drag a cube off the screen. On each level you have a target minimum...
---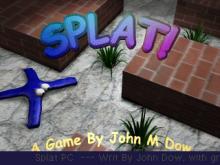 Splat! PC 1998
This remake of an obscure game from 1983 adds new graphics, sounds and music while maintaining the simple but unique gameplay of the original. The player controls a blue X called Zippy, moving it through a labyrinth filled with dangerous obstacles and dead ends. The maze moves independently from the...
---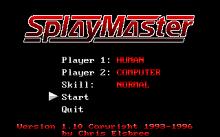 SplayMaster 1996
SplayMaster is a tournament-style space combat game that is reminiscent of the battles in Star Control 2. The game is played by two players (2 human players against each other, 1 human player against computer or, as a demo, two computers versus each other). These players pilot spaceships in 2D...
---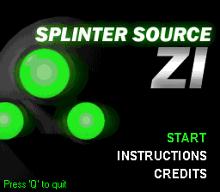 Splinter Source 2005
Splinter Source is a fun fanmade game based on Splinter Cell. Similar to Codename: Gordon and DOOM 2D, Splinter Source presents a dimensional shift from 3D to 2D. In the author's words: "You don't play as Sam Fisher, but instead some nameless agent out to retrieve the OBJECTIVE that was...
---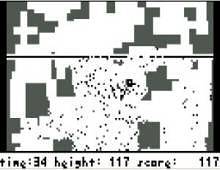 Spout 2003
Spout is a fun arcade-ish game from Japan that is best described as an "abstract caveflier/shooter." Similar to many Finnish freeware classics like V-Wing, your goal in Spout is simply to make your way safely from one level to the next, avoiding walls, floors, ceilings, and other obstacles along the...
---