Arcade action Games #9
Search a Classic Game: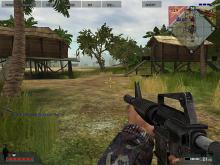 Battlefield Vietnam 2004
Combining the player-directed team warfare of an MMORPG with the fast-paced competition of a first-person shooter, and the realism of an accurate historical setting with forgiving arcade-style action, Battlefield Vietnam follows the same basic battle plans as its winning 2002 predecessor, Battlefield 1942. The follow-up allows as many as 64...
---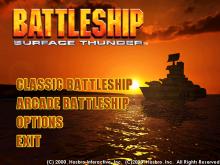 Battleship 2: Surface Thunder 2000
Battleship hasn't been a new game since it was introduced more than a half century ago but this Hasbro Interactive PC version adds an arcade perspective. The new arcade game doesn't offer timeless fun like the old version so Hasbro was wise to include classic Battleship in the package. In the...
---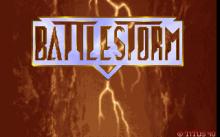 Battlestorm 1990
A top-down space shooter that was different from most others at the time in that it did not just scroll continuously in one direction, but could scroll at different speeds in all possible directions on the X and Y axis, on the player's whim.The game takes place above the surface...
---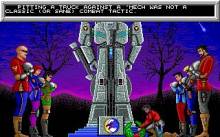 Battletech 1: The Crescent Hawks' Inception 1988
Battletech: The Crescent Hawk's Inception is an overhead view, 2D strategy game based on the Battletech strategy board game universe. Players take the role of Jason Youngblood, academy 'Mechwarrior trainee and son of famous 'Mechwarrior Jeremiah Youngblood. As the game's story unfolds, an enemy faction attacks the planet. Players must...
---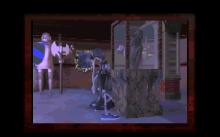 Battling Butlers 1996
Battling Butlers is a one-on-one fighting game, featuring five different playable objects as fighters.The roster includes 'Ace High' the playing card, 'Slammer' the door, 'Ringo' the phone, 'Jumpy' the spring and 'Tock' the clock. Each fighter has individual attack moves and a special attack. ...
---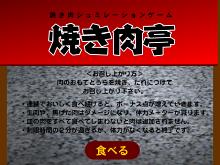 BBQ (a.k.a. Yakiniku) 2001
BBQ is a unique and amazingly addictive freeware Flash game from Japan. The premise is one of the most original I have seen in any game: you are eating Japanese BBQ ("Yakiniku") in the restaurant, and all you want to do is cook the beef correctly so it comes out...
---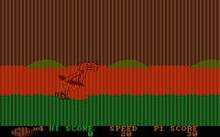 BC's Quest for Tires 1984
The game one of the first computer games I've ever played and still among my favorite time wasters. There's no deep and intriguing plot to it, just pure addictive fun. You're a monocycle riding caveman who's trying to save the love of his life from the clutches of an evil...
---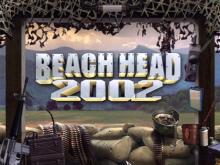 Beach Head 2002 2001
Like its predecessor Beach Head 2000, this first-person shooter focuses on fast action. Play as a lone soldier, surrounded by deadly enemies, and fend off waves of air and ground attacks. ...
---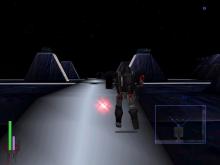 Beast Wars: Transformers 1998
Beast Wars Transformers is a 3D action/shooter based on the popular television show and line of toys from the '80s The game features a total of 24 levels spanning 12 campaigns for both the Predacons and Maximals. Players also choose from a selection of ten transformers, including Megatron, Rinox, and...
---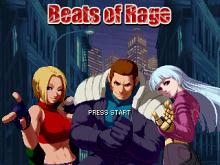 Beats of Rage 2004
One of the best beat 'em up games I have ever played, bar none, Beats of Rage is a superb fanmade tribute to Streets of Rage, SEGA's classic coin-op game that was never released on PC. The game also showcases superb character sprites of SNK's King of Fighters 2002 game,...
---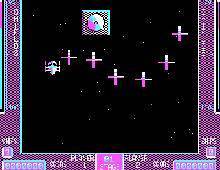 Bedlam 1988
Bedlam is a vertically scrolling space shoot'em-up.Space fighter shoots patterns of swirling aliens and stationary cannons, collects extras and fights boss ships - Bedlam is ordinary shoot'em-up material, stretched out over 16 short levels and spiced up with your standard two-player option.While ZX Spectrum and C64 see a genuine space...
---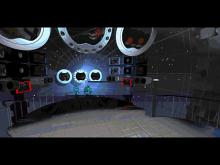 Bedlam (1996) 1996
Bedlam is a 3D shooter in which players control one of three robots from a top down perspective and must blow up almost everything that crosses their path. According to the story, biomechanical creatures that were originally harmless and created to perform menial chores have mutated into fearsome beings and...
---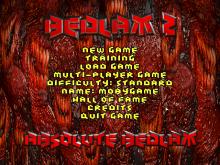 Bedlam 2: Absolute Bedlam 1997
It is half a year after the happenings in Bedlam where Major Kern defeated evil biomechs. Now they are back under the name Biomex and have important facilities under their control. Of course this has the consequence that the player uses Major Kern's combat robot to kill them all.Bedlam 2:...
---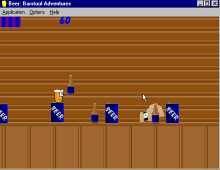 Beer: Barstool Adventures 2000
Finally, someone developed a game with a hero worth fighting for. Forget Lara Croft, I'm talking about a humble pint of lager. Beer: Barstool Adventures is a fun little freeware game that casts you as a beer mug (yes, a beer), and pits you against thirsty barflies and ravenous rats....
---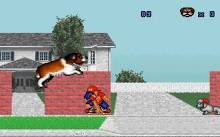 Beethoven's 2nd 1993
Beethoven's 2nd is a platform game where you get a chance to wear the metaphorical shoes of Beethoven - that lovable, big dog from the movie.Your four puppies need to be rescued and brought back to their mom. As a responsible father and guardian you'll first need to find the...
---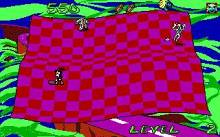 Beetle Juice 1990
Have you ever had skeletons in the closet? Then you know that they're quite annoying, and you know why you have to get rid of them in this little game. The gameplay is simple: You play Beetlejuice, who has to get rid of skeletons on a square board. He does...
---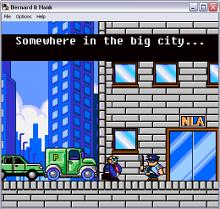 Bernard and Hank 2005
Bernard and Hank is yet another fun and free 2D platformer from the talented group of amateur programmers who code games with Click Team game-making applications. The review says it all: "When you first download the zip package, there are actually three significant files included. The first is the game...
---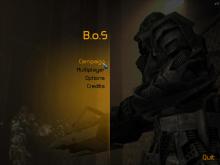 Bet on Soldier: Blood Sport 2005
Bet on Soldier takes places in a future where fully armed battlefield combat has become the favorite sport of the masses, and superstar warriors compete for riches in battlefield arenas around the globe. After 80 years of continuous fighting, war seems to be the only thing the human race remembers...
---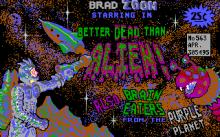 Better Dead Than Alien! 1988
Brad Zoom takes on the Brain Eaters from the Purple Planet, in this homage to vintage action games, primarily Galaxians. There are 75 levels, accessed via passcodes.You control a spaceship at the bottom of the screen facing upwards, firing at arrangements of aliens. You can move up and down as...
---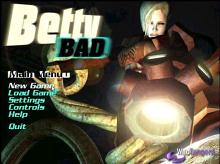 Betty Bad 2002
WildTangent, a company dedicated to web-based content delivery, is the developer of Betty Bad, a third-person action game inspired by the arcade classic, Tempest. Elizabeth Badowski (the eponymous Betty Bad) is the most sought after bounty hunter in the galaxy and it falls on her to eradicate the alien infestation...
---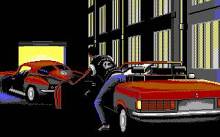 Beverly Hills Cop 1990
Eddie Murphy became a star in the police film Beverly Hills Cop, and it was this license that Tynesoft used to create a game featuring four distinct sub-games, each of which can be practiced from the main screen in some versions. First Axel Foley visits a warehouse to shoot out...
---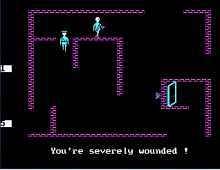 Beyond Castle Wolfenstein 1985
The sequel to Muse's revolutionary Castle Wolfenstein follows the same basic formula as the predecessor, while adding a host of new features that make gameplay more complex. The plot follows where the first game left off: the brass at allieds headquarters are so impressed with your heroics in Castle Wolfenstein...
---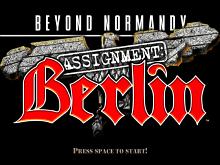 Beyond Normandy: Assignment Berlin 2003
Battle alongside allied forces as you punch through German defenses on your way to the capital, in Beyond Normandy -- Assignment Berlin. Choosing from 14 historically accurate weapons, gamers will be well armed as they parachute into the thick of the fight, sniping enemy fighters along their descent. The game...
---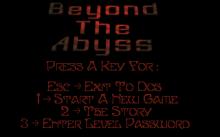 Beyond the Abyss 1994
Beyond The Abyss is a shareware fantasy shooter game. The player takes the role of the lone paladin, Roman, who lives near the village of Olin. The evil ruler Medak has sent an army of magic beasts to over throw the castle of Olin. The corridor that links Medak's realm...
---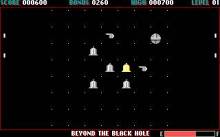 Beyond The Black Hole 1989
Use your paddles to pilot your orb in the search for the disappearance of Vern Grenington and his "entire vehicle service station" on Vicinity NAW-911 which "has long been known to contain a Black Hole." According to the game manual because most of their pilots grew up in the era of...
---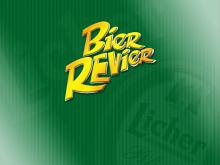 Bier Revier (a.k.a. Beer Beat) 1999
"Discover a fascinating land in search of the treasures of nature. At six different hunting grounds, your swiftness as a hunter of fresh Licher beer will be challenged. The mouse button is your hunting tool, in the 360-degree panorama or while searching for that Licher beer." This is my translation of...
---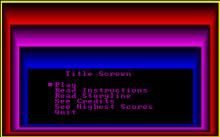 Big Bob's Drive In 1992
Big Bob's Drive In is a shareware game in which the player takes the role of a waitress, 'Skatin' Stacy', who must feed the customers of Big Bob's. The game consists of five levels, each corresponding to an area of the drive in. The levels take the form of a...
---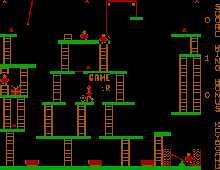 Big Top 1983
Welcome to the life of a clown, your task is to gather up all the hats on each level! After which you shall proceed to the next level. But as this is a clown game, the levels are known as 'rings'. Clowns perform in rings not levels! But.. before you...
---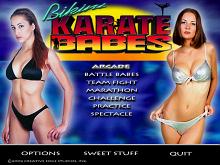 Bikini Karate Babes 2002
Bikini Karate Babes features 19 bikini-clad female karate combatants modeled from real women. Ten game modes, hidden secrets, 60 frames per-second, and boss characters round out the action. ...
---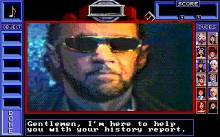 Bill & Ted's Excellent Adventure 1990
Based on the movie. You control Bill & Ted- Rufus, a time travelling "dude" from the future, gives you use of a time-travelling telephone booth. Use the phone booth to go back in time to many different eras, collect items, and get historical "dudes" to follow you. Some "dudes" won't...
---