Arcade action Games #31
Search a Classic Game: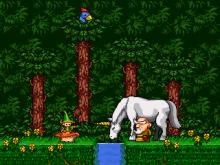 Eternal Daughter 2002
Eternal Daughter is an excellent platformer from Blackeye Software, the wonderful folks who brought us outstanding freeware titles like Snowbrawl and Diabolika. The game casts you as Mia, a young girl born into slavery under the evil Dungaga race. You must escape and defeat the greater evil that controls them,...
---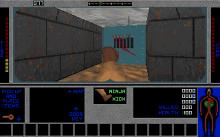 Eternal Prison 1995
This is an undistinguished Doom clone made with Pie 3D Game Creation System. Try to escape from prison against similar grey-dressed guards using weapons like guns, machine guns, bombs and lasers. Find keys to open some doors or bomb them if you can't. ...
---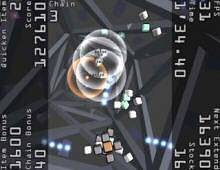 Every Extend 2004
Every Extend is a very polished, highly addictive coffee-break action game from Japanese designer OMEGA. Like all addictive action games, Every Extend is very easy to learn, but hard to leave. Your only goal in this "kamikaze shooter" is to blow yourself up at the optimal moment to destroy the...
---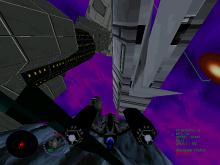 Evil Core: Fallen Cities 1999
Evil Core - Fallen Cities is a highly innovative and underrated 3D space shooter that combines elements from multiple genres into a fun experience. The comprehensive review at the Adrenaline Vault says it all: "[Evil Core is] a refreshingly innovative combination of action, adventure, and strategy in an attractive and...
---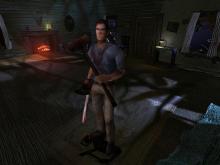 Evil Dead: Hail to the King 2001
Based on the movie series starring Bruce Campbell, Evil Dead: Hail to the King features a mix of action, puzzles, and suspense. Set eight years after the third film, you are Ash, who is being drawn back to the cabin in the woods. So grab your boomstick (shotgun) and chainsaw...
---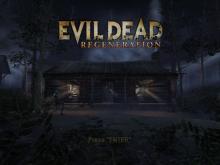 Evil Dead: Regeneration 2005
Based on Sam Raimi's classically campy series of horror films that began with 1983's The Evil Dead, this action game follows the continuing, cursed adventures of Ashley J. "Ash" Williams. Ash was recently sentenced to the Sunny Meadows Institute for the Criminally Insane, after being falsely convicted of murdering his...
---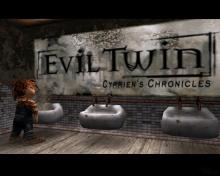 Evil Twin: Cyprien's Chronicles 2001
Cyprien is the young hero of this 3D platformer from Ubi Soft. He is an orphan boy, who spends most of his time reading comics and fantasizing about a better world, a place where things are different. One fateful day his fantasies are suddenly realized, though perhaps not exactly as...
---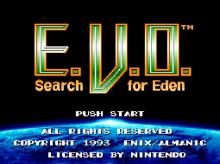 EVO: Search for Eden 1992
Veering from the assortment of simulation games in which players build cities, worlds, and other places, E.V.O.: The Search for Eden is about building your character. More precisely, it's about evolving from a fish to a dinosaur to early man and points in between. To evolve in this side-scrolling, action-oriented...
---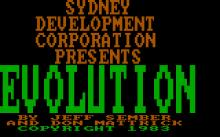 Evolution 1983
Evolution is an arcade style action game with six levels where you need to evolve from an amoeba to a human. Each level is a different stage in evolution with it's own unique goals. The first level is the amoeba stage where you need to eat all the DNA on...
---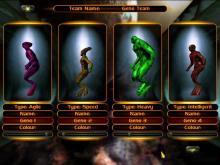 Evolva 2000
Evolva sends you on a mission to save planets from a deadly parasite and keeps you glued to your computer. This is a very interesting game with superb graphics and a fast pace. It's an action, adventure, fighting and strategy game all rolled into one! You're a member of the Evolva...
---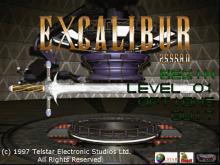 Excalibur 2555 AD 1997
At first glance, Excalibur 2555 AD might seem like a solid 3D adventure using the ol' overly-proportioned-heroine-in-a-short-skirt idea that Tomb Raider made so famous. After about, say, 2 minutes of playing, one discovers that it is completely different story. Other than the impressive graphics, anyone with an attention span will...
---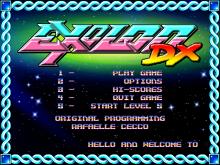 Exolon DX 2005
Exolon DX is a great remake of an old Hewson game with updated graphics and much smoother animations. Your quest is simple: as a blaster-wielding spaceman, kill as many aliens as possible with blaster or rocket-propelled grenades and get to the exit on each level. Both weapons have limited ammunition,...
---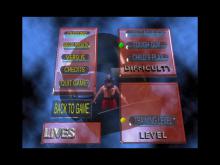 Expect No Mercy 1995
Based on the movie by the same name, Expect no Mercy follows the same plot. In a future world, The Academy of Virtual Combat Arts is the only place for those who wish to learn martial arts. Fighting against Virtual opponents, those of the highest skill level are treated with...
---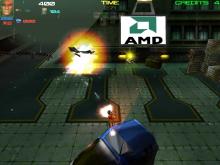 Expendable (a.k.a. Millennium Soldier: Expendable) 1999
Last year, Rage Software released a game called "Incoming". It was extremely simplistic in that you had to shoot all Alien Craft and that was it really, but it was all done with beautiful graphics and it actually turned out to be a great game. Rage then decided to continue...
---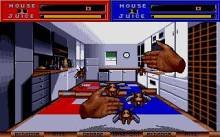 Exterminator 1990
Of all the mundane tasks which've been turned into action-packed games, bug-repelling must be up there with being a Paper Boy or a Trashman. These aren't average bugs; Chicago is under siege from mutated insects, rats and even toy tanks. You'll have to work through seven houses, each of which has...
---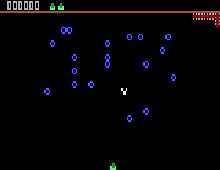 Exterminator, The 1983
The Exterminator is essentially a clone of the arcade game Centipede. A centipede forms from the top of the screen and gradually moves down it, changing direction when striking the many barriers it hits. If it reaches the bottom of the screen, it wins. You control a small droid, which...
---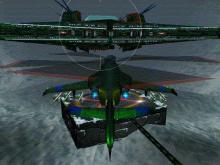 Extreme Assault 1997
"Goofy" is the best word to describe Extreme Assault. You play the part of a helicopter pilot in the employ of some sort of military organization (the specifics are left to the imagination) fighting against another organization known only as "the enemy." A few missions into the story, your commander...
---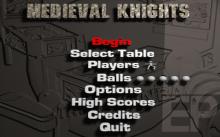 Extreme Pinball 1995
Bring pinball home from the arcade with Electronic Arts' Extreme Pinball. There are four tables to choose from, all rendered in SGI with CD-quality music and sound effects to enhance the experience. There are four soundtracks to choose from. Playing pinball on your PC means additional fun not available in a...
---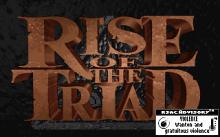 Extreme Rise of the Triad 1995
Extreme Rise of the Triad is an official add-on level pack to Rise of the Triad. The add-on features forty-two new levels, notable for their increased difficulty compared to those of the original game. Also included are several user-made level editors, a random level generator, and sound files. ...
---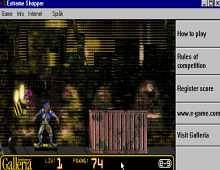 Extreme Shopper 2000
Yet another fun little gem from E-Game, promotional game developer extraordinaire. This time the sponsor is Galleria, an Internet shopping portal run by GulaSidorna, Sweden's premier Yellow Pages. In-game description goes as follows: "It's not always as easy as it sounds to shop on the Internet. There is a lot of...
---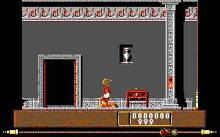 Eye of Horus 1989
As a mystical shaman, go through a pyramid in ancient Egypt to get the magical eye of horus. In a cool twist, by pressing the up arrow you turn into a birdy and can search through the levels. Just press the down arrow and voila! Human again. Many traps try...
---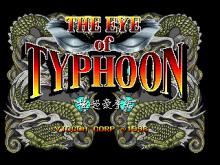 Eye of Typhoon, The (Geuk Cho Ho Kwon) 1996
Many years ago, during the times of the Myoung dynasty, a martial art known as Geuk Cho Ho Kwon prospered. Gradually, it became forgotten and was considered a mere legend by most people. But lately this mysterious technique resurfaced, as Asian countries began to grow weak, and Western powers strived...
---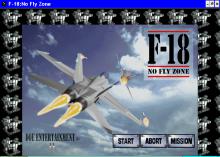 F-18: No Fly Zone 1994
F-18: No Fly Zone is a single player arcade style shoot-'em up. The player takes on the role of a fighter pilot who must shoot down recurring waves of enemy aircraft as they fly towards their plane. There are power ups to be collected which will boost the weapons capabilities...
---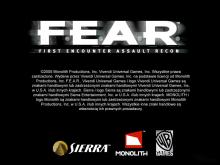 F.E.A.R.: First Encounter Assault Recon 2005
F.E.A.R. -- or "First Encounter Assault and Recon" -- is a first-person shooter set in a secretive complex full of government intrigue. Players take the role of a member of an elite squad of soldiers that's called in when conventional troops have failed. One such situation occurs when an unknown...
---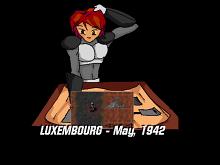 Factor X 2001
Factor X is a fun free-for-all top-down fragfest that is inspired by Virtually Real's cult classic Destruction Carnival. As the official site proclaims, the game is "...a massive compilation of a 23 level story mode with 4 bosses and 3 bonus levels, an arcade mode where you compete for highscores...
---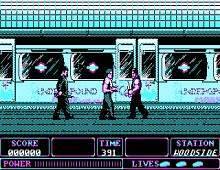 Fallen Angel 1989
Fallen Angel is a side scrolling fighting game similar to Double Dragon. You play the fallen angel, sent on a mission to locate the leader of a drug distribution network. Beginning in the London underground, each level will present you with two tasks to complete: find a plane ticket to...
---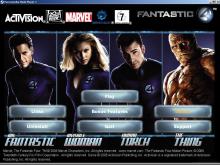 Fantastic 4 2005
Based on the Tim Story-directed 2005 film, this interactive edition of Fantastic 4 has players taking the control of each cosmic-ray enhanced member of the superhero team: Mr. Fantastic, who can stretch and reshape his body; The Invisible Woman, who can vanish at will and create powerful force fields; The...
---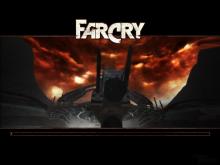 Far Cry 2004
Far Cry has players controlling freelance mariner Jack Carver, who has recently arrived at a tropical island. Jack accepted a large sum of money to transport a reporter named Valerie to the island, but when they arrived, the boat was fired upon and sunk. Valerie is now missing, and Jack...
---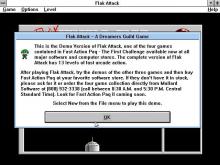 Fast Action Paq 1993
This collection is a set of four "retro games" based on fondly remembered titles from the 1980's. BOT Your mission is to prevent the Mother CPU from completing its military conquest of the planet. To succeed you'll need to pass through 5 levels of BOT soldiers shooting them at will,...
---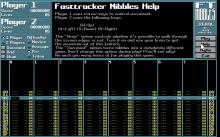 Fast Tracker 2 1994
FastTracker 2 was an early successful PC .MOD-tracking music composition utility, early competition for Future Crew's ScreamTracker but more clearly inspired by Amiga tracking software that preceded them both. When called upon to explain its success against such strong competition, some will mumble something about the mouse support, or give...
---