Arcade action Games #93
Search a Classic Game: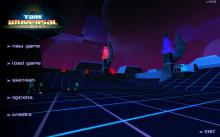 Tank Universal 2008

---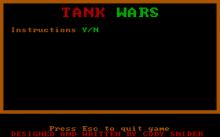 Tank Wars 1986
In Tank Wars you try to shoot the other tank at the other end of the hill. To do this you have to get the angle and the amount of force to put into the shot right. You can play single player against the computer or have two players. ...
---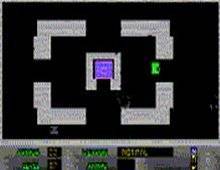 Tankgame 1995
Tankgame is a fun freeware remake of Atari's arcade hit Tank (later released for Atari 2600 console as Combat). Like other Atari classics, the game is very easy to learn, but amazingly addictive. The concept was as old as tank warfare itself: two tanks - one red, one green -...
---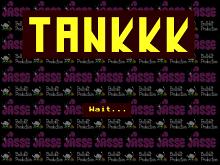 Tankkk 1996
Tankkk was a bliss in it's time. This Finnish shareware oldie boasts not only two, but three tanks. There's no dirt to dig around. Instead, a maze-ish arena is given for the players to fight in. There are enough options to choose from to make it play differently if wanted,...
---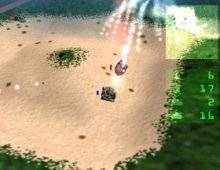 Tanks 3D 2001
Let me start by adding the description from the developers as they explain what Tanks 3D really is, "Tanks 3D is, you guessed it, a 3D tank action game that supports LAN/Internet/single player play. It's tough, addictive and fun. It randomly generates new scenery to keep the odds fair, keep...
---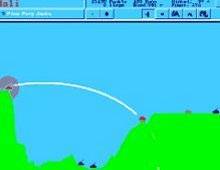 TankWars 2.0 2000
TankWars 2.0 is a fun artillery game for up to 10 players. The goal will be familiar to anyone who has played Scorched Earth or Gorilla: opponents attempt to destroy each others tanks by firing various weapons at them. Pick a weapon, then choose an angle for its trajectory. Whenever...
---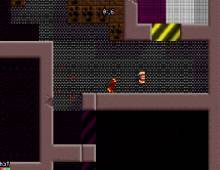 Tapan Kaikki 1998
The Ultimate Tapan Kaikki (Translates roughly to The Ultimate I'll Kill Everyone) is a simple top-down shooter. The goal of the game is, as the title suggests, to kill everyone on the map by using weapons either picked up from the map or bought from stores. That sounds simple, but...
---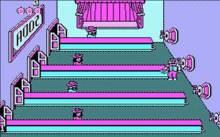 Tapper 1983
Tapper is an action game where you're a beer tapper (barman) and have to serve beer to demanding customers. There are four customers, each has its own lane lengthier than the previous one, whom you have to keep at bay. If they reach the end of the lane without receiving...
---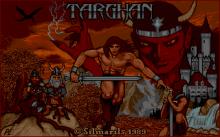 Targhan 1989
The events of Targhan take place in medieval times; the game's setting and gameplay are similar to those of Golden Axe. The plot involves a lone warrior traveling the land far and wide, killing all manner of beasts, with the end goal in mind to kill an evil lord who...
---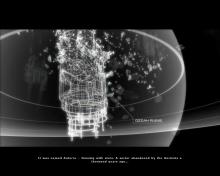 Tarr Chronicles 2007
Tarr Chronicles is a space combat game with role-playing elements from Russian developer Quazar Studio. Players begin as fighter pilot, forced to live on the Torpan Military Alliance battle cruiser Talestra after fleeing a besieged home planet. Similar stories are occurring all over the universe as the mysterious Mirk, an...
---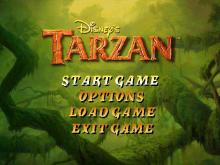 Tarzan Action Game (a.k.a. Disney's Tarzan) 1999
In this wonderful, challenging game replete with twists, turns and surprises throughout, young Tarzan swings, climbs, punches, knifes and jumps his way through the jungle as he fights off foes. Along the way, he grabs coins for points, eats bananas for energy and listens to advice from Terk, who emerges...
---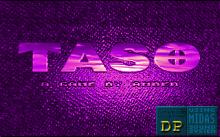 Taso 1997
A cool Chopper Command clone, Taso is a fun little mindless game with two simple goals: destroy your opponents and defend your base. You have a wide range of choppers, each armed with different weapons, as well as some (very tiny) troopers to do your bidding. Although designed primarily for...
---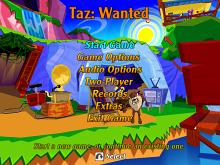 Taz: Wanted 2002
Taz: Wanted for PC has players controlling the famous Looney Tunes character as he spins, snarls, and slobbers his way across four worlds and 12 levels of 3D platform action. Yosemite Sam desperately wants Taz to be his next exhibit at the Yosemite Zoo and will stop at nothing to...
---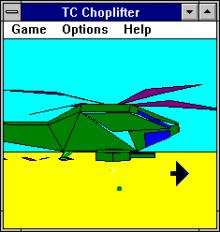 TC Choplifter 1995
TC Choplifter is a 3D Choplifter clone for one player. In this game you destroy opposing tanks and planes and save hostages on the ground. You complete a level by saving all of the hostages and destroy all of the opposing vehicles. In the unregistered version of the game the...
---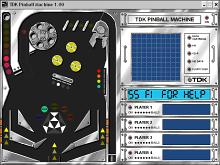 TDK Pinball Machine 1995
TDK Pinball Machine is a freeware pinball game that was created to promote TDK's various storage media. It features only a single table. Whenever your score reaches the maximum amount of storage of a specific medium (in kilobytes) you receive a bonus ball. Like other pinball games, the player uses the...
---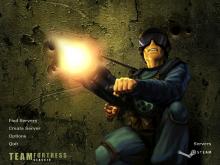 Team Fortress Classic 1999
Team Fortress Classic begins with Teamwork and ends with Victory. No other game has captured the essence of this trait such as this game. The overall roots of Team Fortress began on the legendary Quake gameplay engine back on August 24th 1996. It had little to its name as players only...
---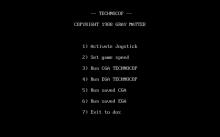 Techno Cop 1988
Techno Cop is set in the near future. You are a cop who seeks to clear his town of all the criminal scum. The game consists of two parts; one driving-action and one sidescrolling-action. In the first part you drive around in your red Ferrari and destroy hostile cars; in...
---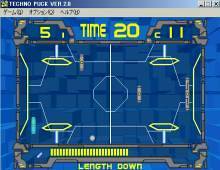 Techno Puck 2001
Techno Puck is a cool Pong-style paddle game with some nifty features including dual paddles, power-ups, special items, and different level designs. Similar to air hockey, your goal is to knock the ball past the opponent's paddles into the goal, and score as many goals as possible before time (usually...
---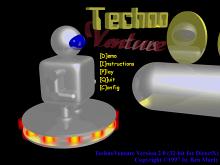 TechnoVenture 1997
TechnoVenture is a fun and innovative platformer with strong puzzle elements, similar to classic Apogee games of yore. First released as shareware game for the Amiga, the game was converted to IBM PC in 1997, and later released into the public domain in 2001. The thorough review at Amiga Games...
---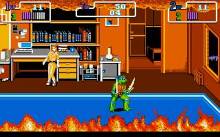 Teenage Mutant Ninja Turtles 1989
With April O'Neil held hostage by The Shredder's thugs, Bebop and Rocksteady, once again, it's up to the Teenage Mutant Ninja Turtles to come to her rescue! Play as all four of the turtle heroes, rescue April, and then rescue your sensei Splinter from Mecha-Turtles clutches than go after...
---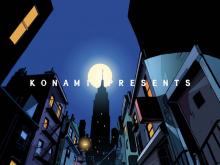 Teenage Mutant Ninja Turtles 2003
The heroes in a half-shell are back to clean up the streets of New York City in this all-new video game based on the once popular comic book license, which is poised to make a comeback with an animated series in February 2003 by 4Kids Entertainment, action figures by Playmates...
---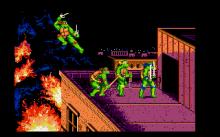 Teenage Mutant Ninja Turtles 2: The Arcade Game 1991
April O'Neil, the reporter friend of the Teenage Mutant Ninja Turtles, is kidnapped by the villainous Shredder and his two goons, Bebop and Rocksteady. The four ninja turtles: Raphael, Michelangelo, Donatello and Leonardo fight their way through hordes of Foot Soldiers in order to rescue April. They battle familiar foes...
---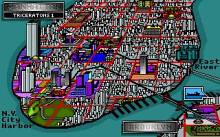 Teenage Mutant Ninja Turtles 3: The Manhattan Missions 1991
The heroes in a half-shell come out of the sewers and on to your computer screen in Konami's gnarly Teenage Mutant Ninja Turtles: Manhattan Missions. Shredder, Bebop, Rocksteady and their gang of mousers, foot soldiers and other evil dudes are totally wasting the city. So much crime is being committed...
---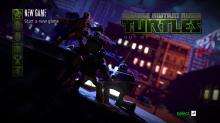 Teenage Mutant Ninja Turtles: Out of the Shadows 2012

---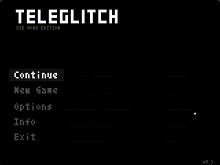 Teleglitch 2012
Set in the lonely corridors of a twisted research facility on a small, nondescript planet, Teleglitch finds players fighting for their lives in classic overhead shooting action. Gamers battle reanimated corpses and more than 20 other kinds of monsters through ten randomly generated levels, all designed with retro, pixelated graphics....
---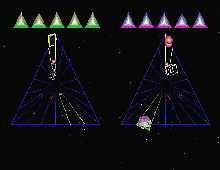 Tempest 2000 1996
Tempest 2000 is generally considered one of the Atari Jaguar's best games. For those who never had the chance to play the game on that system, rejoice -- it's now been faithfully reproduced and ported to the PC. If you're a fan of the original arcade version of Tempest, you're...
---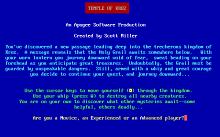 Temple of Kroz 1990
The second part of the Super Kroz trilogy is once again more or less the same as its predecessors - move your player through levels killing and avoiding monsters, while solving puzzles. ...
---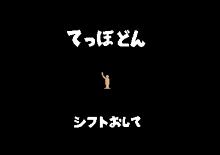 Teppodon 2004
Teppodon is a fun sequel of sorts to Teppoman and Bimboman, two fun cartoony platformers from the same Japanese author. Created with Klik & Play game creation program, Teppodon offers smooth cartoon animations, excellent level designs, plenty of improvements over the previous two games, and a *very* challenging gameplay. There...
---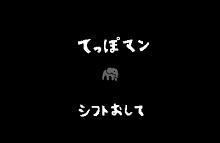 Teppoman 2003
Teppoman and Bimboman are two excellent cartoon platformers from the same Japanese author. Created with Klik & Play game creation program, both games feature very smooth animations, crisp graphics, and excellent level designs. One of the things I like about Teppoman and Bimboman is the ability to aim your shots...
---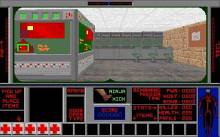 Terminal Terror 1994
Terminal Terror is the sequel to Lethal Tender. Once again you step in the shoes of super spy/army-of-one hero Nick Hunter and this time around your mission is to take back into custody the international terrorist Bruno Riggs who has escaped jail thanks to the aid of a new terrorist...
---