Arcade action Games #14
Search a Classic Game: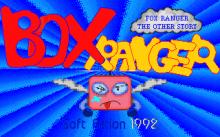 Box Ranger 1995
Box Ranger is a horizontally scrolling shoot-em-up and a parody of Soft Action's own Fox Ranger. The player controls a little pink box with wings, flying through stages infested by hostile insects and photos of game developers. Mid- and end-level bosses further impede the unlikely hero's progress. The default weapon...
---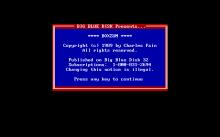 Boxzum 1989
In this game, the player and several opponents leave trails as they move around an empty black field. Crashing into one's own trail or the trail of an opponent causes death; the object is to outmaneuver and outlive all of the enemies. Starting level, difficulty and game speed are all...
---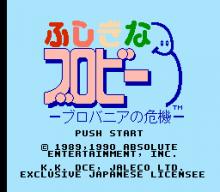 Boy and His Blob, A: Trouble in Blobolonia 1989
A Boy and His Blob: Trouble in Blobolonia is a unique puzzle/action/adventure masterpiece designed by Pitfall creator David Crane, released only on the NES in 1989. There are many gushing reviews of this game on the Internet, but this one on Gaming World X comes closest to my own (very...
---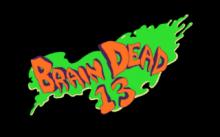 Brain Dead 13 1995
Brain Dead 13 follows in the footsteps of such laser disc genre games as Dragon's Lair and Space Ace. Even with Don Bluth-style animation, and a quick decision-making interface, Brain Dead 13 makes no improvement in a decade-old genre that never managed to bring its interactive excitement up to the...
---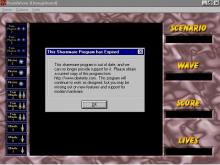 BrainWave 1997
Brainwave is a single player shareware game that is a sort of cross between Space Invaders and Galaxian. Though it looks like a space shoot 'em up the premise for the game is much closer to home. Nanobots have been surgically implanted into the player's brain to repair...
---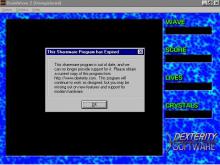 BrainWave 2 1997
BrainWave 2 is a single player shareware game that combines the control system of Space Invaders with the swooping enemy formations of Galaxian. It is a sequel to Dexterity Software's BrainWave. Once again nanobots are attacking the player's brain and the player's imagination has created a ship with...
---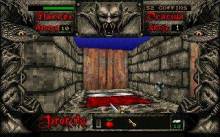 Bram Stoker's Dracula 1993
Bram Stoker's Dracula is based on the 1992 film of the same name. The player controls a young lawyer named Jonathan Harker, who must free himself from Dracula's capture, follow him to London, and end his reign of terror. Unlike the several side-scrolling adaptions of the movie for console systems,...
---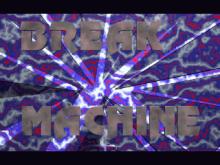 Break Machine 1995
Break Machine is a break-out game in 320*400 MODEX Vga. In another dimension the world Brickania exists. The main component of this world is The Brick. Some monsters came from this world to build the earth a big wall. The earthlings decided to destroy this atmospheric wall. As the fighter...
---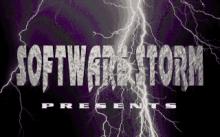 Breakfree 1995
What do you get when you combine a Paddle game like Arkanoid and a 3D Shooter game like Doom? You get Breakfree, a 3D Paddle game where you 'shoot' fireballs against walls similar to your average Paddle game but with a 1st Person Perspective approach. The object of the game is...
---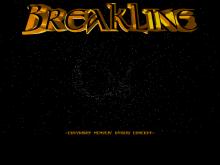 Breakline 1994
Breakline is a Breakout variant. You have a paddle which bounces a ball up and down to break blocks on the game field. You can activate several special abilities, e.g. releasing several balls at once or a ball which cuts through solid blocks. The levels include gimmicks like teleporters or bumpers. There...
---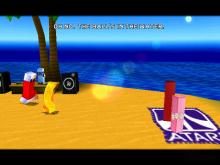 Breakout 2000
Opinions of modern updates to classic games are widely divided. Many people prefer that software designers take the original game, modify the graphics to a 32-bit color palette, add a magnificent orchestral score, and release it as a "what could have been" title had technology allowed it. Others would like...
---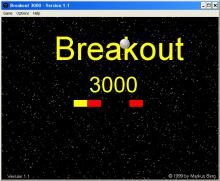 Breakout 3000 1992
Like the name suggests, Breakout 3000 is a Breakout game. So you have a screen filled with bricks, a ball and a paddle. Destroy all bricks with the ball. Use the paddle to bounce the ball back into the playfield when it's about to leave the screen. The game offers 23...
---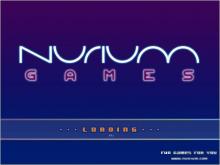 BreakQuest 2004
If you liked to break bricks you will love to crunch everything else. Enjoy 100 unique levels, all of them with their own colorful designs, crystal clear sound and elements behavior. Arkanoid fans must check this out. Feel the full physics engine with advanced collisions. This allows for a completely new...
---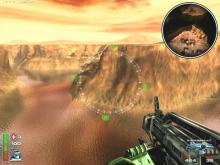 Breed 2004
Breed is a 3D action game with elements of a space strategy, a combat flight simulation, and a first-person shooter. Players command a faster-than-light ship through the voids of space, pilot an agile shuttle to the planet's surface, then take the first-person roles of commando soldiers to eliminate enemy forces...
---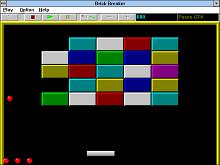 Brick Breaker II 1994
Another Break-out clone. The game has eight different levels with varied difficulties. On each level you have to destroy brick walls by the ball dodged with your paddle to see a special car such as Corvette, Celica, Dodge, Paseo, etc. on the picture. Difficulties varies as speed limits for Campus...
---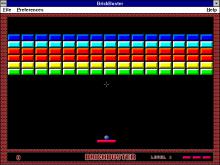 Brickbuster 1995
Another Breakout clone. Objective of the game is to knock the ball with your paddle into the wall to clear all the bricks from the screen. Using the mouse player moves his/her paddle left and right. Pressing right mouse button player catches the ball and left mouse button player releases...
---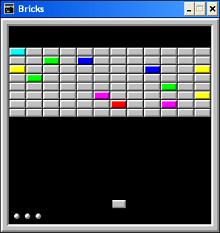 Bricks 1990
Bricks is a nice and simple version of Arkanoid and works under Windows. ...
---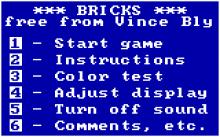 Bricks 1984
Bricks is a clone of the game Breakout. You control a paddle at the bottom of the screen, and your goal is to destroy a wall of bricks by deflecting a bouncing ball. Each brick the ball comes into contact with will be destroyed, but if the ball falls off...
---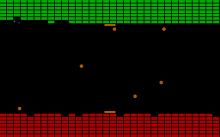 Brickwar 1987
Richard Wong's Brickwar is our version of the arcade classic, Breakout. For most of you, then, Brickwar needs no introduction. However, for those of you who have spent the last 15 years breeding llamas in the Peruvian Andes, or who started computing too late to become infected with nostalgia...
---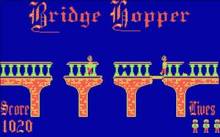 Bridge Hopper 1990
There are gaps in the bridge (three gaps in levels up to 6, four from there on), but does that deter pedestrians from willfully treading on, like Lemmings or Sleepwalkers, to their demise? Regrettably, that is not the case. Fortunately for the player, a stopgap measure is available...
---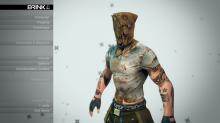 Brink 2011
Brink is a team-based shooter focused on multiplayer action, with four class types, a role-playing-like leveling system, and an unusual art style that looks as if each character was sculpted out of clay and then stretched from head to toe. While one of Brink's major selling points is that it...
---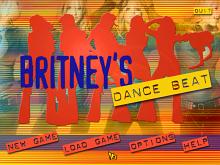 Britney's Dance Beat 2002
Britney's Dance Beat tries to capitalize on the popularity of dancing simulations like Dance Dance Revolution, but this weak effort will appeal only to Britney Spears' fans. Unfortunately, after a short period of play, even her fans will hit the eject button in disappointment. After sitting through an excessively long...
---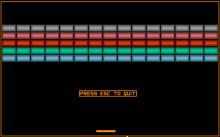 Brokeout 1989
Brokeout is a simplistic and small (<5 kB) break-out game. Knock out the blocks with the ball and paddle. You have only one ball, there are no bonus items, only one level and no scoring. An accompanying program allows you to adjust the game speed. ...
---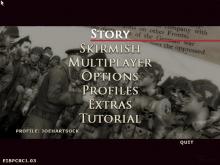 Brothers in Arms: Earned in Blood 2005
The first follow-up to Road to Hill 30 returns players to World War II, in the new role of U.S. Army Sergeant Joe "Red" Hartsock. Players will witness the D-day invasion at Normandy first-hand, thorugh Hartsock's eyes, before pressing forward to Carentan and beyond. Once again, the game calls on...
---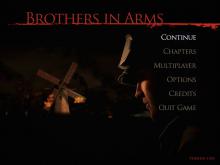 Brothers in Arms: Hell's Highway 2008
Operation Market Garden is where the action plays out in Brothers in Arms: Hell's Highway. As a member of the 101st Airborne Division, gamers will lead their men through a variety of missions and environments in an attempt to end WWII. Throughout the trip, players will face such challenges as...
---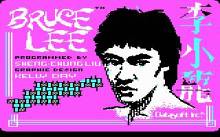 Bruce Lee 1984
The late martial arts hero features in this platform game, with the aim of reaching a wizard in an underground lair, defeat of whom can offer him untold wealth. In each area you must collect the many strategically-placed lanterns before exiting through the newly-revealed passageway. Some rooms also have escalator-type...
---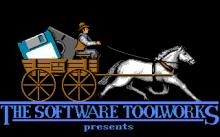 Bruce Lee Lives: The Fall of Hong Kong Palace 1989
You play the part of Bruce Lee, the only man who can fight back against Master Po and his army of martial arts warriors. You have to stop their destruction on Hong Kong Island! This martial arts game features a "learning" AI engine that can improve its strategy by examining and...
---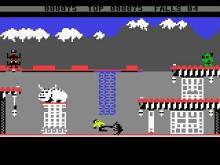 Bruce Lee Remake 2001
This is an amazing remake of the Commodore 64 version of Datasoft's famous Bruce Lee game, which was released for PC in 1984. Say goodbye to ugly 4-color CGA palette of the PC original: this remake by Mark Rosten is far and away a superior version, retaining all the intuitive...
---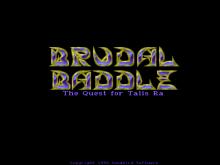 Brudal Baddle 1994
Brudal Baddle is a one-on-one fighting game. The story behind this title is that in 2023 at a laboratory in Los Alamos, Dr Chen found a way to punch holes in the fabric of space and time. A number of attempts to punch holes to the past had been successful,...
---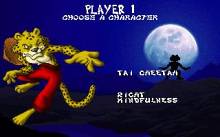 Brutal: Paws of Fury 1995
The Dalai Llama has organised a martial arts contest for animals of all species to prove their skills, and you are competing in it. There are a wide variety of furry creatures to take on, and finally the Dalai Llama himself. Brutal: Paws of Fury is a one-on-one fighting game...
---