Arcade action Games #18
Search a Classic Game: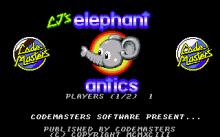 CJ's Elephant Antics 1993
CJ the baby elephant has fled captivity, and is desperate to reach his home in Africa. That means trekking halfway around the world, armed only with an infinite supply of peanuts and a handful of bombs (fortunately more can be collected as you go along). You start with nine lives, but...
---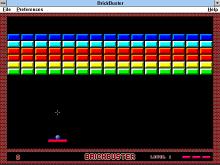 Classic Arcade Games for Windows 1995
Classic Arcade Games for Windows is a good collection of small arcade games for Windows. One of Impressions' least-known releases, CAGFW includes five arcade games, all of which are variant of arcade classics but still a lot of fun to play. We have Maze Craze, a thinly disguised Pac-Man clone...
---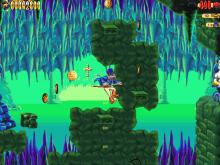 Claw 1997
Claw is an epic game with simply beautiful graphics. The main character is a cat, Captain Claw, who, like all the other characters encountered in the game, is animated and drawn in exceptionally colorful cartoon style. The game's backgrounds are detailed and vibrant as well and complement the action very...
---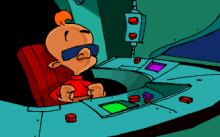 Clif Danger 1996
In Clif Danger players control the titular protagonist who flies through the galaxy with his spaceship when he receives a call for help by the amazon queen Swihip. Her planet Pleasure 6 got invaded from the rather hostile Glox so it is up to him to save her population. The...
---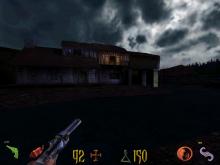 Clive Barker's Undying 2001
Inspired by a story idea by Steven Spielberg and molded with critical input by renowned horror author Clive Barker, Clive Barker's Undying is a collaborative effort by various talents to sculpt a story-driven, horror-based first-person shooter. The game delivers on several fronts by providing an eerie atmosphere dripping with dark...
---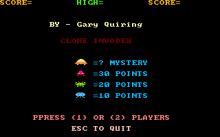 Clone Invader 1989
Clone Invader is, as one can deduce from its title, a clone of the classic arcade game Space Invaders. Controlling a small space fighter you have to destroy lines of alien ships before they can reach the bottom of the screen, to get points. To complete this task and enter a...
---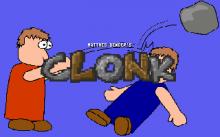 Clonk 1994
A small shareware strategy and action game for two players. There are 30 rounds with randomly generated terrain. In each round, every player gets assigned a team of small, humanoid beings called Clonks. One of them is the crew's captain and is of special importance, as the goal of each...
---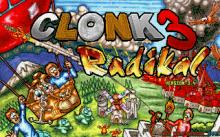 Clonk 3: Radikal 1996
Already the fourth game in the series, Clonk 3 Radikal added many new elements to the game. One player can play predefined missions or try to achieve peaceful goals such as selling all the gold, rescuing the fluffy Wipfs or killing all the monsters. The former goals can also be...
---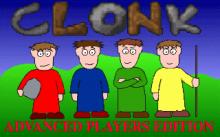 Clonk A.P.E. 1995
The Advanced Players Edition of Clonk is an improved version of the original Clonk game. As in the first Clonk game, Clonk A.P.E. included the player roster concept, which remembers each player's data and statistics over time. Instead of the predefined rounds of the original Clonk, the player can choose to play...
---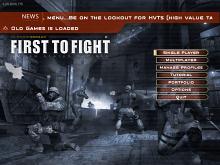 Close Combat: First to Fight 2005
In the style of the Tom Clancy's Rainbow Six games, and in the spirit of the successful America's Army PC game (and recruiting tool), Close Combat: First to Fight is a squad-based shooter, developed under the supervision of acting United States Marines and designed to present an authentic first-hand experience...
---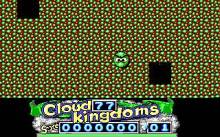 Cloud Kingdoms 1990
Baron von Bansai has stolen Terry's precious collection of crystals, and dropped them onto 32 different kingdoms, so Terry sets off to retrieve them. Viewed from above, his challenge sees him having to progress through these worlds, collecting keys to gain access to different sections, and avoiding enemy balls and...
---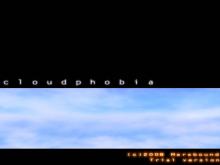 CloudPhobia 2008
CloudPhobia is yet another excellent freeware horizontal shooter from Japan. Featuring excellent "mecha" designs that are reminiscent of Gundam series, the game looks great and plays even better. In this "time attack" game, there is only one level: you basically must withstand the nonstop onslaught of incoming ships until you...
---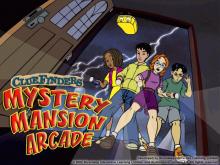 ClueFinders, The: Mystery Mansion Arcade 2000

---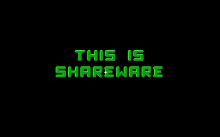 Clyde's Adventure 1992
Clyde's Adventure is a platform game. The objective is to travel through each of the castles, collect the special treasure, all of the gems and find the exit. There are no enemies although there are a large number of traps, switches and teleporters to complicate things. There are two chapters to...
---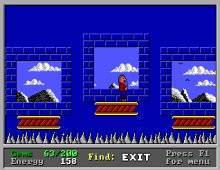 Clyde's Revenge 1995
Clyde's Revenge (revenge for what, we are uncertain) is a sequel to Clyde's Adventure. It is a platform game that has you locked in many strange castles, and your only method of escape is to collect the magic stones to free yourself. Unlike many platform games, Clyde's Revenge has no enemies...
---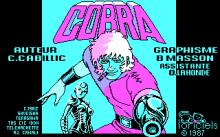 Cobra 1987
Cobra, the space pirate hero of Buichi Terasawa's comic and TV series, receives a message from Dominique. Dominique is held prisoner by the evil Salamandar, and Cobra, along with his cybernetic assistant Lady (or Harmanoid, as she's called in the game's French), must rescue her. You start the game, and enter...
---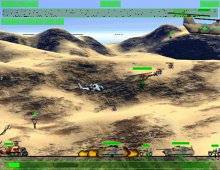 Cobra Gunship 1998
Games Domain says it all about Cobra Gunship, an addictive side-scrolling shareware shooter developed by Elysium Digital, a small company who stopped making games after this one: "[Cobra Gunship] is a surprisingly enjoyable [game]. It resembles the old classics Choplifter and Armor Alley, which were the inspiration for the development...
---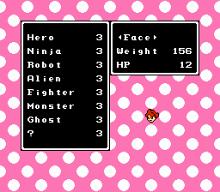 Cocoron 1991
Cocoron for the NES console is one of the most original and quirky games you'll ever come across. The game was released only in Japan, but thanks to fan group Magic Destiny, we can now play the game with the excellent fanmade English translation patch. Although it may look like a...
---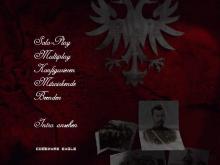 Codename Eagle 1999
Science fiction meets the real world in the parallel timeline adventure Codename Eagle. In this alternate world set in the 1920s, Russia is the dominant force on Earth, a situation brought about by the acquisition of the throne by power-hungry Tsar Pietre, whose father was assassinated in 1917. Wanting to...
---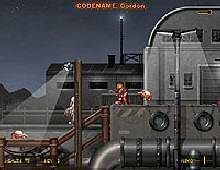 Codename: Gordon 2004
One of the best fangames I have ever come across, Codename: Gordon is a great-looking, addictive 2D side-scrolling platformer set in Valve's famous Half-Life universe. One testament of how good the game is is the fact that designers at Valve like the game so much they include the game in...
---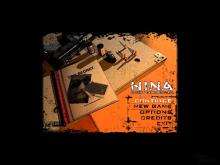 Codename: Nina - Global Terrorism Strike Force 2003
Polish developer CITY Interactive, formerly known as Lemon Interactive, puts players in the role of secret agent Nina, a counter-terrorism expert with extrasensory psychic ability, who travels the world infiltrating, eliminating, dominating, and assassinating nasty global threats. This one-woman army, an unequaled tour de force in the world of global...
---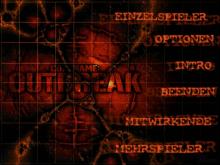 Codename: Outbreak 2001
Codename: Outbreak tries to bring some new ideas to the FPS genre. Unfortunately, execution is the final judge, not good intentions. Despite the interesting elements thrown into the mix, Codename: Outbreak is ultimately like every other less-than-great shooter to glut the market in recent years. During gameplay, you switch between first-...
---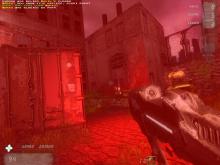 CodeRED: Alien Arena 2004
I had been meaning to try Alien Arena for a long time. Ever since I saw some screens of the game and had heard comparisons that the game was similar to another First Person Shooter that I enjoyed playing back in the day, and still enjoy occasionally these days -...
---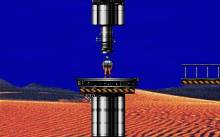 Cold Dreams 1995
Cold Dreams is an action/puzzle platformer made by Immortality Production in 1995. With a fusion between middle age and futuristic setting, it feels a lot like He-man. Actually, that's a fair comparison because you play a muscular warrior on a different planet then earth that has a combination of old...
---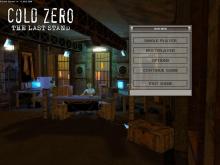 Cold Zero: No Mercy 2003
Take the role of private detective John McAffrey and step into a world of trouble in Cold Zero. A deal-gone-wrong has the hero indebted to the mob. He is asked to put his skills of stealth and tactics to use for his underworld overseers. His first mission has him sneaking...
---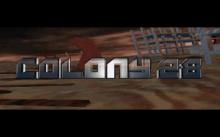 Colony 28 1997
In one bad day for humans, mankind was overwhelmed by an alien's captors. It was written year 2013 and human armies lasted only several weeks. And now it's over. These who had been talented become robots, with embedded control chip to assure theirs obedience, serving as supervisors in remaining human...
---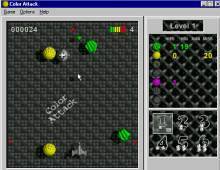 Color Attack 1997
Color Attack is a Space Invaders clone with an interesting puzzle twist. Before each new level, the game tells you how many alien ships ("Objects") of each color must be destroyed, as well as how many misses you are allowed. If you kill one too many or miss too many...
---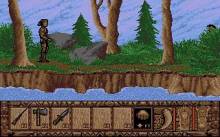 Colorado 1990
Colorado is a side-view action game with adventure and trading elements, in which you must survive despite the constant threats of Indians and wildlife. The plot involves a search for a Cheyenne goldmine. The game also has many unconventional objects and weapons that can be used against your foes. ...
---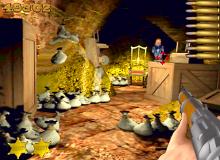 Colt's Wild West Shootout 1999
Return to the wild old days of the Wild West with Colt's Wild West Shootout. Test your trigger finger and reflexes against a series of bady guys at four different locations, including Red River, a small town, The Church, The Santa Fe Railroad depot and the Gold Mine. Players are given...
---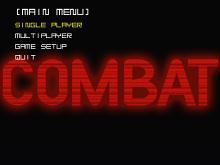 Combat 2001
Better known as a ubiquitous flea market find than a bona fide classic, Combat is definitely a questionable choice to receive the update treatment given to such titles as Pac-Man and Dig Dug. While the original Atari 2600 game holds up well as an early two-player shooter, there's very little...
---