Arcade action Games #43
Search a Classic Game: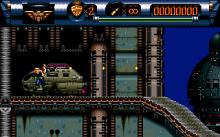 Judge Dredd 1997
Judge Dredd is a platform action game based on the British comic book character of the same name and the 1995 movie that tarnished that name. The game was a multi system release so it fits the standard console jump/shoot/duck formula although it does add some unique twists such...
---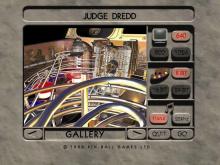 Judge Dredd Pinball 1998
Judge Dredd Pinball is the first entry in the "Pinball Arcade" series, made by UK-based Pin-Ball Games Limited. The concept was promising: license a real-life pinball table and try to recreate the gameplay experience as faithfully as possible for home computers. Unfortunately, the execution leaves much to be desired. Anyone...
---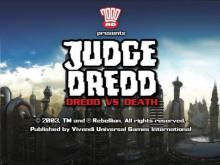 Judge Dredd: Dredd Vs. Death 2003
Players must enforce the law using any means necessary within the sprawling, overpopulated Mega-City One serving as the gritty backdrop for Judge Dredd: Dredd Vs. Death. The comic book character who acts as judge, jury, and executioner makes his third video game appearance in a first-person shooter set in the...
---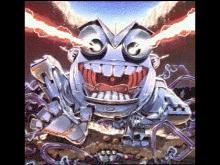 Jump 1992
This arcade game is a cross between Breakout and Space Invaders. Player controls an electromechanical robot, who walks along the top of a wall consisting of bricks and jumps on it. A line of bugs is coming to him from the bottom of the screen in vertical direction, while the...
---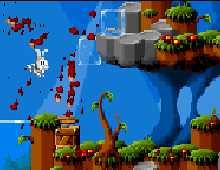 Jump 'n Bump 1998
An instant real-time multiplayer-only keyboard-crowding (or network) classic, this game pits up to four human-operated cute fuzzy widdle bunnies against each other for one goal only: lagomorphic cranial domination. Against a pastoral Warner Bros. backdrop (or any of over a hundred fan-made levels!) these rabbits re-enact 2D platform Joust glories minus...
---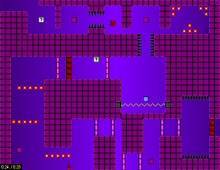 Jumper 2 2004
Jumper 2 is a great platformer/puzzle hybrid coded in Game Maker. Although I find the game too difficult for my deficient reflexes, interesting level designs and the cool skid/jump maneuvers keep me coming back for more (masochistic) fun. Shaltif's excellent review at Gamemakergames.com says it all: "This is one of...
---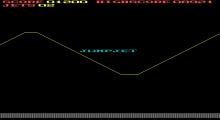 Jumpjet 1990
This is a nice and simple game. You pilot a plane, and you just blow other planes up, while performing your mission of blowing other things up. For those familiar with old-school arcade games, think of Jumpjet as a combination of Defender and Scramble. ...
---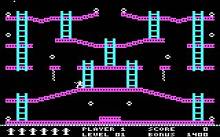 Jumpman 1984
Jumpman is a bomb disposal expert. He is called on to save the Jupiter headquarters after the evil Alienators invade it and booby-trap its 30 levels. In this early platform game, the titular hero must find his way around each screen, collecting every bomb. There are platforms and ladders to use,...
---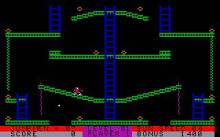 Jumpman Lives! 1991
This shareware adaptation of the classic Epyx game featured all of the levels from Jumpman and Jumpman Junior, along with several original levels and an editor program. The plot is superficially changed, with the setting moved to a different planet, but this makes no difference to the gameplay. ...
---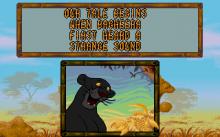 Jungle Book, The 1994
Based on the famous animated movie, Walt Disney's The Jungle Book is a platform game where you control Mowgli, the boy who was raised by wild animals deep in the jungles. Your goal is to find the human village so you may you join your kin once again. Mowgli is...
---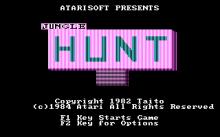 Jungle Hunt 1983
Jungle Hunt offers four unique adventure experiences, which repeat with greater difficulty once all four have been survived. If you don't survive these adventures, you will not only lose your own life but that of the lovely Penelope, who has been captured by cannibals! The first part challenges your Tarzan skills...
---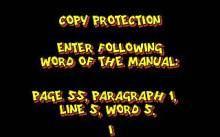 Jungle Jack 1995
Based on the 1993 Danish animated film, "Jungledyret". The plot is about a rare jungle animal named Jack (aka, Hugo) who lives a happy life in the jungle of India with his monkey pals. However, a rich movie owner's ex-wife plans to get her hands on the poor creature. He...
---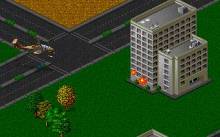 Jungle Strike 1995
Some time after Operation Desert Strike, Ibn Kilbaba, son of Kilbaba S.R, threatens to annihilate America. After his father was killed, the people who were under his control, sent his son running off, along with his father's money and nuclear weapons program. Kilbaba, more ruthless than his father, longs for...
---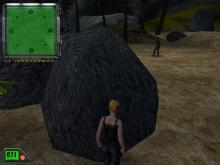 K. Hawk: Survival Instinct 2002
Game players take on the role of Kitty Hawk, U.S. Navy S.E.A.L. and helicopter pilot. Someone has shot down the helicopter she was piloting, killing her boyfriend Major Jeffreys and leaving her stranded on an island in the Pacific. After Kitty contacts headquarters she is told that reinforcements cannot be...
---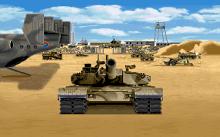 K1 Tank 1994
K1 Tank is an oldie but goodie first-person action game from South Korea. The game puts you behind the wheels of K1 tank, mainstay of South Korean army developed by Hyundai based on the design of the US Army's M1 tank. Although it looks like a simulation, K1 Tank is...
---
---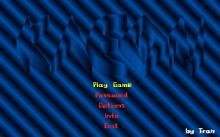 Kaeon 1992
In this arcade side-scrolling shooter, you are a pilot of space jet sent to infiltrate some planet, Kaeon. Your way to the core of this planet will be perilous, because its environment is full of different enemies. You have to pass six stages (Orbiting Defence Station, Atmosphere, Alien Forest, Capital...
---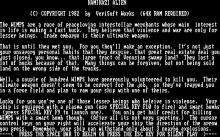 Kamikazi Alien 1982
A very simple and primitive spaceshooter.Shoot aliens before they reach your spaceship. The ship is equipped with two weapons: plasma guns and smart bombs. You get more points, if you shoot the aliens immediately after they appear. ...
---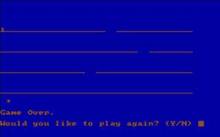 Kangaroo 1983

---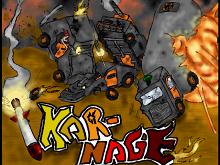 Kar-Nage 2001
Kar-nage is a fun isometric car combat game from Fallen Angel Industries, indie developers of several excellent freeware titles using the Klik & Play application. The game is the first car combat game released in the Klik community, and is well worth a look by action fans. Kar-Nage is essentially a...
---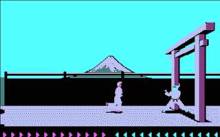 Karateka 1986
Karateka's fighting system encompasses all the cool moves you see in the The Karate Kid movie, released two years ago in 1984. America is going through a karate craze and Karateka takes full advantage of the fad. The fighting system is very simple. You have high, middle and low punches...
---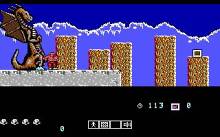 Karnov 1987
Karnov, the fire-breathing Russian, is seeking the Lost Treasure of Babylon. He runs, swims, jumps, climbs, and flies through nine levels of gameplay. ...
---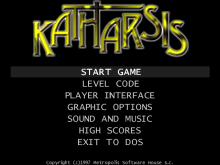 Katharsis 1997
Katharsis is a game with classic side-scrolling shooter gameplay. It has 3D backgrounds, colorful graphics and an integrated storyline. The game starts in 2616, when the ship leaves Earth with 1,000 settlers on board. Eighteen months later Earth loses contact with the ship. The action moves to 4720. One of...
---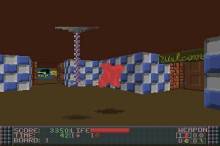 Ken's Labyrinth 1993
Ken's Labyrinth is a first-person 3D shooter. The protagonist has to escape from an underground labyrinth populated by monsters while trying to rescue his dog Sparky. The game plays similarly to Wolfenstein 3D and involves the protagonist traversing colorful maze-like areas, shooting monsters on the way with exotic weapons such...
---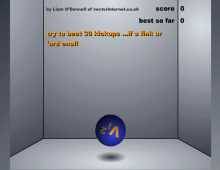 Kick-Ups 2001
Kick-Ups is a maddeningly addictive Flash game that is deceptively simple: your goal is to keep the ball in the air for as long as possible by clicking the mouse on it. The game records your high scores, and ball physics are reasonably realistic (e.g. the ball bounces off four...
---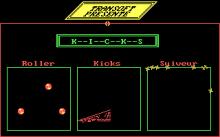 Kicks 1989
Kicks is a French Qix clone. As in Qix the player must "catch" a percentage of the game screen (70% in this case) to pass to the next level. Of course, the player must avoid, or capture, all the enemies that go through the game zone. There are three enemy...
---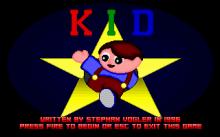 Kid 1996
Collect the fruit, avoid the snakes and creatures and try not to fall in any pitfalls in Kid. Stephan Vogler's straightforward platform game let's you play as the titular "Kid" and advance through a handful of levels while trying to survive the usual foes. Plan your path well because those...
---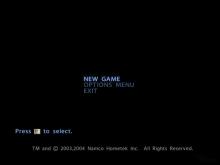 kill.switch 2004
kill.switch is a third-person shooter that takes place amidst war-torn Middle Eastern cities, underground submarine bases, and other places. Cast in the role of an elite commando, players must carefully take out enemy snipers and guards while seeking cover behind walls, barriers, or other objects found within the environment. While...
---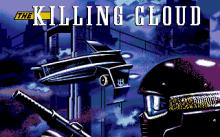 Killing Cloud 1991
Killing Cloud is set in a San Francisco ravaged by an opaque orange death smog layer known as the Killing Cloud. This hovers around the middle of the skyscrapers, creating a claustrophobic low level experience (and a different feel to the many other flight simulations set in the city, such...
---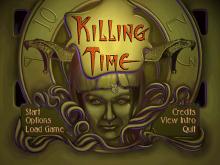 Killing Time 1996
Killing Time starts out with a lot of promise. It's got a great mystery storyline set up like The 7th Guest lots of zany, crazy and just plain freaky enemies to blast and some pretty darn good visuals. But as you start to progress in the game, it all just...
---