Arcade action Games #12
Search a Classic Game: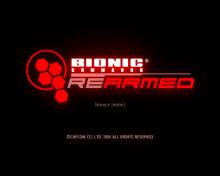 Bionic Commando: Rearmed 2008
Two decades after the original Bionic Commando was released, Capcom resurrects their classic platform shooter in Bionic Commando Rearmed. Players once again take control of Nathan Spencer, the soldier whose bionic arm served as a weapon and a substitute for the jump button in the original game. Bionic Commando Rearmed...
---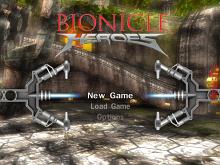 Bionicle Heroes 2006
Bionicle Heroes is a third-person action title from the development team behind the successful LEGO Star Wars series. Young fans of the popular LEGO toy line will be able to freely explore the island of Voya Nui as the six members of the Toa Inika. The storyline involves the Toa...
---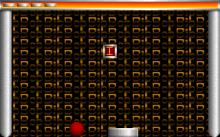 BipBop II 1993
A Breakout clone in which you bounced the ball to eradicate in order, squares with Roman numerals on them. The action is spread over 20 levels and there are many special blocks to hit. ...
---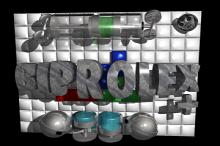 Biprolex+ 1998
Biprolex+ is a very addictive arcade-style puzzle game that requires both quick thinking and reflexes. Gameplay is essentially Tetris meets Breakout: At the top of the screen is Tetlix, an entity which emits Tetris-style blocks, and at the bottom of the screen is Acarlex, a Breakout (or Arkanoid) bat. Between...
---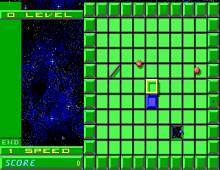 Black Hole 1993
This is a very simple, yet quite challenging puzzle game. It's all about not loosing your marbles. There are blue and pinkish-red marbles that are coming out of the sides of the green board, and you need to maneuver them. If two marbles of different color collide, the green square...
---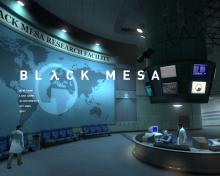 Black Mesa 2012

---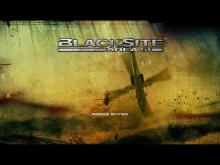 BlackSite: Area 51 2007
The sequel to 2005's Area 51 remake, BlackSite continues Midway's first-person foray into Nevada with a mission-driven game promising multiple solutions for every scenario. Players control a former Special Forces assassin named Aeran Pierce, who along with his AI-controlled squad, will battle an assortment of alien and mutant creatures threatening...
---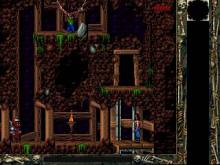 Blackthorne 1994
In Blackthorne, a horizontal and vertical scrolling platform game, take on the role of Kyle Blackthorne, returning to his home world to rid it of the evil forces that deposed his family. Travel through rain forests, caverns, underground complexes, and stranger locations. Face mutant beasts, hideous goblins, renegade human bandits,...
---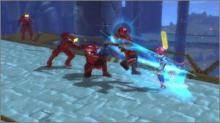 Blade Kitten 2010
Based on the comic book creation of Krome Studios co-founder Steve Stamatiadis, Blade Kitten puts gamers in charge of the half-cat/half-woman bounty hunter Kit Ballard as she uses her powerful Darque Blade sword to slice through hordes of foot soldiers, rogue mechs, and grotesque monstrosities on the artificial planet known...
---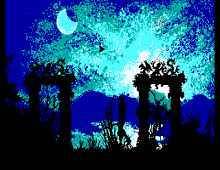 Blade Warrior 1991
The world has been enslaved by Murk, and you've got to free it by collecting the seven fragments of a tablet which are in the possession of seven wizards who inhabit seven towers. Blade Warrior is a unique game in two ways, the most obvious being the graphics. Everything in this...
---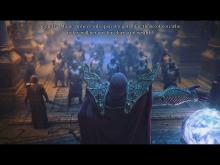 Blades of Time 2012
A self-reliant treasure hunter named Ayumi departs for a mysterious island filled with untold wealth in Blades of Time. Ayumi will rely on her trusted weapon that combines the functionality of a gun and sword in order to make it through the various dangers lurking on the island. Entire armies...
---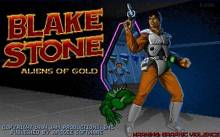 Blake Stone: Aliens of Gold 1993
Oh, no! The evil Dr. Pyrus Goldfire has discovered a way to replicate gold. Now, with an unlimited budget, he's created a space-base full of hideous mutated creatures. It's up to you, Blake Stone, to traverse sixty levels full of peril to destroy the evil Goldfire. Blah. Blake Stone: Aliens of...
---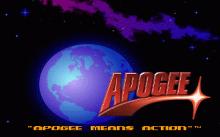 Blake Stone: Planet Strike 1994
In this first person, action adventure kill-fest using the id Software Wolfenstein 3D engine, the designers of Blake Stone: Planet Strike! created a space adventure from the 22nd century. As hero and invincible galactic agent Blake Stone, you must defeat the army of military mutants developed by the evil Dr....
---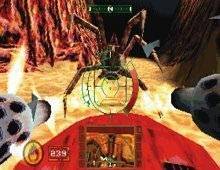 Blam! Machinehead 1996
Blam! Machinehead is basically a normal 3D shooter where you shoot enemies and explore the futuristic, barren wastelands and abandoned factories and such as you try to save the world. The player controls Kimberly Stride, who is a scientist. She has to save the world from bad DNA that...
---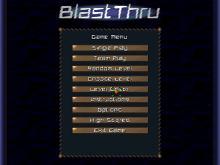 Blast Thru 1999
Traditional ball-and-paddle gameplay gets a twist in RockSolid Software's Blast Thru. With a style similar to classics such as Breakout, the arcade-style action requires keeping a ball in play while moving a paddle back and forth across the bottom of the screen, as you aim at blocks of "bricks" that...
---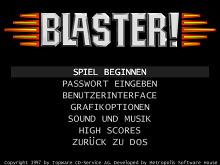 Blaster! 1998
Blaster is an old-school horizontal shooter. The story: A space freighter full of terrestrial settlers get lost. Some time later it reappears with an alien crew and of course they want to conquer the earth. To foil their plan a super bomb shall destroy the carrier. The player takes control...
---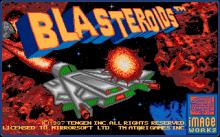 Blasteroids 1989
As the name suggests, this arcade conversion updates the basic Asteroids gameplay. That means to say that the main gameplay consists of flying through single-screen wrap-around levels shooting at rocks, which split into smaller rocks when hit, eventually becoming small enough to disappear. In this case the Asteroids are protecting...
---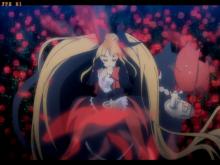 BlazBlue: Calamity Trigger 2010

---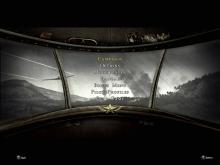 Blazing Angels 2: Secret Missions of WWII 2007
Gamers take command of several advanced WWII aircraft as they hunt down the experimental weapons of the Third Reich in Blazing Angels 2: Secret Missions of WWII. Flying through the rain, snow, fog, and turbulence found above Cairo, Paris, Rome, Moscow, and the Himalayas, players must complete a variety of...
---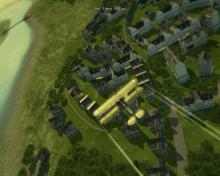 Blazing Angels: Squadrons of WWII 2006
Blazing Angels has players strapping into the cockpits of 42 authentic aircraft to fight in some of World War II's defining aerial battles. Cast in the role of a squadron commander, players and their wingmen will engage the enemy in Western Europe, across the Pacific Ocean, and over Pearl Harbor...
---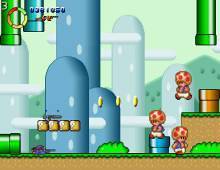 Blip Blop 2002
One of the best freeware action games I've ever played, Blip & Blop is (as its own programmers admit) a clone of Metal Slug: and the machine gun is practically the same as the famous Neo Geo series. However, while the basic concept lacks originality, a lot of creativity was...
---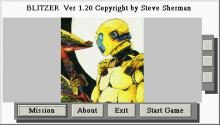 Blitzer 1991
Aliens have taken over the Earth, and the only way to stop them is to rescue the six scientists who know the secret necessary to defeat the invaders. Piloting a helicopter, the player must battle alien ships and save the world! It is necessary to keep track of...
---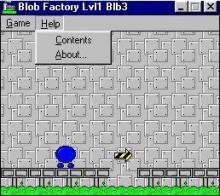 Blob Factory 1996
Blob Factory is a single player, freeware, side scrolling platform game. The eponymous Blob, a blue circle with feet, was relaxing in his hot tub at the factory when something went wrong. His tub exploded sending him across the factory and now he must make his way back, avoiding toxic green...
---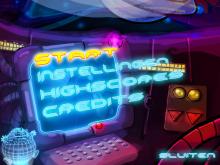 Blob, The 2006
The Blob (De Blob in Dutch) is probably one of the most original games you've ever seen. It's even more amazing when you learn the story behind it: apparently, The Blob was developed as a course project by a group of nine students at the Utrecht School of Arts, in...
---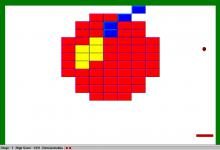 Block Breaker 1992
A simple Breakout clone for windows. It featured many levels and a level editor. ...
---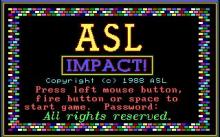 Block Buster! 1988
Impact is an old break-out style game. The user controls a paddle and needs to catch a ball with the paddle each time it comes down. When the ball hits a brick, it is destroyed (unless it's made undestroyable). Sometimes, a bonus will come out of the brick. This adds...
---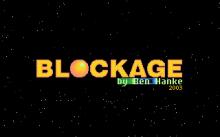 Blockage 2003
Blockage is a playable Arkanoid clone in minimalistic format. The size of the executable is only 9K - which is the assembly language in a nutshell. Everytime I find a cool game created in assembly, it impresses me. The gameplay is of course familiar but the author has added a...
---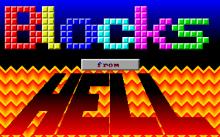 Blocks from Hell 1993
Sets of blocks fall down a shaft and you should rotate them in the right way before they reach the bottom. When you fill up a horizontal line, those blocks disappear. When you fail to fill up lines, the blocks will reach the top of the shaft and the game's...
---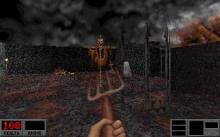 Blood 1997
Blood, a first person shooter using the Duke Nukem 3D engine, lets you take on legions of the living dead. As Caleb, resurrected worshipper of a dark god, you must seek revenge by battling through multiple levels of carnage until face-to-face with the avatar. Zombies, evil monks, mutants, hellhounds, and...
---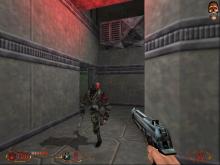 Blood 2: The Chosen 1998
Simple, bloody fun... Blood 2: The Chosen is an exercise in gory, old-school gameplay, based on the premise of 'Shoot first, ask questions later'. The sequel to the Duke 3D-powered 'Blood', set a hundred years after the original, delivers just what it says - blood, and plenty of it! The...
---