Arcade action Games #30
Search a Classic Game: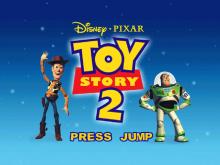 Disney/Pixar's Toy Story 2: Buzz Lightyear to the Rescue! 2000
Based on the smash hit 1999 film Toy Story 2, Disney/Pixar's Action Game: Toy Story 2 -- Buzz Lightyear to the Rescue puts you in the boots of Buzz Lightyear, intergalactic space ranger and pal of Woody, a cowboy doll who is Andy's favorite toy. When Woody is stolen by...
---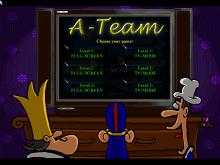 Dizzy 1997

---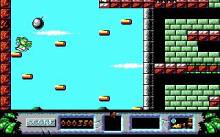 DJ Puff 1993
The player is DJ Puff the fire breathing dragon, set out to fry all your enemies in one puff. The objective of the game is to collect certain 'discs' spread across the game. The discs are either placed in hard to reach places, or appear after you defeat certain types...
---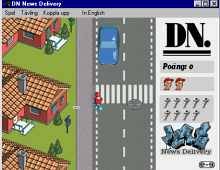 DN News Delivery 1999
A straightforward Paperboy clone, designed by E-Game for Dagens Nyheter (aka DN), Sweden's premier newspaper. From the in-game description: "Help the news delivery boy to deliver the newspapers to all subscribers in the neighborhood. You have to place the papers either in the mailboxes (20 p) or in front of the...
---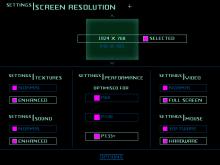 Doctor Who: Destiny of the Doctors 1997
Based on the BBC's cult science fiction series Doctor Who settings and characters, Destiny of the Doctors casts you as the Graak, an "electro-telepathic entity" created by the Doctor to release his various incarnations from the Master's insidious trap. Each mission to rescue a particular Doctor puts you up against...
---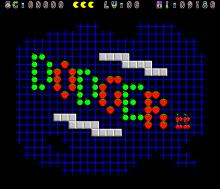 Dodger 1994
Dodger is a game in the style of Pac-Man. In Pac-Man the player has to eat all the dots from the board in order to pass to the next level. In this game the dots are replaced by fruits (apple, strawberry and cherry) that the player has to eat in...
---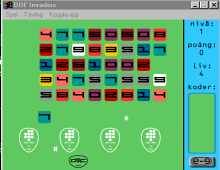 DOF Invaders 1999
A simple but fun Space Invaders clone, the second game E-Game designed for DOF, Sweden's premier mobile phone company. In DOF Invaders, you shoot keys from the phone's keypad instead of aliens. The numbers shoot "#" and "*" (pound key and star key) at you, and you have four bunkers...
---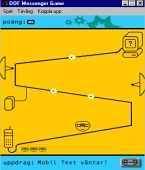 DOF Messenger 1999
DOF Messenger is a simple Donkey Kong clone sponsored by DOF, Sweden's premier mobile phone company. Navigate the DOF man from the mobile to the computer by riding the electric circuit line, while avoiding sparks by jumping over them. Really nothing to it-- fun for a few minutes though. This...
---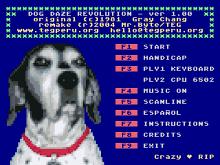 Dog Daze Revolution 2004
Dog Daze Revolution is a great fanmade remake of Dog Daze, a rare game released for Atari 8-bit computers in 1981. This Windows remake is actually based on Dog Daze Deluxe, the 1983 shareware release of the game that the author improved by adding depth to objects and computer AI....
---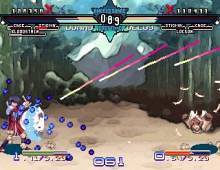 Dogma 2003
Dogma is a Japanese fighting game that suffers a bit for being not completely finished. For some reason, the development stopped, so we have only a single background, a single BG music (though it's quite a good one), no endings (not even some credits rolling), practically not configurable keyboard controls...
---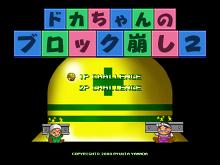 Doka-Chan no Block Kuzushi 2 2000
Another excellent game from freeware developer Yamada No Ana Project, who is dedicated to producing games based around the same cast of characters, led by Doka-chan, a stubby construction worker and his friends. Like all other games from this group, the game is 100% English, boasts excellent music, offers 2-player...
---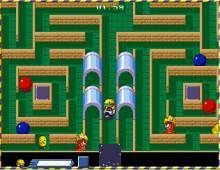 Doka-Chan no Oni Gokko 2002
Another excellent game from freeware developer Yamada No Ana Project, who is dedicated to producing games based around the same cast of characters, led by Doka-chan, a stubby construction worker and his friends. Like all other games from this group, the game is 100% English, boasts excellent music, offers 2-player...
---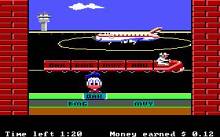 Donald Duck's Playground 1986
Who knew that Donald Duck worked so hard to support his lifestyle? In Donald Duck's Playground, Disney's resident quacker works four part-time jobs so he can buy playground equipment for Huey, Dewey, and Louie. Sierra's game is written with the same AGI graphics engine as King's Quest and is intended...
---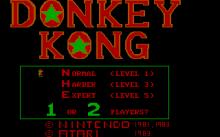 Donkey Kong 1983
Donkey Kong is a great PC port of Nintendo's classic arcade game that needs no introduction, since it has been ported to just about every console and computer system you can imagine. In case you have never heard of the game until this moment (and if that's true, you most likely...
---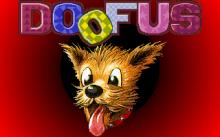 Doofus 1994
Doofus is like a reverse Sleepwalker - you play a simpleton (hence the title) and must get through a series of platform levels ensuring that neither you nor your pet dog get hurt. The game unusually scrolls from right to left, with the dog simply following you. The platforms are...
---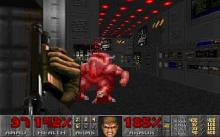 Doom 1993
If you like Quake and Duke Nukem, there is no way you can't like Doom, one of the original first-person shoot-em-up games created (Wolfenstein started it, baby!). The good thing about game designers is that they know what the public wants: a place to release their pent-up agression and frustrations....
---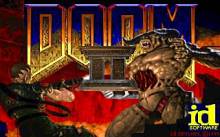 Doom 2 1994
The sequel to id Software's critically acclaimed Doom has invaded the PC with unbridled fury. Featuring improved 640x400 graphical resolution and more first-person shooting action, the objective of Doom II is quite simple: destroy, maim, shoot...and shoot some more. Although you begin with a military-issue pistol, you eventually have access...
---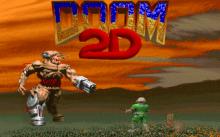 Doom 2D 1996
DOOM 2D is, as the name suggests, a 2D game styled after DOOM. Most of the graphics and sounds are ripped straight from the original wads, and used to create a 2D platformer. The storyline is presumably much the same (and even more sparse), shoot the hell spawn and save...
---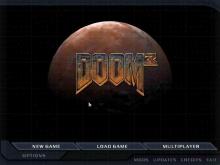 DOOM³ 2004
Coming nearly ten years after the groundbreaking original, Doom 3 continues id Software's first-person shooter series with a true 3D engine featuring bump-map texturing and enhanced lighting and shadow effects. Players will revisit the setting introduced in 1993's Doom but with a more involved storyline written by sci-fi scribe Matthew...
---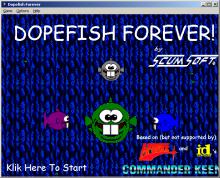 Dopefish Forever! 1997
Here we have an expanded version of the author's earlier Dopefish Lives! featuring two- and four-player modes, but no single-player game. In addition to the "fishfest" mode, which reproduces the original game's simple schoolfish-eating game (but makes it competitive -- who can eat the most the fastest?), this game...
---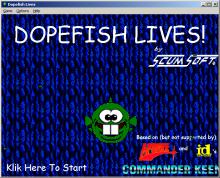 Dopefish Lives! 1997
Taking its name from a secret message in Rise of the Triad, this game takes the famous ravenous green burping fish antagonist of the underwater levels of Commander Keen 4, the Dopefish, and, for the first time, takes him out beyond the role of easter egg and puts the player...
---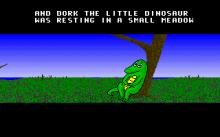 Dork's Dreams 1991
Dork the Dinosaur settles down for a nap beneath a Triassic tree when a thunderstorm stirs up, frightening him. A lightning bolt hits the tree he's sheltering beneath, dropping a branch on his head and knocking him out cold. While he's unconscious, he dreams... that he is a...
---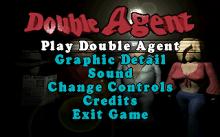 Double Agent 1998
Double Agent is a fun action/adventure/strategy hybrid from Flair Software that plays like a modern remake of classic Spy vs. Spy. Released only in Europe and pulled from the shelves in a matter of months after dismal sales, Double Agent remains one of the most unknown and elusive PC games...
---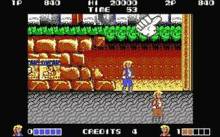 Double Dragon 1988
Set in a post-apocalyptic New York, Double Dragon is the story of Billy and Jimmy Lee, twin brothers trained in the fighting style of Sou-Setsu-Ken. Together, they manage a small martial arts training school, teaching their students in self-defense. One day, Billy's girlfriend, Marian, is kidnapped off the street by...
---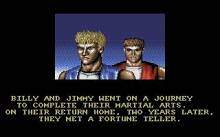 Double Dragon 3: The Rosetta Stone 1992
The final game in the trilogy. Billy and Jimmy Lee are returning from martial arts training when their paths cross a fortune teller. She tells them of a great evil in Egypt, their strongest adversary yet, and how the Rosetta Stones can aid them. This game features weapon shops where...
---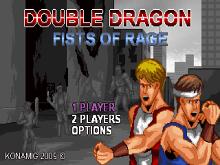 Double Dragon Fists of Rage 2005
Double Dragon Fists of Rage is a superb fangame starring the duo from CAPCOM's famous Double Dragon series. The creator, Miguel "Mig2" Perez, created all the graphics himself that look very much like the original games, as well as cool stages that have a nice pseudo-3D look. The more-or-less redundant...
---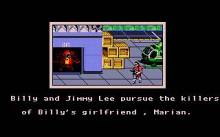 Double Dragon II: The Revenge 1989
The lovely Marian was rescued from the clutches of the Black Warriors gang by Billy & Jimmy Lee in the first Double Dragon game, but now the gang has killed her in retaliation of their early defeat. The Dragons must now embark on a mission to avenge her death and...
---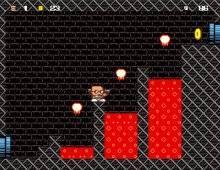 Douglas Circumstance 2003
Douglas Circumstance is an excellent anime-style platformer that will appeal to anyone who misses the days of 8-bit consoles. Darren McLeod's review at Total Klik says it all: "If any of you grew up on the NES as a child, then you might as well skip this review and hit...
---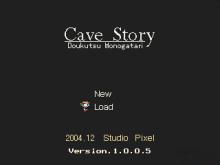 Doukutsu Monogatari (a.k.a. Cave Story) 2005
Doukutsu Monotagari ("Cave Story" in English) is an excellent freeware side-scrolling platformer/adventure game from Pixel, Japanese maker of the also-superb Ikachan game (reviewed elsewhere on this website). Formerly a Japanese-only title, the game is now available in full English version, thanks to the excellent translation effort by AGTP, the translation...
---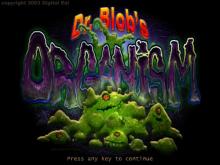 Dr. Blob's Organism 2003
In Dr. Blobs Organism, you use your weapons of firepower to destroy the evil mutating viruses/organisms that are trying to escape from the safe confines of the Petri dishes that are holding them. Why are they escaping? Who knows! But you must destroy ASAP. While the concept itself is quite intriguing,...
---