Arcade action Games #34
Search a Classic Game: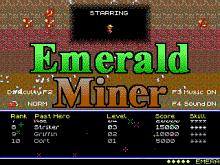 Emerald Miner 2002
Emerald Miner is a fun "retro" arcade game similar to Digger and Dig Dug. The plot goes as follows: "you are Chuck Stone, sole nephew of Uncle Chip Stone, and you have inherited a strange lease granting you mineral rights to excavate and remove precious gemstones from a legendary mine...
---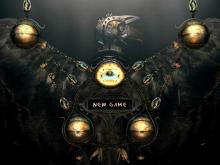 Enclave 2002
Set within a fantasy world populated by fierce monsters and altruistic characters, Enclave is a third-person game emphasizing combat, exploration, and puzzle-solving. Two warring factions, the light and the dark, are in a bitter struggle for control of a region called the Outlands. A total of 25 outdoor and indoor...
---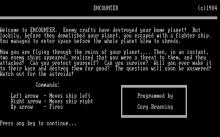 Encounter 1984
Somewhat similar to Space Invaders, you pilot a craft that is flying through space while avoiding pieces of your destroyed planet and being shot by the alien space craft who destroyed your planet. You must destroy those craft before running out of fuel. Rather than a full screen...
---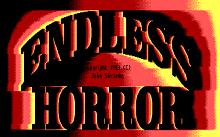 Endless Horror 1993
Endless Horror is supposed to be a "spoof" of mid-1990s fighting games like Street Fighter II and Mortal Kombat. In reality, it is a sad attempt at a video game. The graphics are extremely poor. The sound is bad. The action s ridiculous. First off, Endless Horror's graphics amount to two stick figures...
---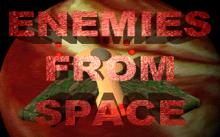 Enemies From Space 1997

---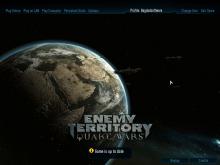 Enemy Territory: Quake Wars 2007
Space marines team up for squad-based shooter battle in this multiplayer-minded follow-up to id's well-received Quake 4. Designed and developed in the spirit of 2003's Return to Castle Wolfenstein: Enemy Territory, Quake Wars allows teams of players to take the roles of Global Defense Force soldiers and alien Strogg warriors...
---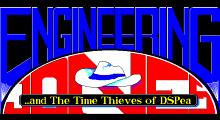 Engineering Jones and the Time Thieves of DSPea 1991
Engineering Jones and the Time Thieves of DSPea is an early promotional computer game of historical importance: it marked the first time a computer game was used to introduce a new product. In this case, two new products for digital signal processing from Harris Semiconductor. Designed by Prentice Associates, a...
---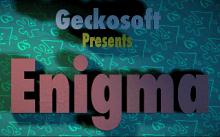 Enigma 1996
A great Arkanoid/Breakout clone from Geckosoft with a few nice twists to the familiar bounce-the-ball-to-destroy-the-blocks theme. The highlights of Enigma are the sheer number of levels (over 150) and five interesting "subgames" that have nothing to do with the main game, but can yield bonus items such as extra lives. Basic...
---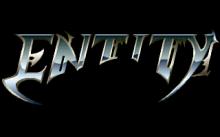 Entity 1994
Entity is a side-scrolling platform game in which you control a female (in her bare essentials) trying to save a planet from an evil creature (the entity) that has broken lose from it's petrified state and is about to wreak havoc. An elder informs her that she is the chosen...
---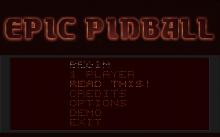 Epic Pinball 1993
Epic Pinball is a compilation of: Epic Pinball Pack 1 (Android, Pot of Gold, Excalibur, Crash and Burn) Epic Pinball Pack 2 (Magic, Jungle Pinball, Deep Sea, Enigma) Epic Pinball Pack 3 (Cyborgirl, Pangaea, Space Journey, Toy Factory) The CD-ROM version includes the exclusive table African Safari. ...
---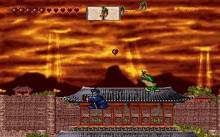 Erachacha 1996
Eracha is a platform game in which you play a caveman. You go around killing ghosts and other creatures to get to the end of each level. You have a club to kill the monsters and you can also pick up different weapons you can throw. The controls are very easy....
---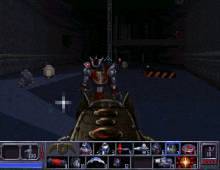 Eradicator 1996
Three distinct characters are on offer in this shoot 'em up - choose from Kamchak the lizard or humans Dan and Eleena. The game's path varies depending on which character you choose. The planet Ioxia is vital to your society, as nowhere else provides the vital element Mazrium. However, its...
---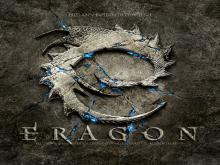 Eragon 2006
On the back of a fire breathing-dragon is where Eragon stands against the invading army of Shade Durza. Players who take the role of Eragon step into a world of magic-based combat and combos, including finishing moves, grapples, and counter attacks, as they journey from the village of Carvahall to...
---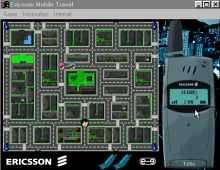 Ericsson Mobile Travel 1999
A fun Pac-Man clone sponsored by Ericsson, one of the world's largest mobile phone companies. Your goal in Ericsson Mobile Travel is to visit as many major cities as you possibly can during your holidays (by just travelling the roads), and then calling your friends to tell them about your...
---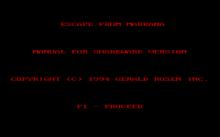 Escape from Markana 1994
Escape from Markana is a single-player "escape the maze"-type game. The player takes the role of a hero who has been taken prisoner by the nation of Markana. After a long and intensive interrogation the Markana leave you alone in their maze. They are so certain that their obstacle, trap...
---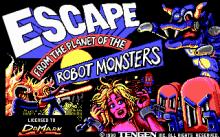 Escape from the Planet of the Robot Monsters 1990
Based on the arcade game, in Escape from the Planet of the Robot Monsters the player is sent on a rescue mission to Planet X. This planet has been taken over by robots and it's up to the player to find and evacuate the remaining humans. It's a shooter similar...
---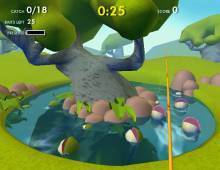 Eskimo Fishing Trip, The 2001
Eskimo Fishing Trip is a neat PC implementation of the mechanical fishing toy, where you try to catch the fish with the fishing rod when their mouths are open. The fish go up and down at random, so you have to swing the bait inside a fish's mouth at just...
---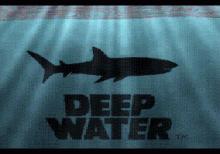 Eternal Champions: Challenge From The Dark Side 1995
A revamping of Eternal Champions for the Genesis, Eternal Champions: Challenge from the Dark Side for the Sega CD has crisper gameplay, better and more colorful graphics, and a wider variety of bloody fatalities and gory finishing moves. In addition, there are more characters (24 in all) and a superior...
---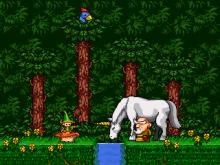 Eternal Daughter 2002
Eternal Daughter is an excellent platformer from Blackeye Software, the wonderful folks who brought us outstanding freeware titles like Snowbrawl and Diabolika. The game casts you as Mia, a young girl born into slavery under the evil Dungaga race. You must escape and defeat the greater evil that controls them,...
---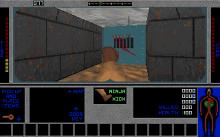 Eternal Prison 1995
This is an undistinguished Doom clone made with Pie 3D Game Creation System. Try to escape from prison against similar grey-dressed guards using weapons like guns, machine guns, bombs and lasers. Find keys to open some doors or bomb them if you can't. ...
---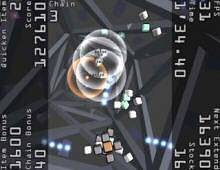 Every Extend 2004
Every Extend is a very polished, highly addictive coffee-break action game from Japanese designer OMEGA. Like all addictive action games, Every Extend is very easy to learn, but hard to leave. Your only goal in this "kamikaze shooter" is to blow yourself up at the optimal moment to destroy the...
---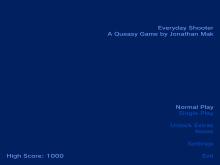 Everyday Shooter 2008

---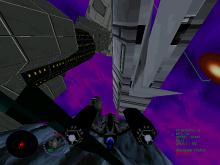 Evil Core: Fallen Cities 1999
Evil Core - Fallen Cities is a highly innovative and underrated 3D space shooter that combines elements from multiple genres into a fun experience. The comprehensive review at the Adrenaline Vault says it all: "[Evil Core is] a refreshingly innovative combination of action, adventure, and strategy in an attractive and...
---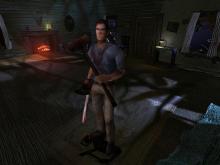 Evil Dead: Hail to the King 2001
Based on the movie series starring Bruce Campbell, Evil Dead: Hail to the King features a mix of action, puzzles, and suspense. Set eight years after the third film, you are Ash, who is being drawn back to the cabin in the woods. So grab your boomstick (shotgun) and chainsaw...
---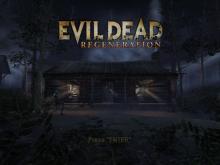 Evil Dead: Regeneration 2005
Based on Sam Raimi's classically campy series of horror films that began with 1983's The Evil Dead, this action game follows the continuing, cursed adventures of Ashley J. "Ash" Williams. Ash was recently sentenced to the Sunny Meadows Institute for the Criminally Insane, after being falsely convicted of murdering his...
---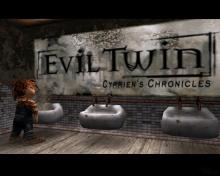 Evil Twin: Cyprien's Chronicles 2001
Cyprien is the young hero of this 3D platformer from Ubi Soft. He is an orphan boy, who spends most of his time reading comics and fantasizing about a better world, a place where things are different. One fateful day his fantasies are suddenly realized, though perhaps not exactly as...
---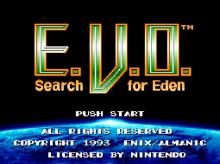 EVO: Search for Eden 1992
Veering from the assortment of simulation games in which players build cities, worlds, and other places, E.V.O.: The Search for Eden is about building your character. More precisely, it's about evolving from a fish to a dinosaur to early man and points in between. To evolve in this side-scrolling, action-oriented...
---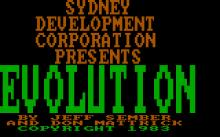 Evolution 1983
Evolution is an arcade style action game with six levels where you need to evolve from an amoeba to a human. Each level is a different stage in evolution with it's own unique goals. The first level is the amoeba stage where you need to eat all the DNA on...
---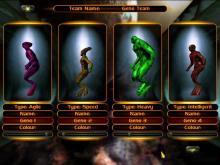 Evolva 2000
Evolva sends you on a mission to save planets from a deadly parasite and keeps you glued to your computer. This is a very interesting game with superb graphics and a fast pace. It's an action, adventure, fighting and strategy game all rolled into one! You're a member of the Evolva...
---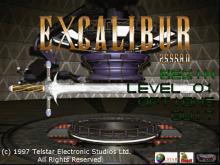 Excalibur 2555 AD 1997
At first glance, Excalibur 2555 AD might seem like a solid 3D adventure using the ol' overly-proportioned-heroine-in-a-short-skirt idea that Tomb Raider made so famous. After about, say, 2 minutes of playing, one discovers that it is completely different story. Other than the impressive graphics, anyone with an attention span will...
---