Arcade action Games #72
Search a Classic Game: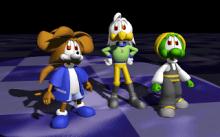 Py & Gity 2: The Industrial Age 1996
The sequel to Pee & Gity Special (with the titular hero's name deliberately spelled in a less unsavory fashion) continues the brawler gameplay of the predecessor. Like before, the protagonists work together facing waves of enemies and punching them until the last is eliminated and they can advance to the...
---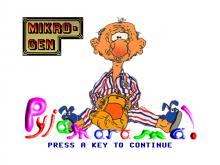 Pyjamarama 2004
Pyjamarama is a superb fanmade remake of a classic Spectrum action/adventure game of the same name, released way back in 1984 by Mikro-Gen. The original game is the continuation of Wally's adventure in the famously tongue-in-cheek "What makes a Wally" series. This time, Wally is trapped in his own nightmare...
---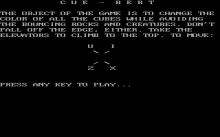 Pyramid Power 1986
This simplistic clone of Q*Bert features familiar gameplay -- the player must move around on a pyramid changing the color of blocks by stepping on them while avoiding monsters and falling rocks. There are even teleport disks on each side of the pyramid which can transport the player back...
---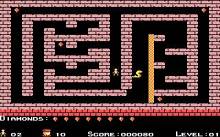 Pyramids of Egypt, The 1990
You control Mike the Explorer as he makes his way through the treacherous Pyramids of Egypt. There are 100 cobra-filled chambers to live through, starting gas fires to burn the snakes as often as you can. Collect all the jewels in a chamber and you can exit and...
---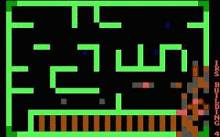 Pyro 2 1990
You play as a pyromaniac with a special system of burning down buildings: the night before you strike at a location, you hide gas cans all around the building. Then, the next day after all the people have left the building, you go to the top floor with a ball...
---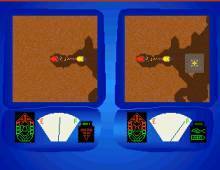 Pyros' Mobile Miners 2000
Pyros' Mobile Miners is a decent attempt at revamping the classic 2-player tank combat game Tunneler for the modern day. It doesn't quite succeed in retaining the addictive gameplay, but it's still worthy of mention. Essentially instead of plain-looking tanks, you now control two combat vehicles equipped with sharp vibrating...
---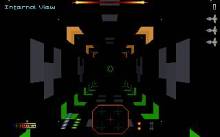 Pyrotechnica 1995
People are fighting to excavate the star cores. Terran Hardlight Corporation is paying millions for this. You fight the others for control of the star cores, but in the midst of it all, your commerades are being trapped and captured by those other folks whom are willing to risk it...
---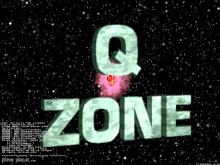 Q!Zone 1996
Picking up where the original Quake left off, Q!Zone offers 35 new maps and three different episodes to make sure that, for Quake fans, the fun never ends. And it's clear from the get-go that the folks at WizardWorks didn't dare mess with a good thing. All of the sound,...
---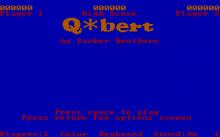 Q*bert 1984
Q*bert is a conversion of the popular arcade game. The goal is to change all of the tiles on a pyramid to the target color. To do this you guide Q*bert around the pyramid, and every tile he hops on will change color. On early levels, a single hop will...
---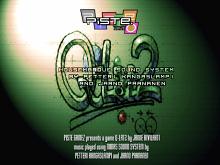 Q-Lat 2 2002
Q-Lat 2 is a great arcade game with a unique premise. Borrowing elements from billiards, pinball, and a little Marble Madness, the game's objective is to make all the balls explode by turning them all to the same color. You do this by bouncing your ball at other balls, much...
---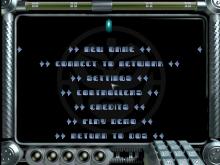 QAD: Quintessential Art of Destruction 1996
The galactic government has sent you - and others - in to rescue some hostages from alien invaders. You are sent in with an aircraft and a personal carrier that is used as a base to repair and re-arm your craft. Your aim is to collect hostages - using a pod...
---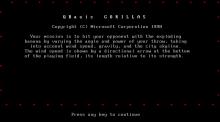 QBasic Gorillas 1991
his is what happens when one takes the classic ballistic artillery game (perhaps the first major application for computers, and a field whose advancement was arguably single-handedly responsible for numerous categories of mathematical development in the West), replace the cannons and cannonballs with gorillas and bananas, place them, like King...
---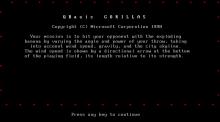 QBasic Nibbles 1991
Nibbles first: in short, it's Microsoft's version of the classic "snake" game. The player navigates their snake so that it can eat up the random numbers appearing on the screen. After consuming a number, the snake grows longer. It dies if it runs into the walls or into its own...
---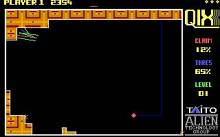 Qix 1989
In this game, you guide a marker which must draw rectangles and other weird objects in order to claim your territory, and you can either draw these rectangles fast or slow. Drawing the rectangles using the "slow" method awards you the most points. Once a rectangle has been made, it...
---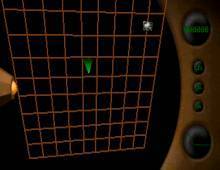 Quadnet 1998
This is a fast and furious shoot-em-up inspired by retro arcade games like Tempest 2000 from Atari. You control a ship on a small square grid. Enemy robots are thrown onto the grid by a drone emitter. The robot drones are initially not too difficult to deal with as the only...
---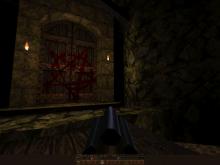 Quake 1996
After Doom revolutionized first-person shooters, Quake raised the bar and set standards featuring improved visuals in a 3D environment, excellent controls, numerous monsters and a vast online experience. Much darker in theme, the four dimensions contain cathedrals, tombs of the undead, base installations and nightmarish realms, and each dimension is...
---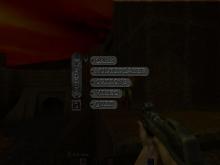 Quake 2 1997
id Software has followed up Quake with Quake II, a game that should have been called "Doom III." The company known for its revolutionary 3D corridor shooters (Wolfenstein 3D, Doom) has replaced the murky crypts and dark cathedrals of Quake with sci-fi inspired base levels and a bad "story." Well,...
---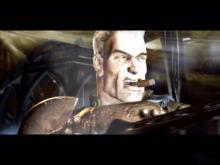 Quake 3 Arena 1999
Quake III Arena is the game all the loyal id Software worshippers and multi-player fanatics have been yammering for. From the early Internet test versions until the final retail version, this title has been hyped as the online savior for years. And can we ever forget the uproar caused when...
---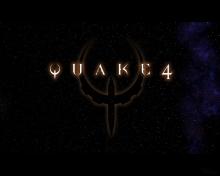 Quake 4 2005
The forces of Earth take the offensive in Quake 4, in an effort to eliminate the Strogg menace at its source, once and for all. The fourth edition of id's popular first-person shooter returns to its roots, to offer single-players an extensive adventure in the role of a soldier named...
---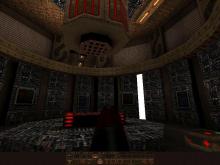 Quake Mission Pack No 1: Scourge of Armagon 1997
Scourge of Armagon is awesome. In fact, it's so good that it's better than Quake. Yeah, I know that's a pretty bold statement to make, but after playing this mission pack for a good, long while, there's no going back to the original. You see, Scourge of Armagon features 3 new...
---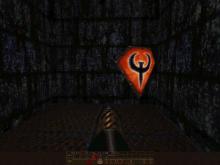 Quake Mission Pack No. 2: Dissolution of Eternity 1997
After the enormous success and popularity of Quake, fans wanted more. Hipnotic gave them more with their mission pack Scourge of Armagon. The mission pack was overwhelmingly awesome, featuring new levels with incredible and inspired texture and designs, new enemies and some really great weapons like the laser rifle and...
---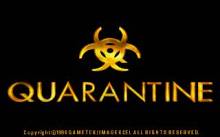 Quarantine 1994
A musical treat and graphical hell, Quarantine could be considered a cross between Doom and Crazy Taxi, thanks to its combination of picking up fares and first-person perspective combat. Originally released on the PC, Quarantine places you in the role of former family man Drake Edgewater, whose primary goal is...
---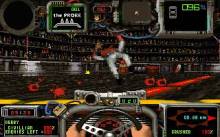 Quarantine 2: Road Warrior 1995
You are the charismatic Drake Edgewater, a renegade prisoner who has managed to escape the iron clutch of the Kemo prison. Your new challenge is slightly different than the one you faced in the prison. There, survival "on the inside" was key but now you must survive in the "outside...
---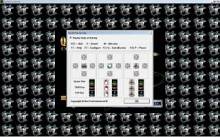 Quatra Command 1994
Quatra Command is a simple vertical scrolling space shooter, where a lone pilot has to investigate the Quatra sector, shooting at and dodging incoming starfighters. 10 levels of gameplay with increasing difficulty, collect health, photon and shield bonuses, player starts with three lives. ...
---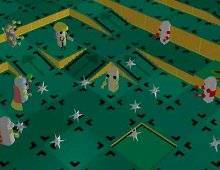 Quazatron 2003
Quazatron is a great remake of Hewson's unique action/puzzle game that is widely considered one of the best 8-bit games of the era - and one of the many gems that never made it to the PC. Similar to Paradroid, Quazatron centers around a droid called KLP-2, aka Klepto, who...
---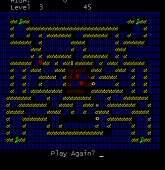 Queen of Hearts Maze Game, The 1982
Pac-Man clone in ASCII. Your deck of cards is missing four cards. Try to find them while avoiding the crazy cardsharks. There's four powerups, one in each corner of the maze, get them to make the cardsharks vulnerable for a short time. ...
---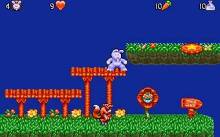 Quick The Thunder Rabbit 1994
This platform game has much in common with console games of the era. There are 4 worlds including ice, desert and fields, and have multiple routes through. The bad guys are cutesy. You get past them by spinning at them, although jumping over them is often sufficient. Power-ups on offer...
---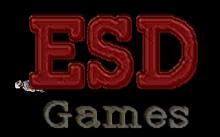 Quiver 1997
In this 3D shooter the player has to fight with an evil alien race who is trying to change the past by using special orbs. You have to collect these orbs (3 per level) and eliminate the aliens to complete each level. The game offers a unique set of weapons...
---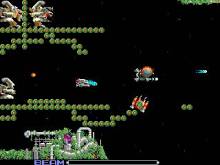 R Type 1987
Nice Nemesis like game. Good arcade fun. ...
---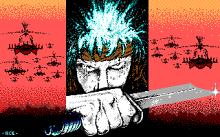 R.A.M. 1990
Fox is a member of the special corps CEO, and his next assignment is in the Soviet city of Chernovska. The last CEO member who was sent there went missing after sending a report on a new military project called RAM.R.A.M. is a side-scrolling action platformer where the player takes...
---