Arcade action Games #96
Search a Classic Game: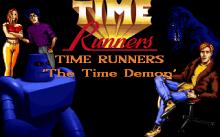 Time Runners 9 1994
After having ruined some comics' licenses, Simulmondo tried again, this time with completely own storyline and characters. The project was quite ambitious: Fabbri is one of Italy's biggest magazine publishers, and the games were even advertised on television (of course, the ads showed little of the actual game :P). But,...
---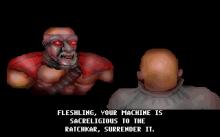 Time Slaughter 1996
William Spade is an inventor that has created a 'time portal generator'. Somehow this device is sacrilegious to a race of creatures known as the Takar, and they demand it be turned over to them. Refusing to comply, he manages to vanquish these creatures from his lab, but...
---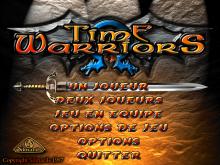 Time Warriors 1997
A polygonal 3D fighter, Time Warriors puts eight fighters from eight different times and places against each other: Yrwen the Celt, armed with a long sword, Hysis the Egyptian, wielding two sabers, Molloch the Barbarian with his battle axe, the scimitar-wielding Sultan Iz-Baal, Shodan the Samurai and his katana, from...
---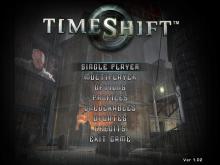 TimeShift 2007
TimeShift is a futuristic first-person shooter that has, as the title suggests, players manipulating the flow of time. The game's lead protagonist is Colonel Michael Swift, who wears a sophisticated outfit called the Quantum Suit that grants him his time-altering powers. The storyline has Swift trying to fix the global...
---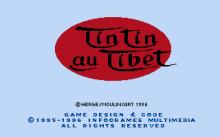 Tintin in Tibet 1996
A platform game starring Tin Tin. Tintin in Tibet follows on the heel of Infograme's Asterix & Obelix, with the same gameplay. Although the game will prove easy for the expert gamer, there are many levels to pass, each of which features new locations, enemies, and obstacles that serve to...
---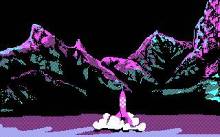 Tintin on the Moon 1989
Hergé's famous cartoon character is brought to life in this multi-stage action game, specifically based around the episode of the same name. In many details the story was similar to the real moon landings, then many years off. A more accurate title for the game would be 'Tintin Gets to...
---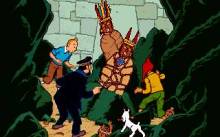 Tintin: Prisoners of The Sun 1997
The Adventures of Tintin: Prisoners of the Sun is based on the Belgian comic book of the same name. The basic plotline is the same: Professor Cuthbert Calculus gets kidnapped and the player, in the role of Tintin, needs to rescue him. The rest is more loosely adapted: in contrast...
---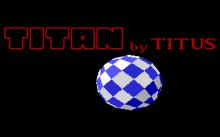 Titan 1989
Titan is a 2D arcade game / puzzle game hybrid. For some reason, mad professors of the future tend to invent strange entertainment games in which every participant dies. Professor Hybrys' variant is called Titan and involves a ball, a control unit and 80 labyrinths. Your objective is either to destroy...
---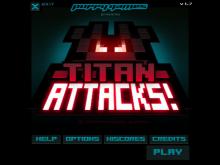 Titan Attacks! 2006

---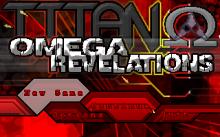 Titan Omega Revelations 2004
Titan Omega Revelations is a fun, polished, and massive freeware horizontal shooter that went through many versions, each time with more features than the last. This latest incarnation is chock full of many more features than most commercial shooters: you get a decent story that unfolds via cut-scenes, 2-player mode,...
---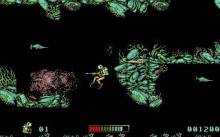 Titanic 1991
After developing a new suit for diving in deep waters, Urine and Deepman decide to use it to search for the Titanic. This dive will be useful to test the new suit, but also to find the secrets that are hidden in the lost ship. Fight against all kind of...
---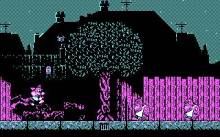 Titus The Fox 1992
In the international edition of Lagaf: Les Aventures de Moktar - Vol 1: La Zoubida, you play Titus' fox mascot. His beloved Suzy has been kidnapped on the other side of the Sahara desert, and to get her back he has to advance through 15 levels (with codes for each...
---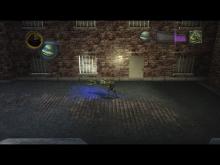 TMNT 2007
Inspired by the March 2007 CGI film, TMNT takes the fearsome foursome through a series of acrobatic battles amidst the dark and gritty streets, sewers, subways, and rooftops of New York City. To faithfully capture each turtle's signature fighting moves and athletic prowess, developer Ubisoft Montreal designed the game with...
---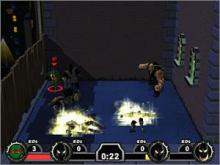 TMNT: Mutant Melee 2005

---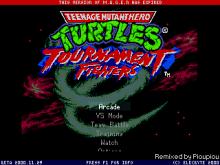 TMNT: Tournament Fighters Remix 2002
TMHT Tournament Fighters is the "Remix" (or remake) of an old Genesis game (called Megadrive in Europa). This is a fighting game starring the "Ninja Turtles" And some of their friends or enemies from the American "Comic". About the story, Karai has kidnapped Splinter with the help of some bad...
---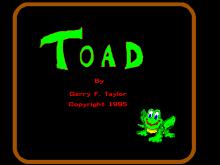 Toad 1995
Frogger clone, pretty much a carbon copy, has updated graphics and sound, but features that same classic gameplay. ...
---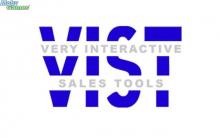 Toffifee: Fantasy Forest 1996
Toffifee Fantasy Forest was released in 1996 as a promotional game for advertising Toffifee, a product of Merci GmbH & Co, Berlin. Toffifee Fantasy Forest is about a dwarf's journey to save his friends from the hands of an evil magician. He has to find his way through a forest...
---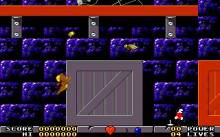 Tom & Jerry 1993
This game plays very similar to Chip & Dale's Rescue Rangers. Tom has mouse-napped Jerry's nephew Tuffy and locked him in a trunk in the attic. You and your furry little buddy Jerry must dash, jump, and climb from the basement up through every level of the house to rescue him...
---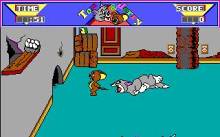 Tom & Jerry: Yankee Doodle's CAT-astrophe 1990
This game allows you to play the role of Jerry. Unfortunately you can't select your character (I'd much rather be Tom). As you know, Jerry is always chased by Tom and he resorts to various tricks to pay him back. And that's exactly what happens here. After you choose the...
---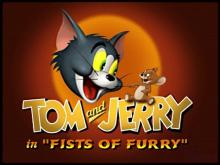 Tom and Jerry in Fists of Furry 2002
Graphics & Sound: Televisions for decades have tuned into the cartoon that many children (and adults) have acclaimed as their favorite: Tom & Jerry. The ancient battles between cat and mouse were finally made for our video gaming pleasure by NewKidCo - developed for the N64, and now a year later...
---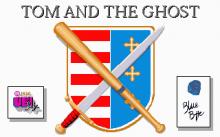 Tom and The Ghost 1990
7-year-old Tom and his mother are visiting the old castle in Scotland, while evil sorcerer kidnapped the mother. Tom was very upset, but the brave ghost Sir Reginald Arrow appears to help Tom. Evil sorcerer kidnapped his beloved 500 years ago to sacrifice her for Lucifer. Tom's mother may become...
---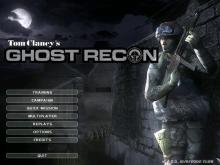 Tom Clancy's Ghost Recon 2001
Tom Clancy's Ghost Recon is another fine addition to the ever-growing franchise of realistic action shooters. Despite gameplay being set up in single episodes, the story is intriguing and features nicely detailed mission briefings. The information needed is presented in a simple text box rather than seven separate dossiers and...
---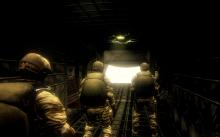 Tom Clancy's Ghost Recon: Advanced Warfighter 2006
The elite "Ghost" operatives embark on a dangerous mission close to home, in this third full-fledged addition to the Ghost Recon series of squad-based shooters. The title's "advanced warfighter" alludes not only to raw talent and rigorous training of the special ops agents under the player's command, but also to...
---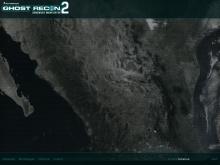 Tom Clancy's Ghost Recon: Advanced Warfighter 2 2007
Taking place in the year 2014, Tom Clancy's Ghost Recon: Advanced Warfighter 2 finds the Ghost team once again fighting rebels from Mexico, only this time it's on the U.S. border between El Paso and Juárez. In order to prevent an imminent attack on American soil, players must lead a...
---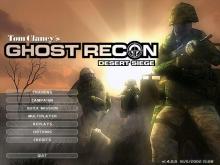 Tom Clancy's Ghost Recon: Desert Siege 2002
Installation of Tom Clancy's Ghost Recon is required for playing the expansion Desert Siege. The add-on includes several patches as well as updates to game features, but doesn't alter basic gameplay or enjoyment. The story takes place primarily in East Africa in 2009, where an Ethiopian warlord has invaded peaceful...
---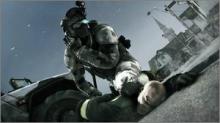 Tom Clancy's Ghost Recon: Future Soldier 2012
Tom Clancy's Ghost Recon: Future Soldier is set about 10 or 15 years in the future, a time when advanced technology augments the squad-based tactics that have become the backbone of modern military operations. As members of a small team of highly trained Ghost operatives, players engage in strike-force styled...
---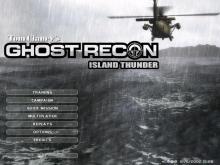 Tom Clancy's Ghost Recon: Island Thunder 2002
There's often a fine line that gamers walk between spending money for an expansion product that changes or enhances the original and one that simply adds more of the same gameplay without significantly altering the game. In the case of Tom Clancy's Ghost Recon: Island Thunder, players get a little...
---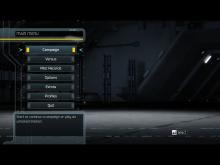 Tom Clancy's H.A.W.X 2009
Taking off from a long line of successful first-person shooters, H.A.W.X is the first flight combat game from the Tom Clancy interactive entertainment franchise. While realistic presentation in the game's graphics, audio, and speculative fiction plotline are central to the experience, the play of the game is available at two...
---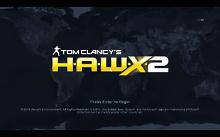 Tom Clancy's H.A.W.X 2 2010
The sequel to 2009's arcade-style flight combat game, H.A.W.X. 2 has you piloting advanced fighter jets and other experimental aircraft while engaging in dogfights, embarking on nighttime bombing runs, and deploying UAVs to track targets. New to this version is the ability to take off and land on bases and...
---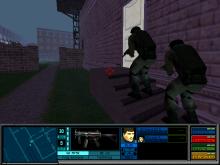 Tom Clancy's Rainbow Six 1998
Potential team leaders should be warned that while this game is a first-person shooter, it is not Quake. In addition to the high-energy missions, the game involves the more important aspect of preparation. Tom Clancy's Rainbow Six is not simply a sit down and play game as it requires patience...
---