Arcade action Games #74
Search a Classic Game: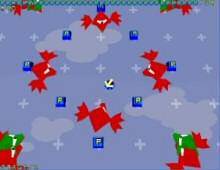 SLD 2003
UFP and SLD are two fun little arcade games from Japan from the same author. UFP is a cool shooter that lets you fly a paper airplane and shoots at balloons and other paper airplanes for points. The game mechanics is as simple as it gets: use your mouse to...
---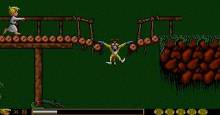 Sleepwalker 1993
CTA's original IP stars a toon dog called Ralph who must stop his sleepwalking master Lee from waking up. Ralph must bridge gaps, beat up baddies, stop Lee falling into water, inflate his own body and float above obstacles, and generally be a selfless version of man's best friend. Between each...
---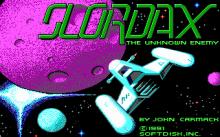 Slordax: The Unknown Enemy 1991
Legends tell of a race of super beings, the Slordax, who once tried to conquer the galaxy. The war lasted for a century. In the end, the Slordax were repelled. The Slordian system was dead for over seven hundred years. But now the Slordax are back. The Intergalactic Defense Alliance...
---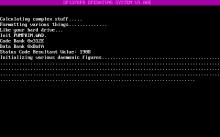 Smashing Pumpkins into Small Piles of Putrid Debris 1993
Pumpkins from all over the planet stole Earth's candles to their home planet. Now, as an axe yielding maniac, you must destroy them and collect the candles back. This is a simple 2D action game where you must travel through mazes, kill pumpkins and collect candles. Its fame comes from...
---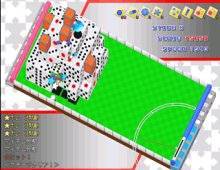 Smashset 2003
Smashset is a fun Breakout clone from Japan. The game introduces nice twists on the familiar bounce-the-ball formula in several ways. For starters, you don't play this game from a 2D view, but an attractive isometric 3D view, with your paddle to the right of the screen and blocks to...
---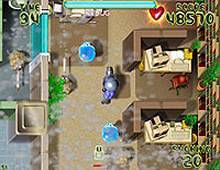 Smoke Attack 2002
Smoke Attack is another fun freeware game from the Swiss division of Phenomedia, one of the world's best promotional/tie-in game developers (an increasingly popular genre now commonly referred to as "ad-games"). Commissioned by Switzerland's Federal Office of Public Health, Smoke Attack was designed to increase people's awareness on the danger...
---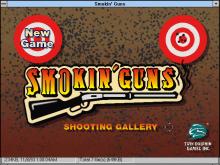 Smokin' Guns 1993
Smokin' Guns is a simple shooting gallery for Windows with a surprising depth and variety. As the game states: "you are the law in Gangsterland-- take on the crime lord and clear the streets of his cronies. Defend the control room against renegade android raiders in Neptune Six. Survive through...
---
Smurfs, The 1996
Free the Smurfs before Gargamel smurfs then all! Platform game where you will be able to play with the jockey smurf, the brainy smurf, the greedy smurf and the hefty smurf to resolve the adventure. All of the classic SMURF characters are along for the adventure, guaranteeing you a Smurf-tastic...
---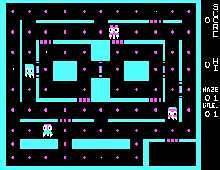 Snack Attack II 1982
Gobble up gumdrops and other foodstuffs while avoiding getting eaten yourself in this enhanced Pac Man clone. ...
---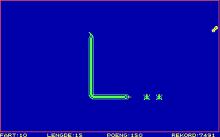 Snake Game 1992
Snake Game is a nibbles-style game. As a snake, the player has to eat all the fruit on the level and avoid the skulls. The game is a TSR; the player starts it and can press Ctrl+Alt+G anytime to play it. ...
---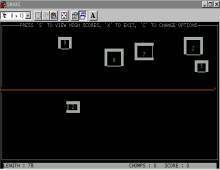 Snake! 1984
Snake! is a great clone of Nibbles with some very innovative concepts, even if the game is ASCII-only with no graphics. There are three modes of play in the game: single player, two-player, and computer. The single player mode is basically the same game Nibbles fans are familiar with: you...
---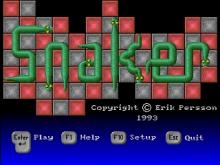 Snaker 1993
Snaker is a Swedish adaption of the classical concept of snake games. The player uses the arrow keys to control a green snake that is constantly moving through a scrolling labyrinth. The snake has a certain amount of strength at its disposal that decreases by movement and will immediately kill the...
---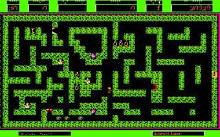 Snarf 1988
Snarf is a maze-like game. The objective is to finish all levels. A level contains points, keys, doors, teleporters, enemies, powerups and enemy generators. You can shoot the enemies to make free your path, but they will appear again from the generators. When you reach the right end of...
---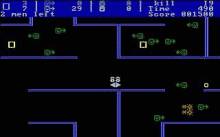 Snipes 1982
Snipes is an arcade style action game. You are in a large maze along with a number of generators. The generators create the enemy Snipes, and to win the game you need to shoot all of the generators and all of the Snipes they create. The game is played using...
---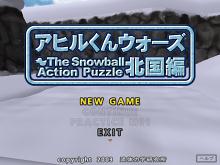 Snowball Action Puzzle, The 2003
The Snowball Action Puzzle is a neat action/puzzle hybrid from Japan. The idea is simple: you control a 3D duck who must kill all the enemy ducks on each level by throwing snowballs at them while avoiding theirs. While this may sound like a straightforward clone of SnowBrawl, there is...
---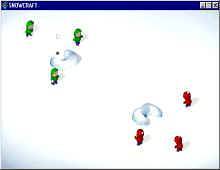 Snowcraft 2000
A very simple but still amusing game. The game is simple. You fight against a bunch of kids with snow balls and you have to hit all the other kids in order to win the level. The levels aren't getting much difference as you go through them. It's not very...
---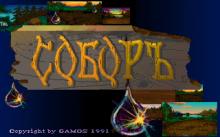 Sobor 1991
One of the first games produced in Russia after the collapse of the Soviet Union, Sobor is a beat-em-up featuring Russian peasants engaging in bitter hand-to-hand combat through their quest to defeat "Evil Forces", protecting the knowledge that was found contained in ancient scrolls describing Russian Sobor combat system. The game...
---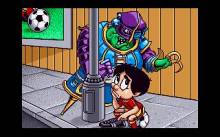 Soccer Kid 1995
Aliens attempting to steal the World Cup have crashed as they tried to flee, and the Cup has been broken, its pieces scattered around the globe. As Soccer Kid, you must retrieve it. During your journey you will visit Britain, Italy, Russia, Japan, and finally the States. Soccer Kid is a...
---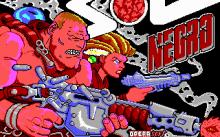 Sol Negro 1988
A millenarian spell, transmitted from parents to children, turned the muscular Bully into a fish and the indomitable Mónica into a hawk. Every full moon one of them suffers a transformation and the other recovers his normal form, which prevents them to be together. Only an extraordinary phenomenon can break...
---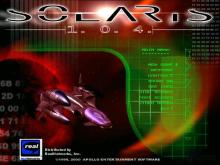 Solaris 1.0.4. 2000
Solaris 104 brings back the old days, where common shooters weren't first person, weren't strategic, and weren't role-playing. The main emphasis was to blow up crap with a bunch of cool weapons. I remember several of these games from the early 90s, and Solaris 104 hopes to bring back that...
---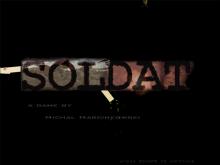 Soldat 2002
Soldat is a unique side-view multiplayer action game. It takes the best from games like Liero, Worms, Quake and Counter-Strike and gives you fast action gameplay with tons of blood and flesh. Soldiers fight against each other on 2D battle arenas using a deadly military arsenal. This is why multiplayer...
---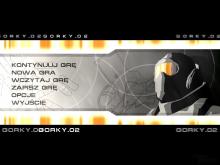 Soldier Elite: Zero Hour 2005
In Soldier Elite, the crash of a Russian submarine leads to an undercover investigation into the military laboratories of DNA scientist Jacek Parecki. Players will infiltrate the lab as agent Cole Sullivan, and with the use of advanced weapons and high-tech gadgets, Cole will discover what is hidden within the...
---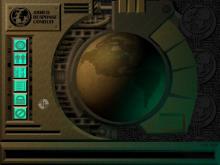 Soldier of Fortune 2000
When I first laid eyes on the ultra-violent Soldier of Fortune (SoF) last spring I thought to myself, "Well, that job in the games industry sure was fun." I couldn't believe that someone was actually creating a shooter that was so realistically brutal, especially in light of the numerous debates...
---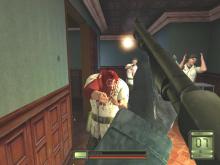 Soldier of Fortune 2: Double Helix 2002
2000's Soldier of Fortune offered gamers a first-person opportunity to outsmart evil terrorist plots and battle international criminals with real life state-of-the-art weaponry. Running on a modified version of the Quake III Arena engine, Soldier of Fortune II: Double Helix boasts more detailed 3D environments and a more accurate representation...
---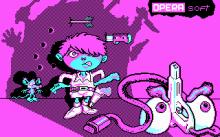 Solo 1989
You're Carlitos, the usual school boy who still has to hear the recommendations of his mother. Everything was going fine until someday you left your home and found a deserted street, but almost instantly you heard the sound of a grenade exploding, and some bad guys with a shotgun. You...
---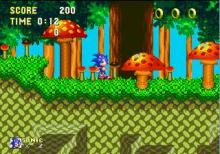 Sonic & Knuckles Collection 1996
I must admit that I got a little nostalgic when I loaded the Sonic and Knuckles Collection onto my hard drive. After all, I had not played these games since I moved away from home, leaving my brother and his Sega Genesis behind. Video games have made amazing progress since the...
---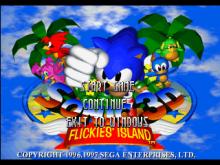 Sonic 3D: Flickies' Island (a.k.a. Sonic 3D Blast) 1997
Sonic 3D Blast, the first ever three-dimensional adventure has been converted over to the PC from the Saturn. In Sonic 3D Blast you must help Sonic rescue the flickies from Dr. Robotnik before the Chaos Emerald falls into the hands of someone capable and willing to use it to further...
---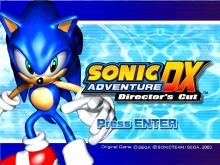 Sonic Adventure DX (Director's Cut) 2003
Sega's blue mascot makes his third appearance on GameCube as an enhanced remake of 1999's hit launch title for Dreamcast. This deluxe version of Sonic Adventure features revamped graphics and sound as well as Game Boy Advance connectivity for raising and breeding virtual pets called Chao. Using the color handheld,...
---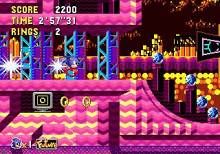 Sonic CD 1996
Dr. Robotnik has returned to capture a magical island in the sky, which only appears once every century. Sonic must stop the crazed doctor's evil plot, while rescuing his favorite gal-hedgehog, Amy. With enormous levels in the past, present, and future, the "Blue Dude with a Tude" is able to...
---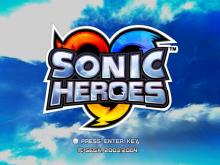 Sonic Heroes 2004
Sonic Heroes marks the first significant change in Sega's long-running franchise since 1999's Sonic Adventure on Dreamcast. Like the Sonic Adventure series, the levels are depicted in 3D from a perspective behind the character. Unlike Sonic Adventure and previous Sonic games, however, players control a three-character team throughout the colorful...
---