Arcade action Games #53
Search a Classic Game: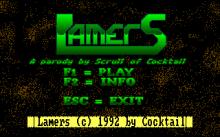 Lamers 1992
A small 'Lemmings' clone with a twist. This time around you have to kill the "Lamers" instead of saving them, " in order to prevent the lamers from reaching the computer. If enough of them reach it, they will destroy it and you will lose."You have several weapons at your...
---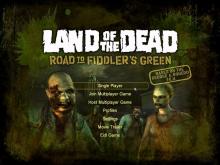 Land of the Dead: Road to Fiddler's Green 2005
Players can earn big money and a beautiful apartment in the gated community of Fiddler's Green; all they need to do is clear the surrounding area of bloodthirsty, brain-munching undead. Players take the role of a simple farmer who is forced to retreat to this last bastion of humanity when...
---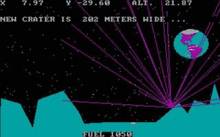 Lander 1984
GW-Basic game. Put the lander on the ground. ...
---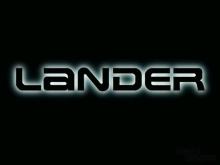 Lander (from Psygnosis) 1999
Some games are of the "play now, read manual later" genre, while others expect you to read a weighty tome first before putting hand to joystick. Lander: Special Edition Pack, from the always innovative Psygnosis gang, is at the halfway stage in between arcade-style action and full-scale space flight simulation. The...
---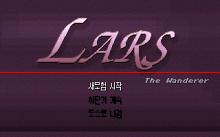 Lars: The Wanderer 1995
Lars: The Wanderer is an excellent fantasy 'action RPG' from Gravity, a Korean developer. The game is similar to Sierra/Game Arts' Zeliard in gameplay and style, except there is more emphasis on the use of magic. The gameworld is diverse and vast: you will explore towns, caves, and mazes from...
---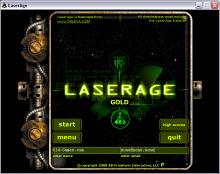 Laser Age 1999
LaserAge is a futuristic "retro" 2D Shooter where the player commands a spacecraft to defend a planet from the enemies. Developed and published by Freeform Interactive in 1999, LaserAge takes on the form of an old school Space Invaders clone running in crystal clear 24-bit color and 640x480 resolution. All up...
---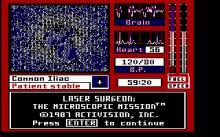 Laser Surgeon 1987
Laser Surgeon: The Microscopic Mission is an educational game where you are taught (or lose a patient trying...oops) to sharpen your medical skills, specifically in the area of surgery. You start as a medical trainee and work your way up the medical ladder for each successful surgery. Each case comes with...
---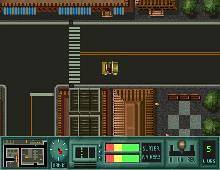 Last Action Hero 1994
Danny Madigan is watching a sneak preview of the latest film of his favourite hero, Jack Slater, when he is mysteriously catapulted inside the screen; now standing next to his favourite idol. You are Jack Slater, an action movie hero, who takes on the ax maniac "The Ripper", who is...
---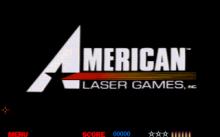 Last Bounty Hunter, The 1994
Ever wonder what it might have been like to live during the old west needing to be alert at all times and catching some bad guys? American Laser Games takes you back in time to the old west where you find out that you are the last Bounty Hunter around....
---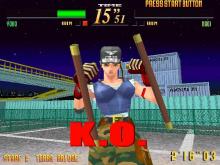 Last Bronx 1998
The streets of Tokyo will never be the same after these armored warriors hit the scene. Last Bronx is a weapon based 3D Fighter by the makers of the Virtua Fighter series with a definite teenage, street gang influence. The gameplay is strictly 2D based with movement back and forward...
---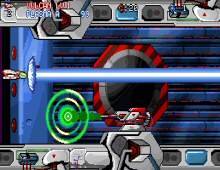 Last Defender 2004
Last Defender is a great horizontal shooter from Miguel "MIG2" Perez, amateur designer who is best known for Lost Valley RPG game. The game features outstanding graphics, addictive and frantic shooting action, and well-designed levels and enemy ships. Although it would already be a great game if the list of...
---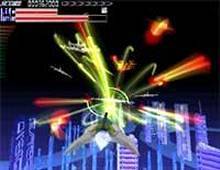 Last Dimension 2001
Last Dimension is a 3D shooter in the same style of Taito's Zeitgeist, but with even better graphics. If it wasn't that you can move your ship around the screen while shooting at the hordes of enemies coming, it could be considered a "rail" shooter. The game lets the player...
---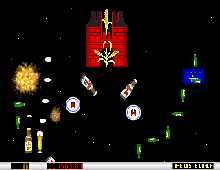 Last Eichhof, The 1993
In what has to be considered one of the most "original" games of all time, you are a flying beer in space. And the evil corporations are coming after you, so you must use your "beer power" to fight off wave after wave of corporate "beer". ...
---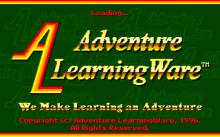 Last Knight in Camelot 1996
In the age of King Arthur and his Round Table, Merlin and the king send out a call for a new knight to join the court. The player's character takes up the challenge to prove himself worthy of the honor, and ultimately must scour the kingdom in search of Excalibur...
---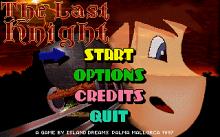 Last Knight, The 1997
This game is a good Ghost 'n' Goblins clone. Its have nice graphics and a decent good gameplay and level design. ...
---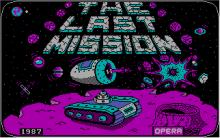 Last Mission, The 1987
The Last Mission is a side-view arcade game without scrolling (viewpoint moves from screen to screen) with map of big dimensions. The game takes its inspiration from games such as Underwurlde and Starquake. You control a tank-like robot which can be divided in two: you rotate caterpillar and head-canyon, and the...
---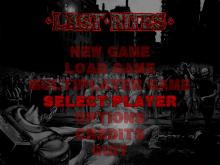 Last Rites 1997
Zombies have taken over the world and as a commander of Special Forces it's your mission to rescue humanity. Last Rites is a mission-based game resembling DOOM and settled in the future providing you an arsenal of hi-tech weapons. The game's 3D-Engine is on DOOM level and has...
---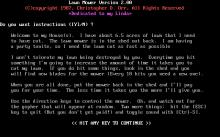 Lawnmower Man 1987
Lawn Mower is a text-only action game, in which you play, well, a lawn mower. Of course, this is not too interesting in itself, so there are some catches. First of all, you have to mow the entire lawn in a certain time. Furthermore, you earn money for mowing, and...
---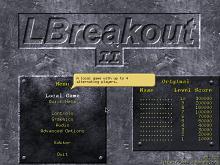 LBreakout2 2004
One of the best Breakout/Arkanoid clones I have seen, LBreakout2 is a great Windows port of the Linux game of the same name, which is in turn the sequel to LBreakout which was released only for Linux. LBreakout 2 has the same features as other good Breakout clones: smooth graphics, good...
---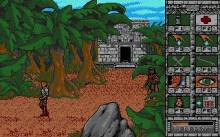 Le Fetiche Maya 1989
As an intrepid explorer, buy equipments, tools. and head into the wild Yucatan jungles to find the mysterious Mayan fetish. Two modes are available: a platform mode and a 3D mode where the player drives a Jeep. ...
---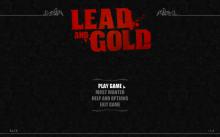 Lead and Gold: Gangs of the Wild West 2010
Lead and Gold is a downloadable third-person shooter that takes players back to iconic Wild West settings for intense multiplayer battles. Gamers can choose from four different character classes, each of which can be leveled up to adapt to changing game scenarios, and each possessing a "synergy effect" that encourages...
---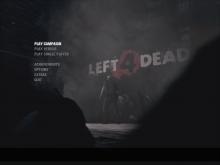 Left 4 Dead 2008
Living up to the multi-faceted meaning of the title, Left 4 Dead features four playable human characters, who have been left behind to survive in a city with a rapidly growing population of people-eating undead. The characters are identical in the way they play, although outwardly they appear largely dissimilar...
---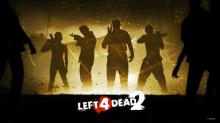 Left 4 Dead 2 2009
Four weary humans work together in an apocalyptic world overrun by grotesque zombies, collectively known as the "infected," in this sequel to 2008's third-person shooter, Left 4 Dead. In addition to the new protagonists and five new campaigns, the game offers more enemy types to battle and adds a slew...
---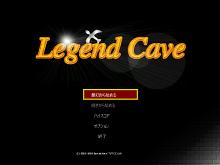 Legend Cave 2003
Legend Cave by Japanese freeware designer Deep Blue is a fun RPG/action hybrid similar to Game Arts' Sorcerian. You control an anime hero has he or she (you can choose character at the beginning) numerous fantasy creatures in a vast dungeon. Similar to Zelda, you will gain new skills as...
---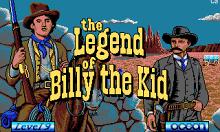 Legend of Billy The Kid, The 1990
The Legend of Billy The Kid is a great action/adventure hybrid in the style of Cinemaware's It Came From The Desert game, except this time you can play as either the legendary outlaw, or Sheriff Pat Garrett, the sheriff who hunted him down. The game is action-oriented, although you must...
---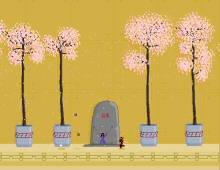 Legend of Shadow (a.k.a. Legend of Kage) 2004
Legend of Shadow is a fun freeware remake of Legend of Kage, Taito's underrated ninja platformer for the NES. In the crowded field of remakes, LOS still manages to stand out from most of the rest because it is that rarest kind of game: a remake that is better and...
---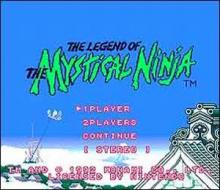 Legend of the Mystical Ninja (a.k.a. Ganbare Goemon: Yuki-Hime Kyushutsu Emaki!) 1991
Ahh... the memories. This was one of the few SNES games I played and really liked while growing up. As a "die-hard" PC gamer, I tended to scoff at what I call "nauseatingly cute" console games. Well, Legend of the Mystical Ninja (a.k.a. Ganbare Goemon - Yuki-Hime Kyushutsu Emaki! in...
---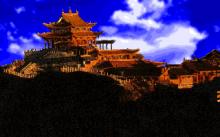 Legend of the Seven Paladins (a.k.a. Rock 'n Shaolin) 1994
Euijeok: Im Kkeokjeong, more commonly known as Legend of the Seven Paladins, is a first-person 3D shooter set in feudal Korea (China in the originally developed unreleased Taiwanese version), and the first commercially released game using the Build engine. The player can choose to control any of the seven available...
---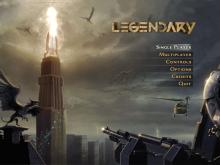 Legendary 2008
From the same Spark Unlimited development team that brought gamers the alternate history FPS Turning Point: Fall of Liberty, comes Legendary, a game that once again begins with New York City coming under attack. However, instead of a technically superior Nazi army swarming into Gotham, mythological creatures have been unleashed...
---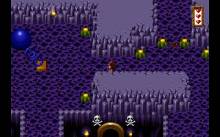 Legends 1996
An alien race watched the wars on Earth as television shows. After a period of peace threatens the ratings, two alien scientists go back in time on various continents of the planet and start to deploy modern weaponry on them. When they return to the present, Earth is engulfed in...
---