Arcade action Games #35
Search a Classic Game: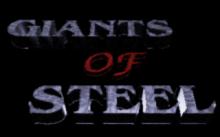 Giants of Steel 1996
Giants of Steel is a fun 3D giant robot action game from DIGITAL Nightmares, a small Germany-based developer who released the game into the public domain after selling it for a number of months as shareware. Games Domain's says it all about this unpretentious game: "Giants of Steel is a Mech...
---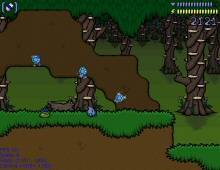 Glace 2004
Glace is a polished, long, and fun freeware platformer that harks back to the golden days of Super Nintendo. The story: in a strange galaxy inhabited by aliens, two made scientists named Dr. Frog and Dr. Slagg are trying to create a creature that will help them control the universe....
---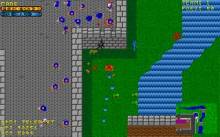 Gladiator 1995
Gladiator is a game that will remind serious gamers of the classic video game, Gauntlet. The developers of Gladiator even describe it as a "Gauntlet-style" game in their documentation. While Gladiator is not as great a game as Gauntlet, it is certainly worth playing. The graphics give players a very basic...
---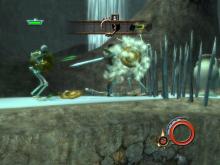 Gladiator: Sword of Vengeance 2003
Gladiator: Sword of Vengeance is a third-person action game taking place during the twilight of the Roman Empire. Inspired by classic films like Spartacus and the fantasy-oriented Jason and the Argonauts, the storyline focuses on a slave who takes it upon himself to rise up against his supernatural captors. Instead...
---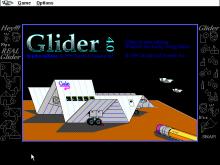 Glider for Windows 1994
Glider for Windows is an excellent PC port of a hit Machintosh title of the same name that started life as a small black & white shareware game in the late 1980s and went through several updates. The game's premise is simple, but makes for a very unique and interesting...
---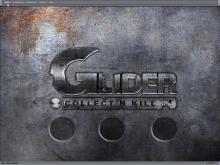 Glider: Collect'n Kill 2005
In the years of the beginning discovery of space by man, when state and private organizations fought for the dominating position, one came to the conclusion that an amalgamation of man, the new federates and the freed species would be necessary. The smartest heads came together and made the foundation...
---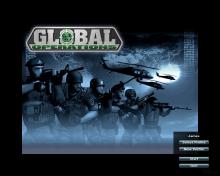 Global Operations 2002
This squad-based first-person shooter is designed to please solo adventurers and online gamers alike, boasting both responsive AI and solid multiplayer support. The Global Ops player becomes a member of one of several diverse teams, ranging from government-supported peacekeepers to rogue guerilla forces. Missions are set around the world and...
---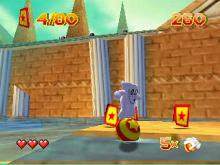 Glover 1998
Hasbro has had some success in the PC Gaming industry. This is a company which has released a number of excellent games, although they have released a bust or two as well. The Monopoly series has been successful (with editions such as France '98 and Star Wars) and Centipede and...
---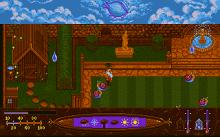 Gnome Alone 1992
Gnome Alone is a little-known PC conversion of a little-known Amiga game, developed by UK house Visionaires. In this unique action/strategy game, you play a gnome who, other than being alone, is trying to keep his garden and greenhouse free from pests and grumpy other gnomes who constantly sneak in...
---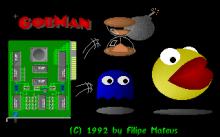 Gobman 1992
Gobman is a 90's clone of Pac-Man. Like in Pac-Man, you play a yellow circle going around a maze eating dots, except every time you advance a maze the maze changes its color and shape.There are also small items around the maze to help Gobman collect the dots like Hourglasses...
---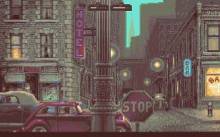 Godfather, The 1991
Following the movie series (and released in conjunction with The Godfather III)- work your way up the Corleone family ladder over the span of 50 years, and attempt to destroy the rival families.A walk-n-shoot game; each of the five levels represents a decade from the 1940s to the 1980s. ...
---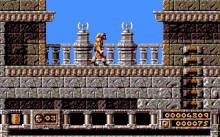 Gods 1991
Hercules is aiming to achieve immortality by completing the task the Gods have set him. His task is presented as a platform adventure set in ancient Greece, featuring a variety of enemies as you play it through.Of more significance, however, is the game's Artificial Intelligence system, in which creatures...
--- Goferpop 1991
Goferpop is a 2D 50K shooting game in which the player shoots gophers that pop out of the ground. The game field is a row of grass and the gophers will pop out anywhere on the field. The mouse is used to move a gun back and forth and when...
---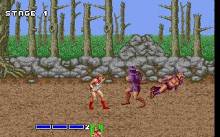 Golden Axe 1990
Golden Axe is a variant on the traditional beat-'em-up with a swords-and-sorcery theme instead of urban brawling. Three heroes vow revenge on evil warlord Death Adder for killing their loved ones and abducting the king and his daughter. Each character possesses distinct weapons, special moves, and magic abilities. Choose from...
---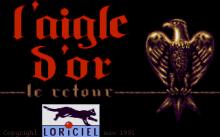 Golden Eagle 1991
The plot of Golden Eagle is a basic one: the evil priest Nahmur stole the Golden Eagle, severed it into five parts and hid them in the city. The player controls a special agent with the order (the employees are mutants) to find said parts.So the player walks through the...
---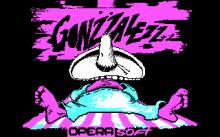 Gonzzalezz 1989
Gonzzalezz is a side-scrolling platform game from Spain. The main protagonist is a Mexican stereotype (complete with sombrero and huge mustache), that has an obsession with the traditional siesta. The game is divided in two loads: ? In the first one, Gonzalez must escape his own nightmare. He moves by...
---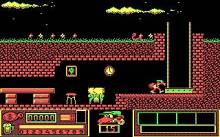 Goody 1987
In "Goody" you are a thief with a mission to break into a Spanish bank. For you need the appropriate tools, such as a torch and pincers. In your road toward the bank, you must avoid policemen, gorillas, kung-fu experts, women sweeping and paper airplanes... that is to say, the...
---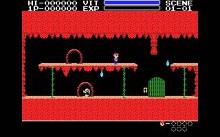 Goonies, The 1986
Does anybody remember Goonies? I won't say it was my favorite 80s movie, but I liked it nonetheless. Well, here's a game based on that movie. Actually this is an MSX game that Friends Software converted for DOS. It's a nice run'n'jump platfromer where you control a little character who went in...
---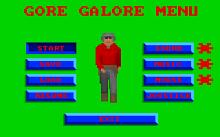 Gore Galore: The Breakout 1995
One of the many undistinguished Wolfenstein 3D clones that tried to make it commercially as shareware. It used the Pie 3D Game Creation System. An escaped homicidal maniac "BLOODY BOB", satisfies your sickest fantasies in a splatter fest of blood & gore. In addition to Ninjas, you'll also fight guys...
---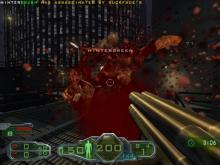 Gore: Ultimate Soldier 2002
This first-person shooter from DreamCatcher focuses on online competition, but also offers challenging 'bot battles for solo play or practice. In addition to a developed back story set on a post-apocalyptic Earth, Gore distinguishes itself by introducing a factor of "stamina" to the familiar frag-fests of first-person online battle. Stamina...
---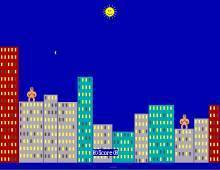 Gorilla 1990
Gorilla is a cute little BASIC game included free with the first version of Microsoft's GWBASIC program (the other being a GWBASIC version of Nibblers). Casting you as a huge gorilla, the game is extremely simple: when it's your turn, you type the angle and how strong you want to...
---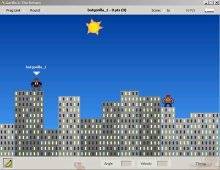 Gorilla 2: The Return 2002
Gorilla 2: The Return is a superb fanmade sequel to Gorilla, Microsoft's classic QBASIC game in which two gorillas fought to the death atop city buildings with explosive bananas. This unofficial sequel is packed with new additions, including different banana types, more gorilla characters, enhanced graphics, and the ability to...
---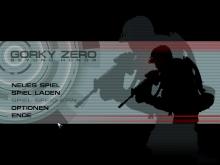 Gorky Zero: Beyond Honor 2003
This prequel to Metropolis Software's Odium (published as Gorky 17 in Europe) has PC gamers once again assuming the role of NATO secret service operative Cole Sullivan, to play through one of the commando hero's first missions. The objective in this operation is the investigation of an old Soviet laboratory,...
---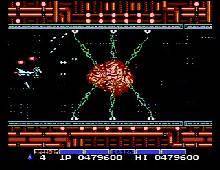 Gradius Deluxe Pack 1997
This is a faithful Windows remake of Gradius I and II - two classic NES and Super NES shooters. Gradius I is still widely hailed as one of the best 8-bit shooters ever made, and it is easy to see why: both games are incredibly addictive, with a wide variety...
---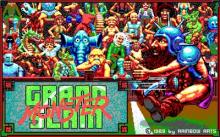 Grand Monster Slam 1989
Every five years the various races inhabiting the fantasy world of GHoLD meet for the Grand Monster Slam tournament to discover which is supreme. You must win a total of 9 matches to prove yourself, with two sub-games to negotiate (Revenge of the Beloms and Faulton Feeding - fortunately these...
---

Grand Slam Bridge 1987
Grand Slam Bridge is a bridge game that represents the rules of Contract Bridge. For both partners a set of bidding conventions, which include Cue Bid, Weak Two-Bid, 5 Card Major, 4 Card Major, Jacoby Transfer, Gambling NT, and Unusual NT, may be adjusted. The game progress may be saved/restored. Overall...
---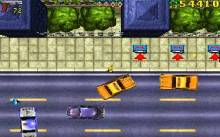 Grand Theft Auto 1998
Let's get the negative stuff out of the way first. Grand Theft Auto (GTA) takes crime and meets it head on in this action-packed depiction of life on the seamy side. The subject matter will be distasteful to a select few simply because GTA pulls no punches and doesn't try...
---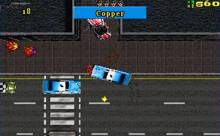 Grand Theft Auto London 1969 1999
Listen to a short story how unknown developers of studio Rockstar had released in year 1997 amazing, revolutionary game GTA, earned big money and tried to earn even more of them. How? By making a datadisk transferred from fictional city of today to the London in the end of 60's....
---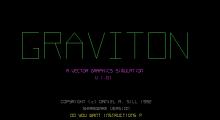 Graviton 1992
Graviton is a space shooting game with vector graphics, based on the arcade game Gravitar. The object is to conquer all planets spread out over four solar systems. The player controls a blue triangle space ship in a similar fashion as Thrust, and the game features simple physics with gravity...
---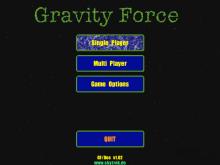 Gravity Force 2000
A remake of the Amiga/Atari ST game from 1989 (see Gravity Force).With a similar control scheme and feel to Thrust, the aim is to make your way through a series of levels, collecting all cargo containers and returning them to your home base. As if controlling your own ship wasn't...
---