Arcade action Games #35
Search a Classic Game: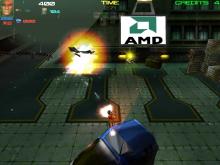 Expendable (a.k.a. Millennium Soldier: Expendable) 1999
Last year, Rage Software released a game called "Incoming". It was extremely simplistic in that you had to shoot all Alien Craft and that was it really, but it was all done with beautiful graphics and it actually turned out to be a great game. Rage then decided to continue...
---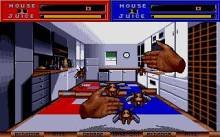 Exterminator 1990
Of all the mundane tasks which've been turned into action-packed games, bug-repelling must be up there with being a Paper Boy or a Trashman. These aren't average bugs; Chicago is under siege from mutated insects, rats and even toy tanks. You'll have to work through seven houses, each of which has...
---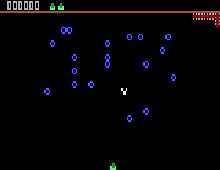 Exterminator, The 1983
The Exterminator is essentially a clone of the arcade game Centipede. A centipede forms from the top of the screen and gradually moves down it, changing direction when striking the many barriers it hits. If it reaches the bottom of the screen, it wins. You control a small droid, which...
---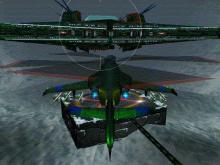 Extreme Assault 1997
"Goofy" is the best word to describe Extreme Assault. You play the part of a helicopter pilot in the employ of some sort of military organization (the specifics are left to the imagination) fighting against another organization known only as "the enemy." A few missions into the story, your commander...
---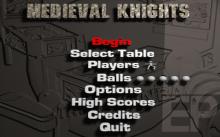 Extreme Pinball 1995
Bring pinball home from the arcade with Electronic Arts' Extreme Pinball. There are four tables to choose from, all rendered in SGI with CD-quality music and sound effects to enhance the experience. There are four soundtracks to choose from. Playing pinball on your PC means additional fun not available in a...
---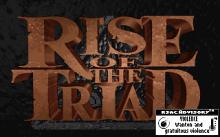 Extreme Rise of the Triad 1995
Extreme Rise of the Triad is an official add-on level pack to Rise of the Triad. The add-on features forty-two new levels, notable for their increased difficulty compared to those of the original game. Also included are several user-made level editors, a random level generator, and sound files. ...
---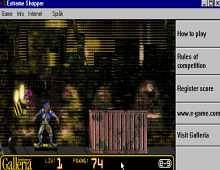 Extreme Shopper 2000
Yet another fun little gem from E-Game, promotional game developer extraordinaire. This time the sponsor is Galleria, an Internet shopping portal run by GulaSidorna, Sweden's premier Yellow Pages. In-game description goes as follows: "It's not always as easy as it sounds to shop on the Internet. There is a lot of...
---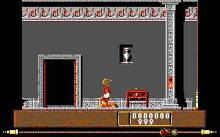 Eye of Horus 1989
As a mystical shaman, go through a pyramid in ancient Egypt to get the magical eye of horus. In a cool twist, by pressing the up arrow you turn into a birdy and can search through the levels. Just press the down arrow and voila! Human again. Many traps try...
---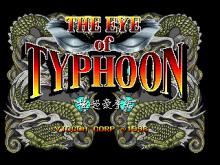 Eye of Typhoon, The (Geuk Cho Ho Kwon) 1996
Many years ago, during the times of the Myoung dynasty, a martial art known as Geuk Cho Ho Kwon prospered. Gradually, it became forgotten and was considered a mere legend by most people. But lately this mysterious technique resurfaced, as Asian countries began to grow weak, and Western powers strived...
---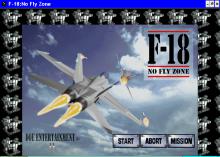 F-18: No Fly Zone 1994
F-18: No Fly Zone is a single player arcade style shoot-'em up. The player takes on the role of a fighter pilot who must shoot down recurring waves of enemy aircraft as they fly towards their plane. There are power ups to be collected which will boost the weapons capabilities...
---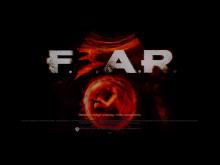 F.3.A.R. 2011
The third entry in the supernatural shooting series known as F.E.A.R., short for First Encounter Assault Recon, features a single-player campaign and two-player cooperative action. In both modes, you will control the genetically enhanced soldier from the original game, Point Man, who has the power to alter time. Also available...
---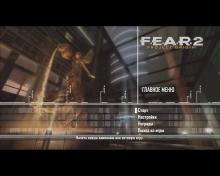 F.E.A.R. 2: Project Origin 2009
Project Origin is more action oriented than the original F.E.A.R. Tight interior spaces bring back the tension of the first game, while large outdoor levels and mech suit combat aim directly for fast-paced, heart-pounding battle. However, as in the original F.E.A.R., a central feature in Project Origin is the ability...
---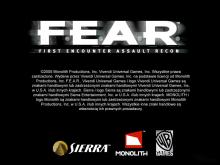 F.E.A.R.: First Encounter Assault Recon 2005
F.E.A.R. -- or "First Encounter Assault and Recon" -- is a first-person shooter set in a secretive complex full of government intrigue. Players take the role of a member of an elite squad of soldiers that's called in when conventional troops have failed. One such situation occurs when an unknown...
---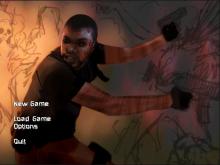 Facewound 2008

---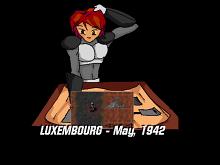 Factor X 2001
Factor X is a fun free-for-all top-down fragfest that is inspired by Virtually Real's cult classic Destruction Carnival. As the official site proclaims, the game is "...a massive compilation of a 23 level story mode with 4 bosses and 3 bonus levels, an arcade mode where you compete for highscores...
---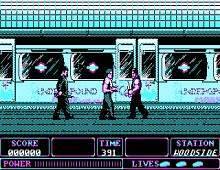 Fallen Angel 1989
Fallen Angel is a side scrolling fighting game similar to Double Dragon. You play the fallen angel, sent on a mission to locate the leader of a drug distribution network. Beginning in the London underground, each level will present you with two tasks to complete: find a plane ticket to...
---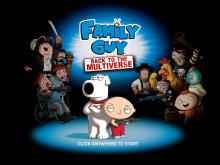 Family Guy: Back to the Multiverse 2012
Based on an episode of the popular animated series in which baby genius Stewie and talking dog Brian visit a number of parallel universes, Family Guy: Back to the Multiverse finds the duo chasing Stewie's megalomaniacal rival Bertram through ten different multiverses in an attempt to save Quahog from destruction....
---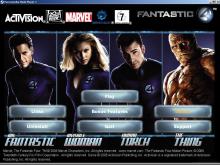 Fantastic 4 2005
Based on the Tim Story-directed 2005 film, this interactive edition of Fantastic 4 has players taking the control of each cosmic-ray enhanced member of the superhero team: Mr. Fantastic, who can stretch and reshape his body; The Invisible Woman, who can vanish at will and create powerful force fields; The...
---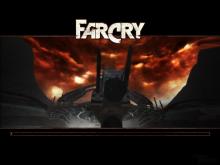 Far Cry 2004
Far Cry has players controlling freelance mariner Jack Carver, who has recently arrived at a tropical island. Jack accepted a large sum of money to transport a reporter named Valerie to the island, but when they arrived, the boat was fired upon and sunk. Valerie is now missing, and Jack...
---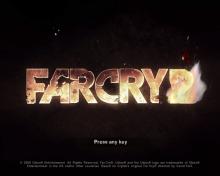 Far Cry 2 2008
In the role of a mercenary, Far Cry 2 players find themselves in Africa. They are to bring down an arms dealer known only as "the Jackal," who has been thriving on tribal warfare. Suitably equipped but mostly alone, players are left to themselves to decide exactly what needs to...
---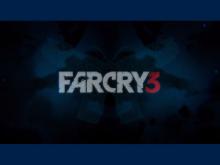 Far Cry 3 2012
Combining the best parts of the original Far Cry and its sequel, Far Cry 3 is a near-perfect realization of an open-world shooter, offering plenty of thrills, chills, and kills in a tropical island setting. The world is suitably exotic, with treacherous cliffs, lush jungles, lonely shantytowns, shark-infested waters, ancient...
---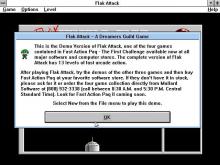 Fast Action Paq 1993
This collection is a set of four "retro games" based on fondly remembered titles from the 1980's. BOT Your mission is to prevent the Mother CPU from completing its military conquest of the planet. To succeed you'll need to pass through 5 levels of BOT soldiers shooting them at will,...
---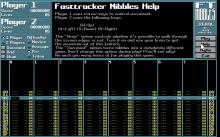 Fast Tracker 2 1994
FastTracker 2 was an early successful PC .MOD-tracking music composition utility, early competition for Future Crew's ScreamTracker but more clearly inspired by Amiga tracking software that preceded them both. When called upon to explain its success against such strong competition, some will mumble something about the mouse support, or give...
---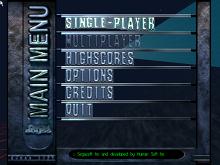 Fatal Abyss 1998
Bacteria 241 is in high demand. A new energy source found in raw form at the bottom of the oceans, it is the focus of a titanic struggle between two factions, both having intentions of being the sole controller of the energy. You must decide which faction to back in...
---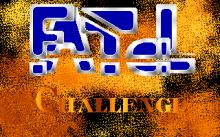 Fatal Challenge 1992
Fatal Challenge is a simple fighting game which takes place on an urban rooftop. The challengers Ken and Roc fight three rounds for seemingly a neverending number of levels. Both fighters are identical save for a grey vest and camo pants that Roc wears as opposed to Ken's skins and...
---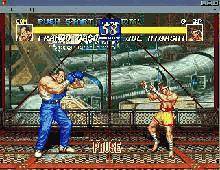 Fatal Fury 3 1996
If you are looking for a straight-out conversion of an Arcade game, Fatal Fury 3: Road to the Final Victory may be it and nothing more. SNK added nothing to the game to make it playable for a PC audience and, in fact, probably didn't think about the audience at...
---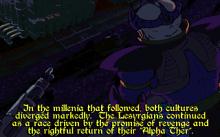 Fate (Canceled Game Beta Demo) 1996
A nice-looking game using the Build Engine (Duke Nukem 3D, Blood) for which a demo was made. Unfortunately, the full game was never completed, I guess it was "fate", but the demo is still worth a try. The beginning of the game takes place on Pymandros. You have been captured...
---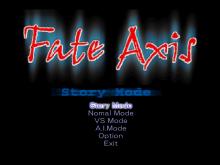 Fate Axis 2002
Powered by MatrixEngine, Fate Axis is an excellent - and free- 3D fighting game from Japan. The game sports excellent animations, 6 choosable characters, and plenty of attack moves. The graphics are excellent, although the frame rate is noticeably lower if you don't have a fast 3D card. In addition to...
---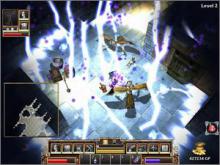 Fate: Undiscovered Realms 2008
Picking up where the 2006 release Fate ended, Fate: Undiscovered Realms offers gamers five completely new quests, as well as new dungeons, monsters, and weapons. Players once again select a character and an animal sidekick, then embark on a mission to find the Book of Fate, which holds the secrets...
---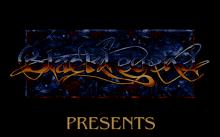 Fatman: The Caped Consumer 1994
One night, when Roy Fat was home, thugs from the evil Thindicate corporation kidnap Roy's old lady while she watches television, and the only way that Roy is going to get her back is to trade her for the Duplicator, and the complete documentation that came with it. There are seven...
---