Arcade action Games #28
Search a Classic Game: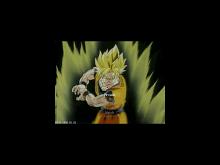 Dragonball Z Millennium 2000
A great fanmade fighting game based on Dragonball Z, one of Japan's most famous manga/anime series. The game is based on M.U.G.E.N., a powerful 2D fighting game engine that lets you create your own fighters, program their special moves and various attacks, and string them together with backdrops to form...
---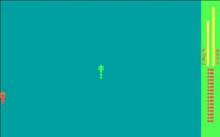 Dragonfly 1987
Simple shooting game with a chopper. ...
---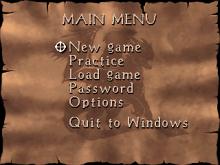 DragonHeart: Fire & Steel 1996
One would think that Acclaim had learned their lessons from producing downright horrible platform games (mostly on the console side) that feature movie licenses. Almost anything they've created based on something has been widely rejected by the gaming community and panned by critics. Unfortunately, they didn't learn any lesson, instead...
---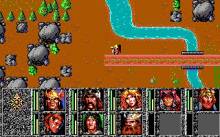 Dragons of Flame 1989
Set in between the SSI's AD&D Dragonlance action games Heroes of the Lance and Shadow Sorcerer. This game follows the tradition of Heroes of the Lance with a side-scrolling, action-oriented view, a breakaway from the standard GoldBox RPGs. Plot-wise, it also takes place between those two games, following closely the...
---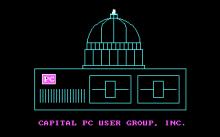 Dragons: A Challenge in Chivalry 1986
Long ago in a far away land, the Princes Gwen was captured and imprisoned in a castle. Your goal is to rescue her! The gameplay of Dragons is similar to a sideways version of Breakout. The good sorcerer Bruce has provided you with a magical sword and five magic coins....
---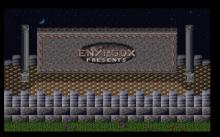 Drak 1995
Another Tetris clone. In the phantasy world reconstructed after decadence, the favourite game was Drak - a game where you have to eliminate lines of blocks flying from the top. This game allows you to practice or complete the Conquest, ultimate goal of Drak, which consist of 100 stages. You...
---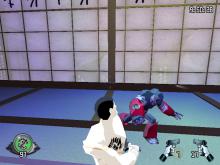 Drake of the 99 Dragons 2004
In Drake of the 99 Dragons, you're cast in the role of a dual pistol wielding warrior attempting to restore the honor of his clan whilst walking the fine line between the world of the living and the, uh, not living. The developers at Idol FX even fabricated a short...
---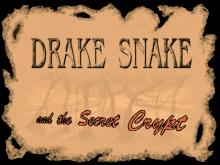 Drake Snake and the Secret Crypt 1994
Drake Snake and the Secret Crypt is a platform game where the player controls the eponymous Drake, who came to Africa in hopes of finding treasure. His plane crashes in the middle of jungle and Drake finds himself inside a cave complex. Drake explores the 13 levels of underground caverns...
---
Dream Warrior 1989
In the future, the world is controlled by corporations rather than governments, and wars are fought in a dream world rather than in reality. The corporations can control dream demons to defeat their foes, but resistance fighters still defy them. The player is one of these resistance fighters...
---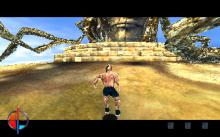 DREAMS to Reality 1997
In this game you are Duncan - a man, who must save the worlds of Dream and Reality from dark force. World of dreams allows you, for example, to fly between islands in the sky or to make your clone. You will encounter some peaceful creatures, who can talk to...
---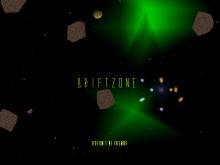 DriftZone 2000
DriftZone is an outstanding Asteroids-style game that adds a lot of gameplay options and bells & whistles to the addictive shoot-the-asteroids gameplay of the arcade original. There are two different game types available: a 'Classic' mode where all the action takes place on just one screen, naturally entailing a lot...
---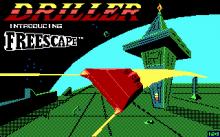 Driller (a.k.a. Space Station Oblivion) 1988
A 3D strategy / action game featuring scaling and rotating polygon graphics. You're the sole voyager happening upon an abandoned space station that's ready to explode from the pressure of dangerous vapors building up inside. For each sector, you must locate the build-up area, then drill to release the pressure....
---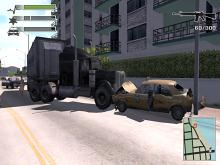 Driv3r (a.k.a. Driver 3) 2005
Undercover police officer Tanner returns to active duty in Driver 3, a continuation of the mission-based driving series that made its PlayStation debut in 1998. Following a similar structure to Grand Theft Auto III, players are given the freedom to leave vehicles at any time to complete objectives on foot....
---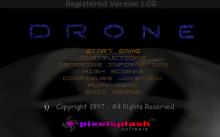 Drone 1997
Drone is a two-dimensional vertical scrolling shooter with pre-rendered 3D graphics. An evil alien race has penetrated Earth's security system, and has launched six deadly nuclear missiles - the game's titular "Drones" - targeting major populations worldwide. Previous attempts to stop the Drones have failed due to the numerous amount...
---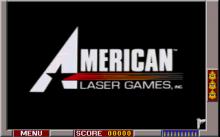 Drug Wars 1994
American Laser Games's Drug Wars is the sequel to Crime Patrol, the action thriller game where you had to eliminate criminal elements. Starting as a rookie against gang members, you finished as a member of the SWAT team struggling against terrorists. This time around, another challenge awaits you. In Drug...
---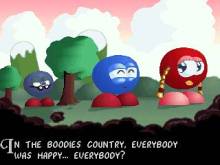 DStroy 1995
Dstroy is a Bomberman-like game. There are several gameplay modes. This includes single player, cooperation, and deathmatch. Up to four players can play on the same computer with split-screen. Dstroy has no network support. In singleplayer (called story mode) and cooperative, the player(s) has to defeat all the monsters to...
---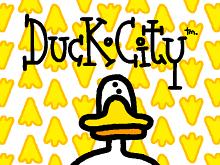 Duck City 1996
Duck City is a wacky and fun collection of 6 action and puzzle games designed for kids of all ages. Designed by Alan Snow, creator of P.A.W.S, Duck City stars a talking cartoon duck who wanders around in his cartoon world, getting into one trouble after another. In one mini-game...
---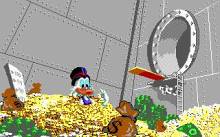 Duck Tales: The Quest for Gold 1990
Disney's DuckTales: The Quest for Gold puts you in the roles of various members of the Junior Woodchuck Board of Advisors, including Huey, Dewey and Louie, on a search for the world's rarest treasures, which are located in a number of exotic places the world over. To add to Scrooge...
---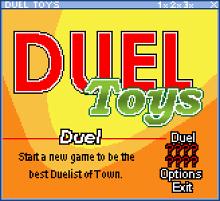 Duel Toys 2005
Duel Toys is a fun fanmade fighting game from Brazil that features dozens of characters from CAPCOM, SNK, Rare, and Midway classic fighters, redrawn in attractive cartoony style. Although the game's AI is suspect and many game types woefully unbalanced (the "survival mode" for example is almost impossible for me...
---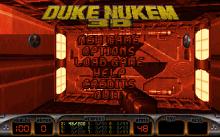 Duke 3D Mania 1997
The CD contains over 700 single player levels for Duke Nukem 3D, co-op and Dukematch. Features Remote Ridicule, configuration files & utilities. Includes FAQs, cheats, hints, walkthroughs, editor tutorials, and demos. ...
---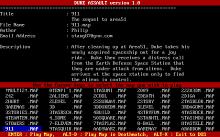 Duke Assault 1997
The CD contains 1500 levels for Duke Nukem 3D. In case you can't keep track of what level you're on, ISV has included a streamlined level loader. One hundred multiplayer levels. ...
---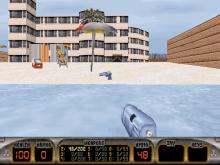 Duke Caribbean: Life's A Beach 1997
The first-person alien-blasting is sunny side up in this add-on for Duke Nukem 3D. Duke Carribean: Life's a Beach finds the wise-cracking he-man on vacation in a tropical land of sand and sun. It would truly be paradise -- if it weren't for all the ugly, vicious space monsters that...
---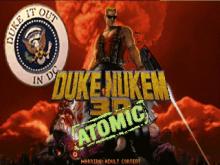 Duke it out in D.C. 1997
If you've tried those 1,500-level Duke packs, you know most of those episodes are terrible. Brief, little, uncreative excursions. On the other hand, working your way through the ten huge and cleverly connected locations in Duke It Out in D.C. will take several days and massive quantities of caffeine. Our affable...
---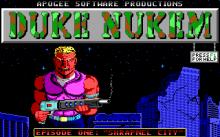 Duke Nukem 1991
Duke Nukem is the first game in the series of Duke Nukem's adventures. The storyline is simple: Dr. Proton has taken over Earth's largest city (not mentioned by name, but apparently New York City), and is releasing Techbots in his plan to take over the world. Dr. Proton is a...
---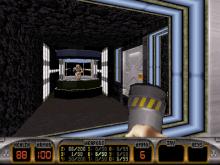 Duke Nukem 3D 1996
Blond, buff, and brazen Duke Nukem moves from side-scroller to first-person shooter with Duke Nukem 3D. The action begins in a futuristic Los Angeles, which has been decimated by an alien invasion. To save his cherished planet, Duke vows to kick some posterior and chew gum -- and he's all...
---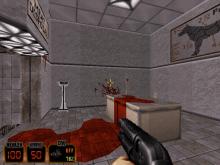 Duke Nukem 3D: Atomic Edition 1996
Duke Nukem 3D's popularity really mushroomed after its release earlier this year. Wowing gamers with smooth graphics, innovative weaponry, and its crass-talking, alien-squishing first-person hero, GT Interactive's blockbuster title offered an alternative to 3D staples such as Doom. Gamers can't get enough of Duke, the computerized, testosterone-enhanced Bruce Campbell who...
---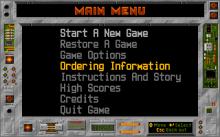 Duke Nukem II 1993
Duke Nukem II is a platform game and a sequel to Duke Nukem. While giving an interview on TV, the famous muscular hero Duke Nukem is captured by the evil Rigelatins, who intend to use his brain for conquering Earth. Duke easily escapes his prison cell. Now he has to...
---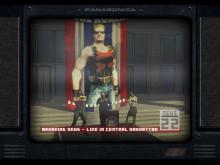 Duke Nukem: Manhattan Project 2002
The Duke is back, in classic form. Though the definitively macho hero first came to life for many gamers in the ebullient Duke Nukem 3D, the original Duke Nukem game was a more simple 2D shooter. Duke Nukem: Manhattan Project is a return to those roots. Though presented in three...
---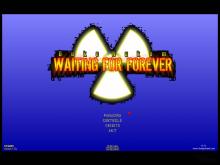 Duke Nukem: Waiting For Forever 2004
Duke Nukem: Waiting for Forever is a fun and varied Duke Nukem fangame starring the lovable smart-ass hero from 3D Realms' series. Fellow Game Maker coder darthlupi says it all about this fun game in his review for Gamemakergames.com: "This adventure starts out on the set of the Dr. Phil...
---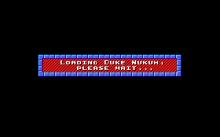 Duke Nukum: Episode 1 - Shrapnel City 1991
In the year 1997, the maniacal Dr. Proton has developed mechanical creatures known as Techbots. Commanding an army of Techbots, the insane scientist intends to conquer the entire world. There is only one hero on Earth who can stop him with his guns and attitude: Duke Nukum. Based on the...
---