Arcade action Games #68
Search a Classic Game: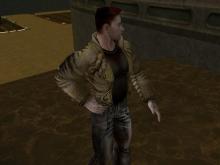 ReVOLUTION 2002
This 3D shooter from Activision Value is set in a disturbing future world of genetic engineering. The Revolution player assumes the role of a lowly maintenance worker named Jack Plummer, employed by the powerful and mysterious Corporation. The hero is soon contacted by members of the Resistance, an underground movement...
---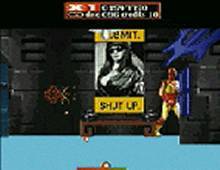 Revolution X 1995
The New Order Nation, a corrupt alliance of government and big business, is set to take over the world. Their primary mission is to subvert the power and influence of today's youth and rid the globe of anything that's fun. Lead by Headmistress Helga, their first course of action is...
---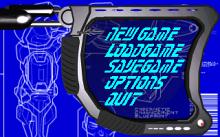 Rex Blade: The Apocalypse 1996
In the 35th century, mankind developed almost god-like technology to create Cyborg slaves - machines so shrewd they were almost human. In time, the Cyborgs waged war against man to control the earth. After emerging victorious, mankind banished the Cyborgs to a distant star system via a transdimensional teleporter. It's...
---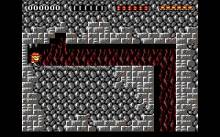 Rick Dangerous 1989
You play Rick Dangerous, an Indiana Jones type who's on a quest to find the lost Coolu Amazon tribe. However, his plane crashes in the middle of a bunch of crazed Coolus. Hopefully he's up to the challenge of escaping. If he is, he will find himself in the...
---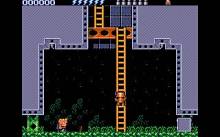 Rick Dangerous 2 1990
Your role as Rick Dangerous demands that you stop the Fat Guy and his evil plans to help an alien race take over control of our world. The journey takes in Hyde Park, Ice Caverns, Forest and Atomic Mines. He must solve positional puzzles and memorise the locations of laser...
---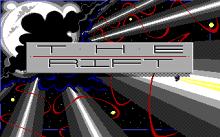 Rift, The 1992
The Rift is a decent little vertical shooter in the same vein as Space Invaders. The game was never sold, but given as "free gift" to people who registered Pop Software's shareware products. There isn't much I can say about the game, except that the enemies look quite nice, with...
---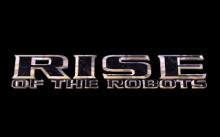 Rise of the Robots 1994
As the title indicates,"Rise of the Robots" brings us into an ultra-modern futuristic world where sophisticated technology has permitted man to create all sorts of robots to do the most difficult of tasks. Evidently these robots are, above all, submitted to man and must remain servants to society. It is in...
---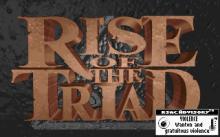 Rise of the Triad: Dark War 1995
Rise of the Triad: Dark War brings you into the dramatic battle between a group of special agents and a power-mad dictator named El Oscuro, determined to rule the world with an iron first and an army of fanatical stooges. Choose one of five racially diverse agents, pick up tons...
---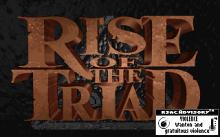 Rise of the Triad: The Hunt Begins (Deluxe Edition) 1995
This deluxe edition includes the ten single-player and eight multi-player levels of the original shareware version of Rise of the Triad, as well as six new levels (three single-player and three multiplayer ones) exclusive to this release. ...
---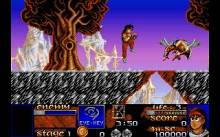 Risky Woods 1992
Unusually for Electronic Arts in the early 90s, this was a platform -shooter game with little or no adventuring or strategy elements. The game scrolls sideways, and has sections where precision jumps are required, either to clear rivers or collect bonuses. You carry a dagger to deal with the enemies,...
---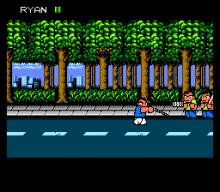 River City Ransom (a.k.a. Street Gangs) 1989
Ah, high school -- host to wedgies, bad food, acne and social politics. Unfortunately, these are the least of the worries on Alex and Ryan's minds, as the meanest gang lord in River City is holding their entire high school hostage - including Ryan's girlfriend! "With my gangs of students...
---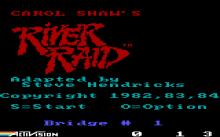 River Raid 1984
River Raid is a vertically scrolling action game. You fly a jet up a river in an attempt to destroy bridges which are vital to the enemy. The river is heavily guarded, however, with balloons, ships, choppers, and enemy aircraft trying to stop you. Along the way you will need...
---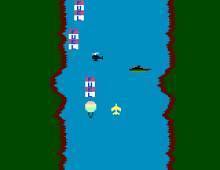 River Raid Remake 1997
This is an obscure but excellent PC remake of Atari 2600 classic River Raid, a game that proves once and for all that female designers can design great action games as well as men. If you haven't been gaming long enough to know what an Atari 2600 is, here's the...
---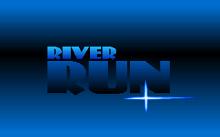 River Run 1996
River Run is a fun vertical scrolling shooter from Run Productions that plays like a modern remake of Activision's River Raid, although there is no acknowledgement anywhere in the game. Your objective: fly a jet over a river, being careful not to go over land lest your aircraft blows up....
---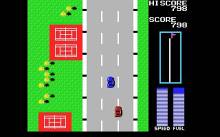 Road Fighter 1985
Road Fighter is a fun, early top-down racer from Konami based on the hit arcade game of the same name. The game's simplicity belies its addictiveness: drive your car as fast as you can along devious tracks, passing other cars and avoiding accidents for maximum points. You must reach check...
---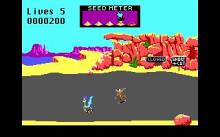 Road Runner 1989
Road Runner is on the run from Wile E. Coyote once again. However, instead of merely watching the antagonistic duo battle it out on your television set, you get to control the action via your home computer. Road Runner must run and jump through a barrage of mazes, sand traps,...
---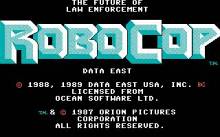 RoboCop 1989
Patrolman Alex Murphy was killed on the streets of Detroit. The major corporation there, Omni Consumer Products (OCP) saw an opportunity to sell a new kind of law enforcement officer to the troubled city. They took what was left of Murphy, encased it in titanium armor, wiped his memory and...
---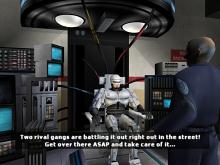 RoboCop 2003
Most of Robo's games are based around the original side-scrolling Data East arcade game, and accomplish this with varying success. This game, however, marks the only attempt at a first-person-shooter. An FPS based on the cyborg constable seems like such a great idea. Maybe it still is. That could explain...
---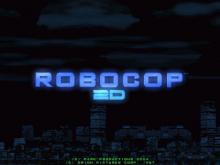 Robocop 2D 2004
RoboCop 2D is an excellent freeware remake of RoboCop, a fun arcade platformer game that was ported to PC by Data East (which you can download from this site). Like the original, you play RoboCop, a cyborg police. Your goal, like in all platform beat 'em ups, is to roam...
---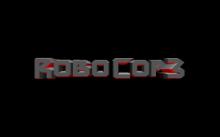 RoboCop 3 1992
F29 Retaliator authors DID developed this particular use of the Robocop license, and produced something different from most film licenses. While it featured a succession of levels based around sections of the movie, these were highly varied and presented in polygon 3D graphics. These can be played in any order...
---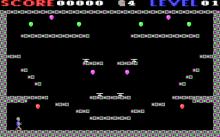 Roboman 1989
Lode Runner clone. Move Roboman to pop various balloons on the level to find a key that will trigger the exit door. You can gain bonus points by popping all the balloons on the level, and there are quite a few nice touches, such as hidden suprises inside the...
---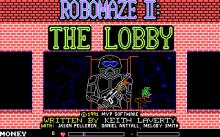 RoboMaze II: The Lobby 1991
You are a freedom figher, storming the giant tower of the dictator of your country. He has created robots with genetic parts to defend his tower. There are lots of levels split over three episodes. It is a platform game, with PC speaker sound effects and EGA graphics. You run...
---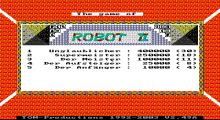 Robot II: Das Labyrinth im Wald 1990
While on a relaxing walk, the player receives a telegram from an old friend, who is calling for help from somewhere in the South Pacific. The way to the port however is full of danger and adventure. In the second part of the Robot series, there are 85 screens to explore...
---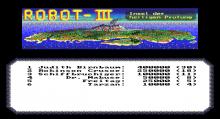 Robot III: Insel der heiligen Prüfung 1992
The third part of the Game of Robot series takes place on the fictitious island of Fana, where the telegram the player received in the second episode came from. His task is to find the friend who sent that call for help. Compared to the earlier episodes, there is a...
---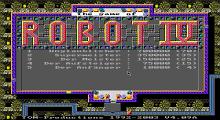 Robot IV: Operation ExtraTax 1993
After the third part of the Game of Robot series, the public has taken note of the hero's ability to endure adventures and solve dangerous tasks. That's why he is being sent on an official mission to investigate mysterious radio interferences caused by an old radar station. While still focusing...
---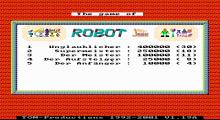 Robot Junior 1991
Robot Junior is a freeware episode of the Game of Robot series. It was released after the second game, in order to introduce new players to the series. As in every Robot game, the player has to explore the screens and solve the numerous puzzles they contain. In Robot Junior...
---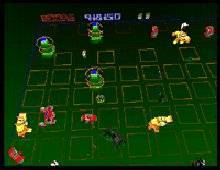 Robotron X 1997
Robotron X is a good revamp of the original coin-op hit Robotron: 2084. As one of the earliest attempts to revive arcade classics, Robotron X plays good and looks great, although the Playstation version, with its dual directional keypads on each controller, is a better platform for this game. The gameplay...
---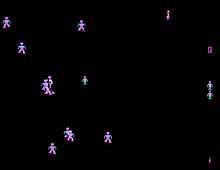 Robotron: 2084 1983
The year is 2084. In his search for ultimate mechanical mindpower, man made his biggest mistake ever in creating the Robotrons, a machine-like race of super beings guided by infallible logic. Using this cold, calculated reasoning, the Robotrons deemed humankind inefficient and set out to kill every man, woman and...
---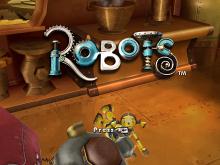 Robots 2005
Players take the role of reluctant robot hero Rodney Copperbottom, in this platform adventure based on the computer-animated Twentieth Century Fox feature film. Rodney's mechanical world is in danger of being taken over forever by an evil tyrant robot, so he must travel to the city, and somehow stop the...
---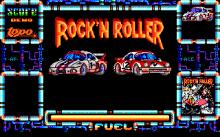 Rock'N Roller 1992
Rock'N Roller is a game similar to the game Rally X, in Rock'N Roller the player takes control of a buggy, that must find, in each of the 30 stages, the six parts of a prototype car, that are hidden in the stages. In each stage there are three enemy...
---