Arcade action Games #27
Search a Classic Game: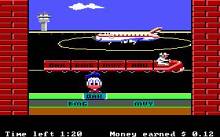 Donald Duck's Playground 1986
Who knew that Donald Duck worked so hard to support his lifestyle? In Donald Duck's Playground, Disney's resident quacker works four part-time jobs so he can buy playground equipment for Huey, Dewey, and Louie. Sierra's game is written with the same AGI graphics engine as King's Quest and is intended...
---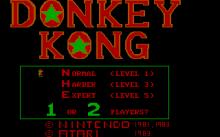 Donkey Kong 1983
Donkey Kong is a great PC port of Nintendo's classic arcade game that needs no introduction, since it has been ported to just about every console and computer system you can imagine. In case you have never heard of the game until this moment (and if that's true, you most likely...
---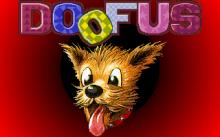 Doofus 1994
Doofus is like a reverse Sleepwalker - you play a simpleton (hence the title) and must get through a series of platform levels ensuring that neither you nor your pet dog get hurt. The game unusually scrolls from right to left, with the dog simply following you. The platforms are...
---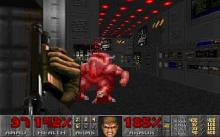 Doom 1993
If you like Quake and Duke Nukem, there is no way you can't like Doom, one of the original first-person shoot-em-up games created (Wolfenstein started it, baby!). The good thing about game designers is that they know what the public wants: a place to release their pent-up agression and frustrations....
---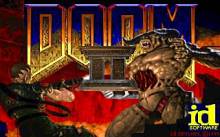 Doom 2 1994
The sequel to id Software's critically acclaimed Doom has invaded the PC with unbridled fury. Featuring improved 640x400 graphical resolution and more first-person shooting action, the objective of Doom II is quite simple: destroy, maim, shoot...and shoot some more. Although you begin with a military-issue pistol, you eventually have access...
---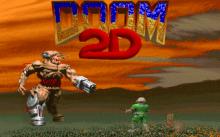 Doom 2D 1996
DOOM 2D is, as the name suggests, a 2D game styled after DOOM. Most of the graphics and sounds are ripped straight from the original wads, and used to create a 2D platformer. The storyline is presumably much the same (and even more sparse), shoot the hell spawn and save...
---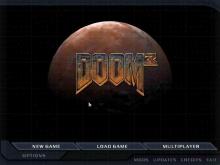 DOOM³ 2004
Coming nearly ten years after the groundbreaking original, Doom 3 continues id Software's first-person shooter series with a true 3D engine featuring bump-map texturing and enhanced lighting and shadow effects. Players will revisit the setting introduced in 1993's Doom but with a more involved storyline written by sci-fi scribe Matthew...
---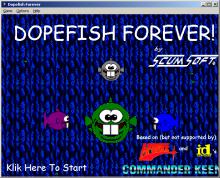 Dopefish Forever! 1997
Here we have an expanded version of the author's earlier Dopefish Lives! featuring two- and four-player modes, but no single-player game. In addition to the "fishfest" mode, which reproduces the original game's simple schoolfish-eating game (but makes it competitive -- who can eat the most the fastest?), this game...
---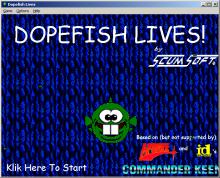 Dopefish Lives! 1997
Taking its name from a secret message in Rise of the Triad, this game takes the famous ravenous green burping fish antagonist of the underwater levels of Commander Keen 4, the Dopefish, and, for the first time, takes him out beyond the role of easter egg and puts the player...
---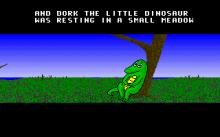 Dork's Dreams 1991
Dork the Dinosaur settles down for a nap beneath a Triassic tree when a thunderstorm stirs up, frightening him. A lightning bolt hits the tree he's sheltering beneath, dropping a branch on his head and knocking him out cold. While he's unconscious, he dreams... that he is a...
---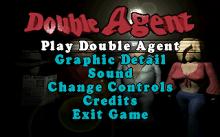 Double Agent 1998
Double Agent is a fun action/adventure/strategy hybrid from Flair Software that plays like a modern remake of classic Spy vs. Spy. Released only in Europe and pulled from the shelves in a matter of months after dismal sales, Double Agent remains one of the most unknown and elusive PC games...
---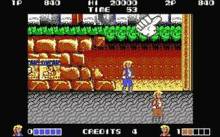 Double Dragon 1988
Set in a post-apocalyptic New York, Double Dragon is the story of Billy and Jimmy Lee, twin brothers trained in the fighting style of Sou-Setsu-Ken. Together, they manage a small martial arts training school, teaching their students in self-defense. One day, Billy's girlfriend, Marian, is kidnapped off the street by...
---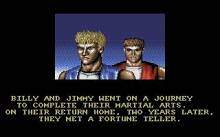 Double Dragon 3: The Rosetta Stone 1992
The final game in the trilogy. Billy and Jimmy Lee are returning from martial arts training when their paths cross a fortune teller. She tells them of a great evil in Egypt, their strongest adversary yet, and how the Rosetta Stones can aid them. This game features weapon shops where...
---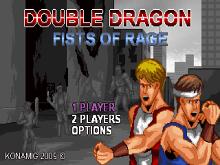 Double Dragon Fists of Rage 2005
Double Dragon Fists of Rage is a superb fangame starring the duo from CAPCOM's famous Double Dragon series. The creator, Miguel "Mig2" Perez, created all the graphics himself that look very much like the original games, as well as cool stages that have a nice pseudo-3D look. The more-or-less redundant...
---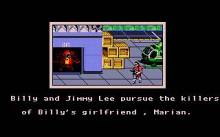 Double Dragon II: The Revenge 1989
The lovely Marian was rescued from the clutches of the Black Warriors gang by Billy & Jimmy Lee in the first Double Dragon game, but now the gang has killed her in retaliation of their early defeat. The Dragons must now embark on a mission to avenge her death and...
---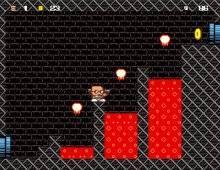 Douglas Circumstance 2003
Douglas Circumstance is an excellent anime-style platformer that will appeal to anyone who misses the days of 8-bit consoles. Darren McLeod's review at Total Klik says it all: "If any of you grew up on the NES as a child, then you might as well skip this review and hit...
---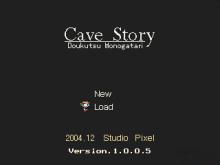 Doukutsu Monogatari (a.k.a. Cave Story) 2005
Doukutsu Monotagari ("Cave Story" in English) is an excellent freeware side-scrolling platformer/adventure game from Pixel, Japanese maker of the also-superb Ikachan game (reviewed elsewhere on this website). Formerly a Japanese-only title, the game is now available in full English version, thanks to the excellent translation effort by AGTP, the translation...
---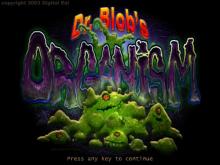 Dr. Blob's Organism 2003
In Dr. Blobs Organism, you use your weapons of firepower to destroy the evil mutating viruses/organisms that are trying to escape from the safe confines of the Petri dishes that are holding them. Why are they escaping? Who knows! But you must destroy ASAP. While the concept itself is quite intriguing,...
---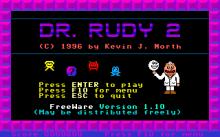 Dr. Rudy 2 1996
In the original game, you helped Dr. Rudy clean up his lab and get rid of all the viruses. However, you have now discovered that viruses have spread to other labs in the building. Dr Rudy built a special machine called the "Quadratron". It can be placed over an infected...
---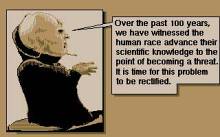 Dr. Who: Dalek Attack 1992
In this game you play the role of the Doctor from the BBC science fiction program Doctor Who. The story sees you trying to stop the Daleks from invading earth with help from your companions. The gameplay starts with you flying along the sewers of London on a hover platform...
---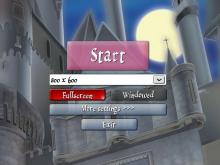 Dracula Twins 2006
As fate would have it, the frightful vampire-hunter Doctor Lifelust has kidnapped Count Dracula and plans to use his blood to concoct an elixir of life. Of course, this just doesn't fly with the Count's kids, Drac and Dracana. Thus, their task, and yours, is to put the bite on...
---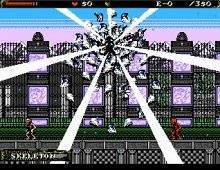 Dracula's Shadow (a.k.a. Castlevania 2: Simon's Quest) 2002
Dracula's Shadow is an excellent and very faithful PC remake of Konami's classic NES game Castlevania 2: Simon's Quest. For those who have never played the original game: Castlevania 2 begins where the first game left off. You are Simon Belmont, the hero who vanguished the fearsome Count Dracula -...
---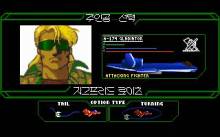 Dragon Force (a.k.a. Day 3, The) 1993
The Day 3 is the second game of the pentalogy in four parts. No, this is not the Hitchhikers Guide to the Galaxy, but the first game was never released due to its poor quality, and instead of just sweeping it under the rug by renaming the second one, Mirinae...
---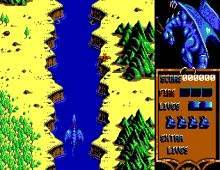 Dragon Spirit 1991
Galda has decided to attack earth and it is up to you to stop him. Galda has taken Iris, the sister of Lace captive. You are Lace who, taking his father's sword, goes off to defeat Galda. You have the ability to change into a dragon and are...
---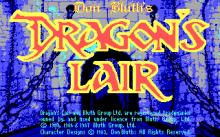 Dragon's Lair (1989) 1989
Dirk the Daring was a heroic, if clumsy knight. When Princess Daphne was kidnapped by the dragon, Singe, and taken to his castle, Dirk set out to rescue her. Due to limitations of the computers at the time, this conversion of the coin-op arcade game, Dragon's Lair only...
---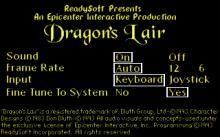 Dragon's Lair (1993) 1993
In the arcade, long ago, a game totally fascinated me. Dragon's Lair, a game composed completely from animation, caught my eye immediately. When I wandered upon Dragon's Lair for the PC, it was an immediate purchase I made. For all intents and purposes, Dragon's Lair is very much 'eye candy'. Pleasing...
---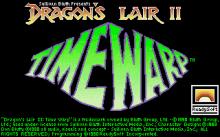 Dragon's Lair II: Time Warp 1990
After adapting the original Dragon's Lair into two different games, Readysoft continued with the arcade sequel. Dirk the Daring is called back into action when his wife Daphne is kidnapped by the evil wizard Mordroc. Encouraged by Daphne's mother (and her rolling pin), Dirk escapes to Singe's old castle, where he...
---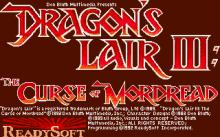 Dragon's Lair III: The Curse of Mordread 1992
A sequel to the earlier coin-op, cartoon games by Don Bluth, this one has Dirk dodging through various time periods and dimensions to such memorable locales as Wonderland, a pirate ship, and even the keyboard of Ludwig von Beethoven! ...
---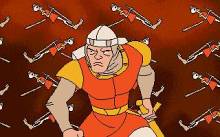 Dragon's Lair: Escape from Singe's Castle 1991
Dirk the Daring is a heroic, if clumsy knight. When Princess Daphne was kidnapped by the dragon, Singe, and taken to his castle... Dirk set out to rescue her. Due to a lack of disk and memory space in the systems of the day, the port of the arcade game,...
---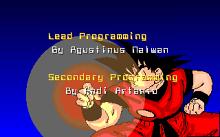 Dragonball 1998
Perhaps the first fanmade Dragon Ball Z game for PC in existence today, this version of Dragonball Z is a playable beta version of a never-released PC game based on the immensely popular Japanese anime/manga of the same name. The game is structured as a side-scrolling fighting game for one or...
---