Arcade action Games #27
Search a Classic Game: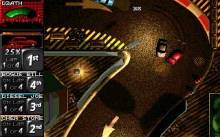 Death Rally 1996
Death Rally is a top-down arcade/combat racing title that places emphasis on enjoyment rather than advanced 3D visuals or superb depth. Up to four gamers can blast off machine guns and drop mines to sabotage competitors as they speed around 19 unique racecourses. There are six different vehicles from which...
---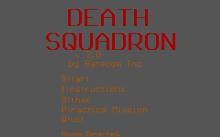 Death Squadron (a.k.a. Chopper Commando 2) 1992
Death Squadron is a rare commercial ripoff of Mark Currie's 1990 freeware Chopper Commando 2, a fun oldie Sopwith-style 2D aerial bombing game for DOS. Gatecom pretty much took Currie's game, changed the name, and marketed it as a commercial title. The gameplay takes the basic concept of Sopwith, and...
---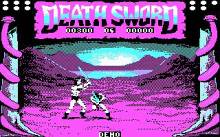 Death Sword 1988
The evil magician Drax is terrorizing the jeweled city and cast a spell over the beautiful princess Marina who is forced to obey him. From the lands to the north, a hero is sent to help the city and free the princess. He is Gorth, the strongest of the barbarian...
---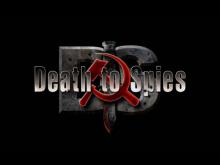 Death to Spies 2007
With a title sounding at first blush like an '80s film starring Dolph Lundgren or Arnold Schwarzenegger, one expects Death to Spies to be a cheesy first-person shooter set in the Cold War era. Surprisingly, it is a solid WWII stealth game in the murderous mold of the Hitman series....
---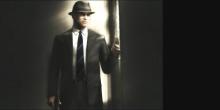 Death to Spies: Moment of Truth 2008
This sequel to the 2007 stealth action game Death to Spies once again finds gamers in the role of Soviet SMERSH agent Semion Strogov as he goes on more risky solo missions behind enemy lines to disrupt the Nazi war machine. As in the original game, Moment of Truth finds...
---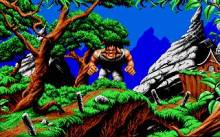 Deathbringer 1992
Karn the warrior has been the scourge of a group of evil wizards for many years, and as such they have trapped a demon inside the Deathbringer Sword. Karn has this sword, and must use it to get through 30 levels to wreak his revenge. The game is side-scrolling and...
---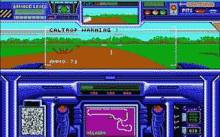 DeathTrack 1989
In the future, races are held across America where the drivers race for money, and their lives. You are the rookie. Welcome to Deathtrack. Starting off the game with a meager sum, you can choose from three cars (either speedy, plenty of firepower or heavily-armored) and begin practicing for your races...
---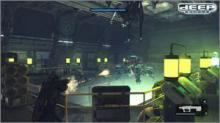 Deep Black 2011
Deep Black is a futuristic third-person shooter that primarily takes place within an underwater setting. Guide a deep-sea diver across a campaign spanning over 30 missions, using harpoons, stun guns, and EMP grenades to neutralize foes trying to thwart your progress. Your primary objective is to prevent an enemy faction from...
---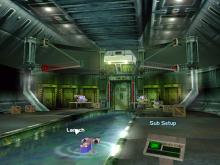 Deep Fighter 2000
'Wing Commander underwater' - that was my first impression as I began playing Deep Fighter. As I played it some more, differences began to crop up, but the similarities far outnumbered the differences. So, for those of you with short attention spans or who don't care for my distinct brand...
---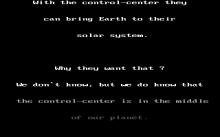 Deep II: The Center of the Earth 1993
Aliens: go figure! Years ago Zybonians installed a control-center in the middle of planet Earth, so that years later, they could wrench the planet out of its orbit and bring it to their home system. (As the introduction notes: Why they want that? We don't know, but...
---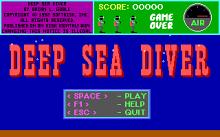 Deep Sea Diver 1991
Your job is to probe the sea floor and gather all the treasure you can find. Of course, it won't be a cake walk. Along the way you'll face man-eating sharks, killer clams and deadly baby guppies. Armed with an unlimited supply of spears, you must slice your...
---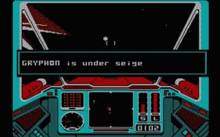 Deep Space 1987
It is the year 2123. The genetically-programmed warriors of the Andromedan Hegemony are making the first moves to enforce their government's greatest desire: the takeover of the United Planets of Solaria's fantastically wealthy new mines in the Asteroid Belt. On Earth, capitol of the United Planets, military and political leaders...
---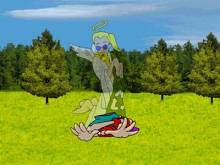 Deer Avenger 1998
Even if you are one who loathes hunting games of all shapes and sizes, you should look forward to playing Deer Avenger. The thought of a parody in which you play a deer seeking vengeance on hunters who have mercilessly mutilated and destroyed your brethren seems as though it might...
---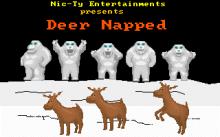 Deer Napped 1995
Another game that uses the same 3d creation software as Castaway. In this game, the player is a ninja working for Santa and must rescue his reindeer from the Abominable Snowpeople. ...
---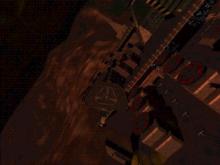 Defcon 5 (Millennium) 1995
It is the year 2204. You are an engineer with the Tyron Corporation. Your boss, Shelford Pitz, is dead, and your job is to continue his work installing and testing defense software. The only problem is that Tyron has decided that they will terminate all their employees to make way for...
---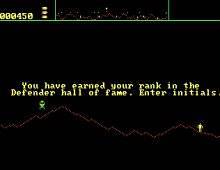 Defender 1983
Defender put players in charge of a ship sent to protect mankind from wave after wave of attacking alien forces. Armed with smart bombs and the ability to use hyperspace to move quickly around the planet, the player ship must fight against Bombers, Pods, Swarmers, Baiters, and Landers - that can...
---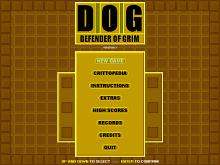 Defender of Grim (a.k.a. D.O.G.) 2004
Defender of Grim (or D.O.G for short) is a fun and unique action game that is similar to Barrel Patrol but with much more variety and even a strategic element that is subtle, yet effective. As Defender of Grim, your mission is to protect an endangered alien species called Grim...
---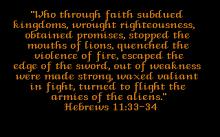 Defender of The Faith 1992
Defender of The Faith is a unique action game based on the story of King David in the Bible. The game is broken into six platform-style levels, each based on an episode in David's life, with distinct objectives to accomplish. As David, you will start the game as a lowly...
---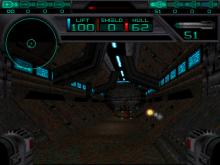 Defiance 1997
For decades Avalon Hill has been renowned for its wonderfully brilliant board games, but when it turned its attention to computerized ports of its successful library, instead of becoming the turn-based juggernaut of PC games, it took a promising niche and heaped on the mediocrity. Apparently not content with giving...
---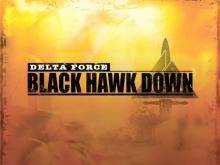 Delta Force: Black Hawk Down 2003
The 1993 U.S. invasion of Somalia and the harrowing events that followed form the basis of NovaLogic's Delta Force: Black Hawk Down. Not to be confused with Mark Bowden's best-selling book or the subsequent Ridley Scott film, the game is an original take on Operation Restore Hope using fictional characters....
---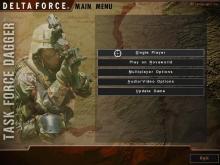 Delta Force: Task Force Dagger 2002
Designed by Zombie Studios utilizing NovaLogic's Delta Force: Land Warrior engine, Delta Force: Task Force Dagger is a stand-alone, 25-mission tour-de-force based on military action of Operation: Enduring Freedom in Afghanistan. For the first time in the series, you can play as one of ten Special Forces teams from four...
---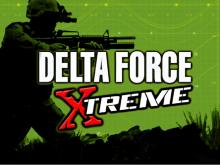 Delta Force: Xtreme 2005
Return to the desert and take down the terrorists throughout 60 levels of squad-based first-person shooter action in NovaLogic's Delta Force: Xtreme. Twenty graphically enhanced single-player missions from the original Delta Force are available as well as all-new challenges for veteran Delta Operators. Up to 32 players can battle it...
---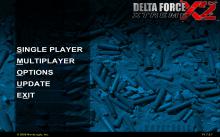 Delta Force: Xtreme 2 2009
NovaLogic's long-running squad-based shooter returns with two single-player campaigns and simultaneous multiplayer action for up to 150 people in Delta Force: Xtreme 2. There are 40 all-new maps designed for close-range infantry combat as well as broad helicopter and armored tank engagements, and all of the single-player action can also...
---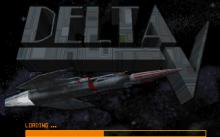 Delta V 1993
This is a futuristic flying game. The plot casts you as a captured Nethacker forced to Netrun for the mercenary Black Sun Corporation for their own greedy purposes. Just what is Netrunning? in the year 2306 5 megacorporations control the world, each of which requires lots of data and information to...
---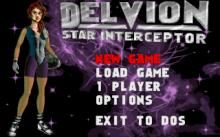 Delvion Star Interceptor 1995
Delvion Star Interceptor is a classical horizontal shooter where you must guide your small spaceship thorough diverse places in the space, meet asteroids, shoot at synchronized columns of enemies to get power-ups, enter spatial cities, etc. You will be able to select from 4 difficulty levels, and to choose your...
---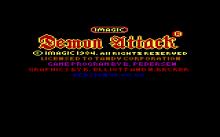 Demon Attack 1983
Demon Attack is an arcade action game with gameplay similar to Space Invaders. You control a laser canon at the bottom of the screen, and need to destroy wave after wave of brightly colored demons. The demons bounce around the screen in bizarre patterns, and try to destroy your canon...
---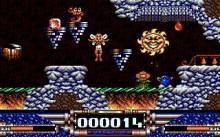 Demon Blue 1992
In the game you are a small shaggy blue demon found himself in the dungeon full of fallen angels, gargoyles, wasps, etc. Walking through them you lose your energy, which is your life. So you have to run and jump avoiding them, collecting gems, blood drops, energy vials, and some...
---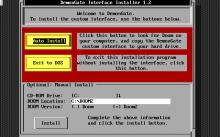 Demon Gate: 666 New Levels for Doom & Doom II 1995
A large collection of DOOM and DOOM II WAD files - Demon Gate was compiled by downloading add-ons off of the internet and then marketed to retail for those who did not have an internet connection. The disc comes with a utilitly called EasyWAD to help sort through all...
---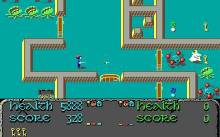 Demon Stalker 1988
Demon Stalkers is essentially a Gauntlet clone. You must travel through 99 mazes, before meeting the final demon. The game features different enemies as you progress through the mazes, with clues to progression built in. There's a 2-player co-operative mode. The in-built level editor uses pull-down menus, and offers...
---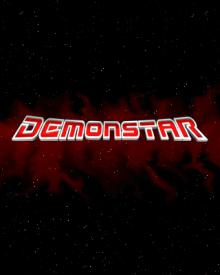 DemonStar 1998
We begged, we pleaded, we waited for years, and finally the sequel to Raptor has arrived. Demonstar, fresh off the presses from Ionos and Moutain King Studios, hopes to pick up where Raptor left off by providing PC gamers with some good old fashioned arcade action. Having enjoyed the previous...
---