Arcade action Games #46
Search a Classic Game: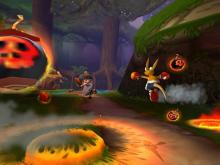 Kao the Kangaroo Round 2 2004
Titus Interactive's boxing kangaroo hops onto home computers in a 3D platform game that has players rescuing animals captured by a ruthless hunter and his bumbling henchmen. Kao will trek across five regions and more than 20 levels filled with punching and hopping action, including locales based on Antarctica, Australia,...
---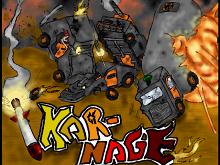 Kar-Nage 2001
Kar-nage is a fun isometric car combat game from Fallen Angel Industries, indie developers of several excellent freeware titles using the Klik & Play application. The game is the first car combat game released in the Klik community, and is well worth a look by action fans. Kar-Nage is essentially a...
---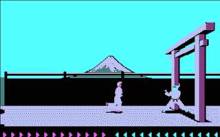 Karateka 1986
Karateka's fighting system encompasses all the cool moves you see in the The Karate Kid movie, released two years ago in 1984. America is going through a karate craze and Karateka takes full advantage of the fad. The fighting system is very simple. You have high, middle and low punches...
---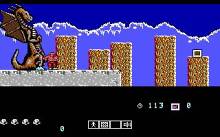 Karnov 1987
Karnov, the fire-breathing Russian, is seeking the Lost Treasure of Babylon. He runs, swims, jumps, climbs, and flies through nine levels of gameplay. ...
---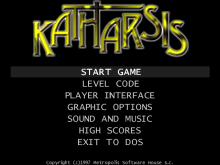 Katharsis 1997
Katharsis is a game with classic side-scrolling shooter gameplay. It has 3D backgrounds, colorful graphics and an integrated storyline. The game starts in 2616, when the ship leaves Earth with 1,000 settlers on board. Eighteen months later Earth loses contact with the ship. The action moves to 4720. One of...
---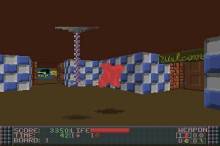 Ken's Labyrinth 1993
Ken's Labyrinth is a first-person 3D shooter. The protagonist has to escape from an underground labyrinth populated by monsters while trying to rescue his dog Sparky. The game plays similarly to Wolfenstein 3D and involves the protagonist traversing colorful maze-like areas, shooting monsters on the way with exotic weapons such...
---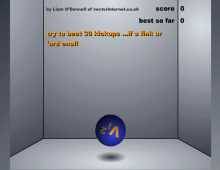 Kick-Ups 2001
Kick-Ups is a maddeningly addictive Flash game that is deceptively simple: your goal is to keep the ball in the air for as long as possible by clicking the mouse on it. The game records your high scores, and ball physics are reasonably realistic (e.g. the ball bounces off four...
---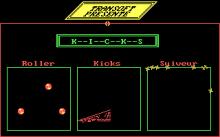 Kicks 1989
Kicks is a French Qix clone. As in Qix the player must "catch" a percentage of the game screen (70% in this case) to pass to the next level. Of course, the player must avoid, or capture, all the enemies that go through the game zone. There are three enemy...
---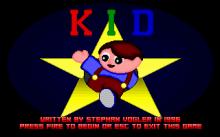 Kid 1996
Collect the fruit, avoid the snakes and creatures and try not to fall in any pitfalls in Kid. Stephan Vogler's straightforward platform game let's you play as the titular "Kid" and advance through a handful of levels while trying to survive the usual foes. Plan your path well because those...
---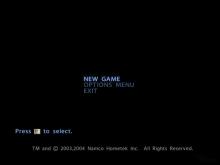 kill.switch 2004
kill.switch is a third-person shooter that takes place amidst war-torn Middle Eastern cities, underground submarine bases, and other places. Cast in the role of an elite commando, players must carefully take out enemy snipers and guards while seeking cover behind walls, barriers, or other objects found within the environment. While...
---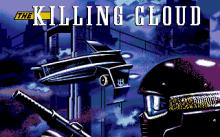 Killing Cloud 1991
Killing Cloud is set in a San Francisco ravaged by an opaque orange death smog layer known as the Killing Cloud. This hovers around the middle of the skyscrapers, creating a claustrophobic low level experience (and a different feel to the many other flight simulations set in the city, such...
---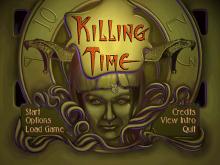 Killing Time 1996
Killing Time starts out with a lot of promise. It's got a great mystery storyline set up like The 7th Guest lots of zany, crazy and just plain freaky enemies to blast and some pretty darn good visuals. But as you start to progress in the game, it all just...
---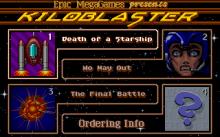 Kiloblaster 1992
New-age Galaxian. Move along in space in your fighter and shoot anything that moves, while collecting power-ups, such as fruits (fruits in space?) and thing, which looks like red circle with yellow "T" inside. Like other games from Epic, it's shareware and only the first episode is free. You have...
---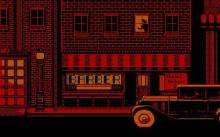 King of Chicago 1987
Step into the shoes of a gangster in 1930s Chicago. Capone is dead and now you must defeat his forces in order to take over the city. As a mobster you'll take part in drive-by shootings, bombings, gambling, and bribery of government officials. The King of Chicago can be controlled...
---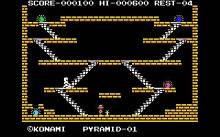 King's Valley 1985
King's Valley is a fun platform/maze game from Konami, released for the MSX computer and many other 8-bit console systems - except the PC - in 1985. The game plays like a more updated version of Montezuma's Revenge, except it takes place in pyramids instead of Mayan ruins. As intrepid...
---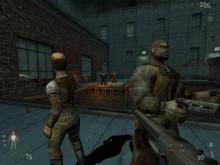 Kingpin: Life of Crime 1999
Kingpin: Life of Crime documents the life of a thug down on his luck. In the beginning, he gets beaten up by goons working for a notorious crime boss, Nicki. He, your character, picks himself up, vows revenge and sets off on a journey that will take him through some...
---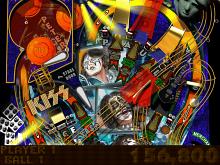 Kiss Pinball 2001
"You wanted the best, you got the best!" states the box cover of KISS Pinball, quoting a KISS trademark. But calling something the best doesn't make it so -- a budget game without accurate physics, KISS Pinball is at most an average game, one only a diehard KISS fan might...
---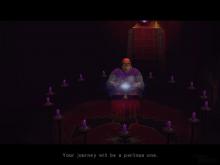 KISS: Psycho Circus: The Nightmare Child 2000
A first-person shooter featuring members of KISS, the '70s schlock rockers dressed in leather outfits and funky makeup? While you'd think Third Law's intentions were malicious, to leave permanent stains on the genre not to mention cashing in on the musical group's farewell tour, their plans were much different. Released in...
---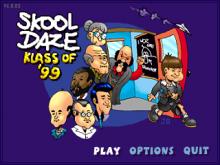 Klass of '99 1999
This remake of Skool Daze replaces the limited 8-bit graphics and sounds from the original with new enhanced assets while maintaining the same classic gameplay from 1985. Besides the overall graphical improvements, this version adds small touches like random weather and other special effects. The player assumes the role of...
---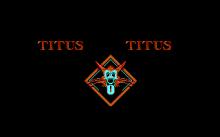 Knight Force 1989
In Knight Force, the land Belloth, crossroad between five time periods, was conquered by the evil wizard Red Sabbath. And if that is not enough, he also kidnapped the princess. The player takes the role of a knight who has to set things right. To do so, he needs to complete...
---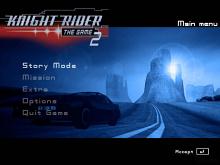 Knight Rider 2: The Game 2004
K.I.T.T. (short for Knight Industries Two Thousand) is the fictive name for the highly modified Pontiac Trans-Am which has a mind, and a series, of his own. For eighty-four episodes, K.I.T.T. and Michael fight against crime, a battle which completely destroys "the black beauty" four times. If you think you...
---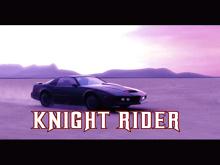 Knight Rider: The Game 2002
From Sep 1982 to Aug 1986, Universal Television aired Knight Rider, an action-based adventure starring David Hasselhoff as a field operative for the Foundation for Law and Government (FLAG), intent on helping the "innocent, helpless, and powerless" against the criminal element. The real star of the show, however, was a...
---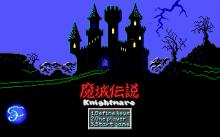 Knightmare 1992
In Knightmare, the player takes control of a brave knight named Popolon, who has to rescue his sweetheart Aphrodite from the clutches of the evil Hudnos. The game is essentially a top-down shooter. Popolon can shoot arrows at his enemies, and at the end of level face bosses, such as witches,...
---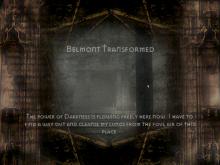 Knights of the Temple: Infernal Crusade 2004
Knights of the Temple is an action RPG that puts players in the role of Paul de Raque, a young initiate to the Knights Templar. A fallen bishop has kidnapped a fair maiden to use her divine powers for his evil cause, and it falls to young Paul to rescue...
---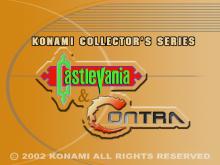 Konami Collector's Series: Castlevania & Contra 2002
Publisher Konami treats PC players to the origins of two classic console series in this multi-game release. Included is the home computer translation of the original side-scrolling, vampire-hunting Castlevania, along with its first two sequels: Castlevania II: Simon's Quest and Castlevania III: Dracula's Curse. Defeat the undead lord (thrice!), then...
---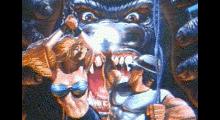 Kong's Revenge 1991
Kong's Revenge is an action game based on Donkey Kong. It is divided into two parts. In the first part, the player must climb to the top of five buildings and must defeat one of Kong's minions on each one. Throughout the level, the player must avoid barrels and fire...
---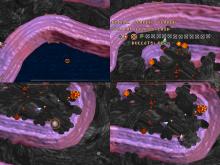 KOPS 1996
KOPS is a two-dimensional gravitational cave flying game. The game is primarily designed to be multiplayer, but only local split screen game mode is provided. It is best played with 2-4 players on a single computer, but also a single player mode is available, which is suitable mostly for practicing....
---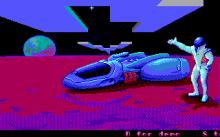 Kosmonaut 1990
Kosmonaut is the original idea behind the game Skyroads. In this game you control a hovercraft, flying over an obstacle different platforms on which you must avoid falling off and gaping holes. Flying over certain platforms can increase your abilities and give special powerups, or kill you. The game features...
---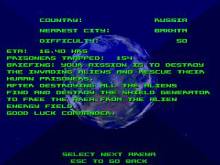 Krazy Ivan 1996
The first time I heard the term "Crazy Ivan" was in the movie The Hunt for Red October and it referred to a sudden and dangerous maneuver made by a Russian submarine. Therefore, when I first saw the announcement of the new game called Krazy Ivan, I...
---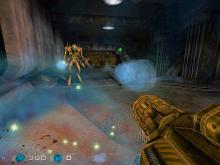 Kreed 2003
Kreed is a sci-fi first person shooter in which you will become legionnaire - one of the most trained and dangerous warriors of 3rd millennium. You are marooned on a graveyard for spaceships, inside the space anomaly zone called Kreed, a massive gravity field attracting everything in its wake, like...
---